After a slight delay (completely the fault of this reporter, and no reflection on our subject), the Monthly Diary of a League returns with perhaps Fierce Valley Roller Girls' most experienced member, Rufi-Ohh!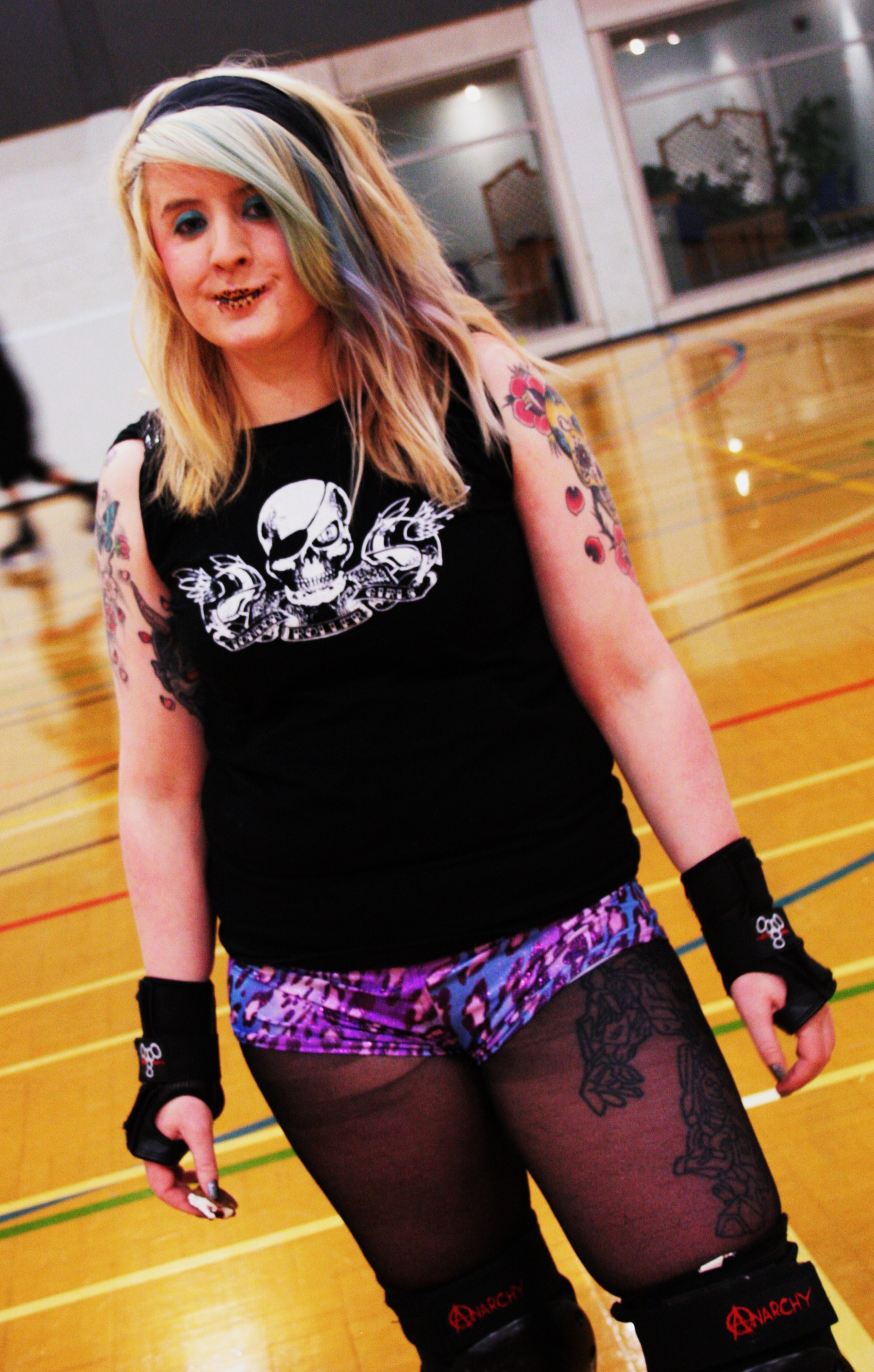 What first attracted you to Roller Derby? I think what attracted me to Roller Derby was it was something that wasn't that largely known. I had heard of it but took me a while to find  out more about it.

I also liked the element of getting fit mixed with a fast paced, hard hitting sport. It was very suited to me. As my mum said, it was the first sport she's ever seen me love and stick to!

Derby names are an important aspect of the sport, especially when you're starting out. How did you choose your name, and how does it reflect your personality on track?

I'm on my second name, however, this one is for good. I chose my first name (Ro-whip-nol) as it was suggested and I thought it was quite clever. I eventually decided the name really wasn't me and it didn't mean much to me. I know names don't have to but I think my current name suits me more. I changed my name to Rufi-Ohh. Inspired by the film hook, which was a childhood favourite of mine. He was always one of my favourite characters. Very cocky, confident and sure of himself but in the end always does right by himself and others. I like to think I can be like that on track. Confident in myself but my hearts always with my team!

What was your biggest initial difficulty?

The biggest difficult for myself was actually where I live. When I first started skating (Sept 2010) there wasn't a team near me. I worked in Glenrothes and decided to skate with Dundee. The girls taught me a lot and are still a big inspiration to me. Later that year a league closer to home appeared, the lovely Fierce Valley. I didn't make the move until around April/May 2011 and this eased as I was travelling from outside Kinross or from Glenrothes to Dundee and back 3 nights a week!

Lots of roller girls find it hard not to spread the word about their new sport. How have you been spreading the word? I spread the word from my first night on skates! I went home and bought my skates that night. From that night onwards I have not stopped talking about Roller Derby. I think if you ask most people I know they'd probably say I should just stop talking. I have a passion from the sport and I think more people should know about it. It's really taking off in Scotland now and it's a great thing!

What's the most important thing you've learnt/done this month?

Within the last month (I'm counting December as we've only just started this year) I think the most important thing I've done is setting up some excellent teams to play against FVRG in the coming year. Still looking for a few more but some good ones on the cards. I think that the most important thing I've learnt is I need to have confidence in my own ability. The minute I doubt I can do it is when I stop managing. I think that every skater has to believe they can do it and put everything into it to better themselves!

What were the most difficult and best things you've done?

I think the most difficult thing I have done is to change leagues. I started skating with the lovely Dundee Roller Girls when they were still the Dundee Destroyers. The girls taught me everything and helped me really improve and become a better and confident skater and I have a lot of great friends there. It was hard to leave as your league becomes like your family. I knew, however, that financially I couldn't keep going to Dundee 3 nights a week. This is when I decided to move to Fierce Valley Roller Girls. I was extremely apprehensive as I was going into something as a new skater to them but not new in the sense that I had passed minimum skills. They are an amazing group of people and I felt welcome right from the beginning. My FVRG family are some of the most amazing people I have ever met and some of the most inspirational. They never stop surprising me and never stop improving. It's also one of the best things I've done! Another of the best was getting to Captain FVRG in their first (closed) bout against the lovely FCR. It was manic but great fun and I'm happy to now be Vice Captain to the lovely Fun Ghoul as Captain in February.

What's new in FVRG?

What's new in FVRG... hmm.. We now have a lot of nice new committees in place which means things are not so hectic for our lovely board! Our fresh meat from our last intake are coming on in leaps and bounds and I think some of them are going to be skaters to watch for! Our intermediates are also coming on SO FAST. I can't remember being able to learn any of it so fast and they all just absorb the knowledge like sponges! We have our first public bout on February 18th against the lovely Dundee Roller Girls at the DISC in Dundee. We are gearing up for this and so excited!!!! As I mentioned before we have some AWESOME bouts coming up this year and a lot of nice trips (including Sweden). 2012 is going to be a great year for FVRG. Oh we also have another Fresh Meat Intake on February 19th at Bo'ness Rec Centre from 11am, the day after out bout. No rest for the wicked!!