You may have already seen Raven Psycho from Into the Nitemare selling roller derby clothing at bouts all over the country; she now has some exciting news to share with us!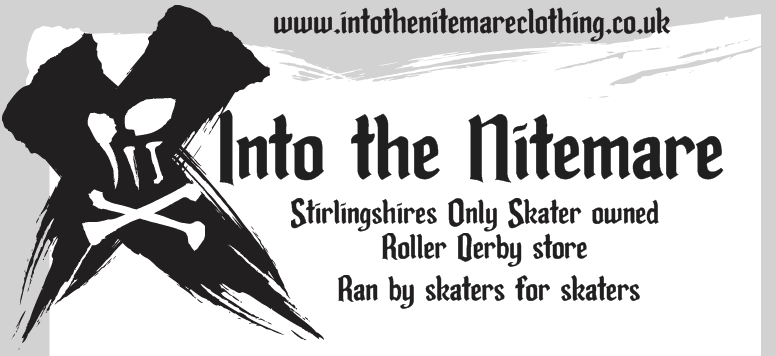 Tell us about Into the Nitemare: who are you, where do you come from, and what do you do? Into the Nitemare started out as the clothing side of our bookshop and has become its own entity very quickly. We've got the best job ever! We travel the UK watching bouts and taking our gear to skaters, officials and fans, it's awesome. We're a family business consisting of myself, Pete and the smalls Calum, Dominic and Jenna, you'll see a combination of us somewhere at a bout on Saturdays! How did you got involved with Roller Derby, and what made you decide you wanted to do more than just take part in the sport? Two skaters with FVRG, Monkey Wench and Chaos Faerie joined the book club I'd started and found myself roped into Fresh Meat but due to work commitments I found it really difficult to keep up. So this s my 3rd attempt, but from that first day on skates, I, like most other girls who skate, was completely hooked! The business came about by accident really. We'd started doing the Roller Derby hoodies and then were invited to have a stall at a fundraiser for DRG and we've been at a bout every weekend since. People then asked if we'd be expanding in to skate kit. And we've never looked back. Your business has recently evolved from selling Roller Derby clothing, to selling equipment  – how did that decision come about? People asked us when we were organising travelling if we could bring, pads, wheels and other small bits n pieces like bearings and toe stops. We'd looked into going into partnership with another company but it never came to fruition so we made the move to become official suppliers ourselves. Since then it's just expanded to the point we're we are now. We've seen your stall at Roller Derby bouts all over the UK for months – what made you decide to open a physical shop, and why Falkirk? We love to travel and meeting new people and to be honest you can't get in the house for stuff! Plus when people see that you've got a physical place they can visit they have more confidence buying from you. That and people have the opportunity to come and see us for a change..We chose Falkirk because my team, FVRG, is based in the Forth Valley area and I live here so it made sense. And the FVRG deserve a local store.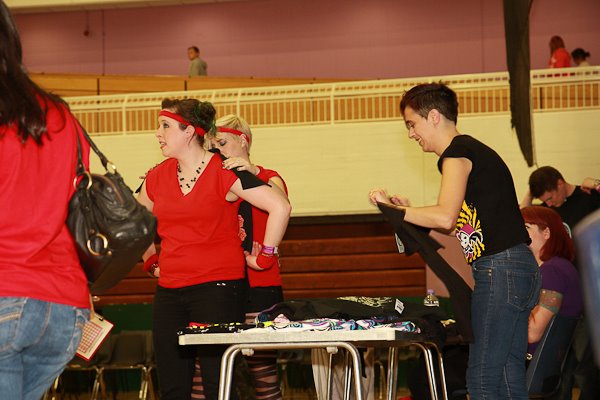 Raven Psycho at Block and Roll All Nite in Belfast When is the grand opening of Into the Nitemare's store? The Grand Opening will be the first week in September. Fiercey's, Keep an eye on your inbox and our Facebook Page for an invite to the opening party! There are very few dedicated Roller Derby stores in the UK – has that posed many challenges for you in the initial setting up phase?  Unfortunately Derby isn't a mainstream activity yet and the biggest issue we've had is sourcing the UK distributor, as most of the kit is manufactured in the US, but most people are pretty helpful throughout the community and have given us loads of advice and support. We've found one excellent supplier and we're now in talks with others to assist in expanding our range of accessories and wheels. The biggest issue we find is that some shops have a derby section or can get derby kit, the biggest issue with this, we've found, is that they don't have the experience of taking part to advise correctly. However, when you do find a skater run store you can be assured that they have the best interests of the skater at heart. What do you think makes you stand out from these other stores? We travel. That's the biggest difference, people don't just see a website, Facebook page or flyer – they see us. They've met us or are going to meet us, again, gives them confidence in the name. We're also pretty prolific on Facebook too, so a lot of people know 'Into the Nitemare' and then get to put a face to the company, makes such a difference. Loads of people approach us at bouts saying 'Ah, so you're Into the Nitemare...' they've seen the brand and now get to meet the family behind it. How do you decide what clothing lines and equipment to sell, and from which brands? We like stuff to be a wee bit different and we end to choose stuff we would wear ourselves, and if it's a small or independent company, even better. That's how we hooked up with Ralph and Nadia at Queens of The Sin Bin, by Derby, for Derby. Our Darkside range started out as our main brand in the book shop and when we came across their Roller Derby range it was hard to resist. At this point we are developing our own Nitemare clothing line with designs coming from our own local tattoo artist, a derby tattooist from Leicester and the final designs coming from Roller Grrrls L'il Rollers line. Kit wise we stock Sure Grip, Green  Monster, Smith, Bullett, 187, Rollerbones, Reckless, Roces, and Antik to name a few with more brands on the way too. We're really excited to have the new Sure Grip Zombie wheels in stock and the new Envy arriving hot on its heels. Roller derby equipment can be very confusing because there is so much choice and a lot of decisions come down to skater preference – do you agree that in this respect, your store has a lot of benefits over online stores since you can talk to your customers face-to-face? Definitely, face to face in any situation makes a difference. One thing we've come across again and again is pad size issues, you can always send them back but that takes ages and we all know derby girls have no patience. So with us, you can try the pads for size, see the quality of the tee shirts, have a squidge of the wheels. We give as much advice as we can but don't profess to know everything and we'd rather look into something than sell you something that doesn't suit. We love hearing about a great wheel set up or which plates you've fallen in love with but, as you say a lot is personal preference, so if you fancy the new zombies or want to try a set of Witch Doctors, ask your team mates if you can borrow theirs before making a decision. What does the future hold for Into the Nitemare? The future for Nitemare is looking bright. With Roller Derby in the UK still in its infancy and growing in popularity and participants month on month we're hoping to be here for the distance. We'll still be travelling the UK so check out our website to see if we're coming to your local team! We've got a few Scottish bouts lined up for the rest of the year and will be shouting on the Fierceys in November. So if you're ever passing by Falkirk, drop in to say Hi, 'like' us on Facebook or check out our website.