Continuing our new series looking back at the
Nasty Nessies
monthly diarists from the past year to see how 12 months of experience has changed them, we come to the most strikingly coiffed member of the league, Nat-orious Red!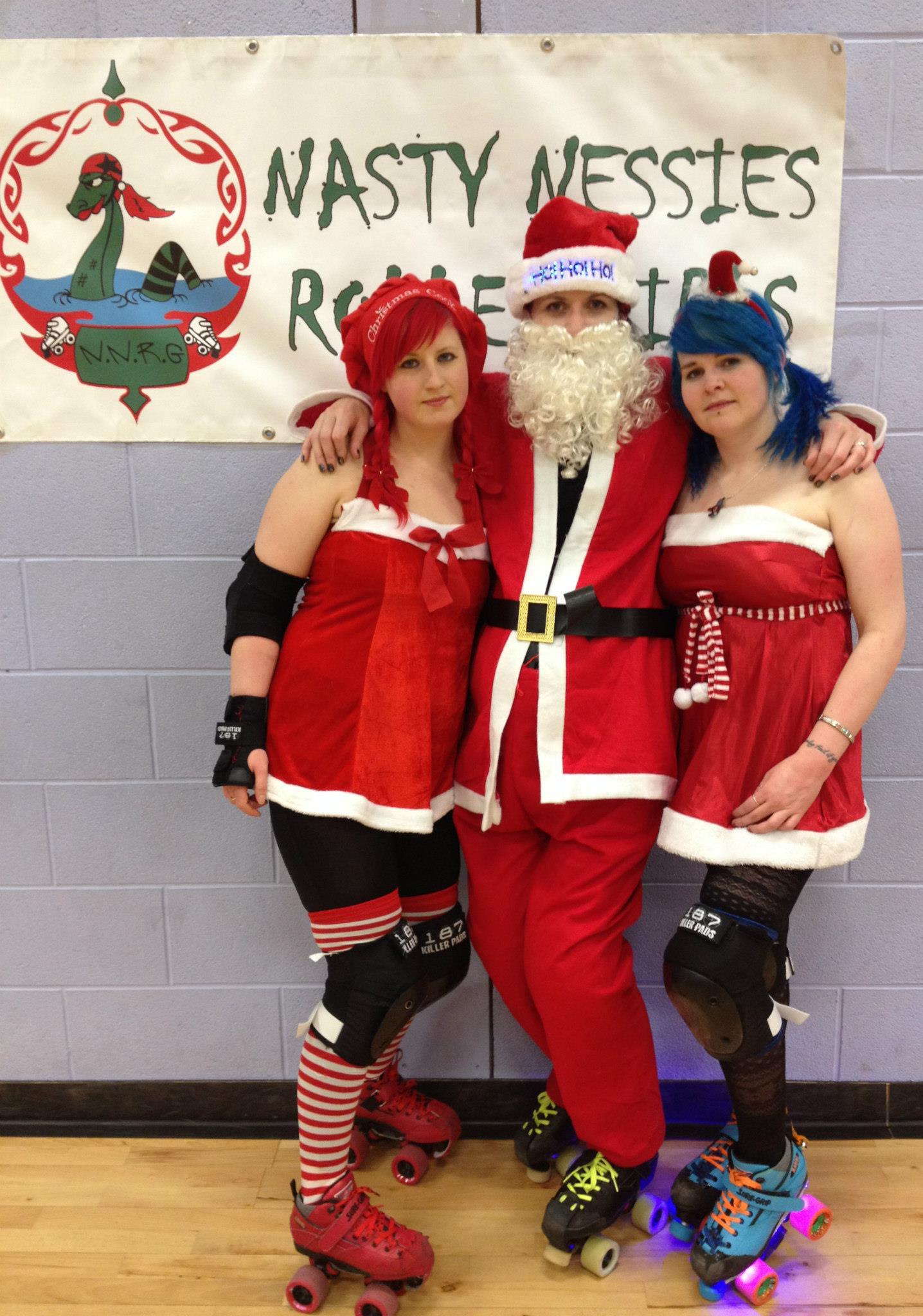 Nat-orious Red, Santa, and Irn Bruzer at the Nessies' Christmas skate.
It's been more than a year since you became one of the first Nasty Nessies.  Looking back at yourself then, with your worries about being clumsy and falling, what advice would you give your earlier self?
I would tell myself to remember that its roller derby and everyone falls thats why we are sooo well padded, i am actually impressed though that i never was as clumsy as i thought i would be, i can skate better than i can walk!!
Now you've been skating and absorbing Derby for longer, have you picked up any Derby heroes along the way?
I am going to say yes and they are both my closest team members, Bee-Yatch and Irn Bruzer just because they have both been there since the beginning and through all the hard work and struggling to recruit they are still just as committed to the league and if it wasn't for them I'm not sure the nessie's would still be around.
A year ago, you were focussing on endurance, and aiming for your 25/5. What are your current challenges, as a mins-passed skater with much more experience?
The biggest challenge since passing mins is keeping team moral up whilst recruiting for newbies so we have a big enough team to bout soon! Bee-yatch and myself do have our first bout on saturday which we are really excited about but at same time we are sad our first game isn't as Nessie's with all our lovely members.
Starting out, the Nessies got some help from the derby community, with Granite City running the first bootcamp to push your skills up. Now you're in a position to pay it back, what have you been adding to the derby community?
Our training committee traveled  to shetland in december to do a bootcamp for the lovely shetland roller derby, it was a great day and the all the team were such fast learners they picked everything up really fast and were such lovely hosts.  We are looking forward to them passing their mins and visiting us!
What're your plans for the future? The Nessies have been tight-lipped about their plans for the next year…
As for the Nessie's in the future... You'll just have to stay tuned. (Ed: In fact, a little birdie tells us that the Nessies will be appearing somewhere sooner rather than later...)