As the Tomodachi Derby Tournament kicks off in Okinawa, we have one final team interview to post, even as scores come in from the first bouts. We started our coverage with Canada's entry into the men's tier, Glenmore Reservoir Dogs, and so it is only fitting to finish with their opponents: the Japanese Men's National Team, NinJapan Rollers! NinJapan Rollers burst onto the derby scene at the first ever Men's Roller Derby World Cup, back in 2014, where they captured the hearts of the audience, and the other teams with their spirit on track. Returning in 2016, after devoting the intervening two years to actively promoting and growing men's derby in Japan (where they are still the only active league of Japanese nationals), NinJapan improved on their performance in 2014 with two victories. This is the first outing of what may become the 2018 iteration of the national team.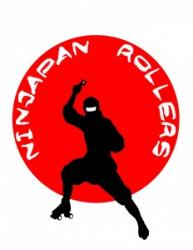 Spectators and teams were both very impressed by the improvement in the NinJapan Rollers from 2014 to 2016. How did you feel about your performance in the 2016 Men's Roller Derby world cup, and what was your high-point? In Japan, there are not so many people playing the Roller Derby, and we knew that the level was different in the rest of the world. We could only watch games from aronnd the world on the Internet, and we played only one game against a men's team between the 1st and 2nd [Men's] World Cup... only 1 day before 2nd World Cup itself! When World Cup started, it was different feeling from what we imagined, in terms of tactics, contact, speed. However, we are satisfied with our performance, the increase in what we can achieve, and our victories! One of the reasons for your success has been your active recruiting policy - trying to build Men's Roller Derby in Japan between the World Cups. Can we talk about how this is continuing? We use the Internet to disseminate activities. Roller Derby is not known yet in Japan. We want to do activate more  if we have two teams and be more popular. ★At the Tomodachi Tournament, you will be playing Glenmore Reservoir Dogs. What are your aims, and preparation for playing them? We're very glad that we get to play another men's team, before the 3rd World Cup! First of all, we thank Glenmore for playing us. The purpose of this game is checking our level before World Cup, our roster was changed. Of course, we also want to win! As the derby also evolves, we are researching the world standard and practicing to meet it. And when you are not competing, which Teams and games are you looking forward to watching? Seeing the Alaskan and Hawai'ian teams; some members were playing in Japan and we have great memories of practicing with them at that time. What are NinJapan Rollers plans for 2017? It's just one year to the next World Cup, so our World Cup project will start. We will practice again from the basics, to team we will be sharing to raise awareness. ★Heading towards the MRDWC in 2018, what are NinJapan Rollers aiming for at the next World Cup? We were able to get our first victory and the second victory [at MRDWC2016], thanks to the cooperation and encouragement of lots of people. Next time we want to get even more wins, that just equal what we have already done. We will exceed what you can imagine,  and keep achieving all of our expectations!
---
Our ongoing coverage of the Tomodachi Tournament can be tracked here, with scores updated as they are announced, and video when available.