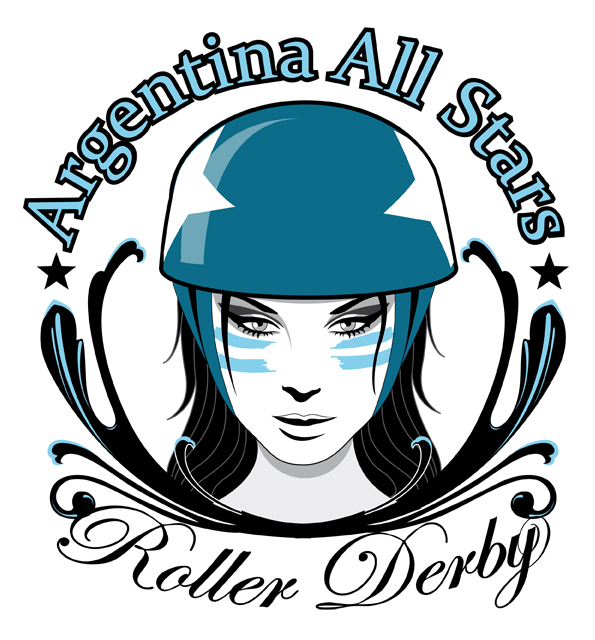 Team Argentina logo designed by Julia Leo A.K.A White Rabbit,used with permission
Team Argentina are one of the dark horses of the competition.Much like Team Ireland their team is a mix of experienced skaters from some famous leagues and enthusiastic newer girls. Roller Derby is a fairly new sport to Argentina.The first league formed there was 2x4 Roller Derby in June 2010 and there are currently seven leagues operating,three in Buenos Aires and the rest throughout the country.
The Team Argentina roster is-
Arson Tina from Gotham Girls Roller Derby Chargin' Tina of The LA Derby Dolls Crazy Legs from The Queen City Rollers Barbie Turik,Disturbio Santo,Ini,MAKIavelica,Minx X Vixen,MissVik,Nina Brava,Psycho Thrasher,Sun of the Beach,Turbonegra,Vale and White Rabbit from 2x4 Roller Derby Rosie the Ribhitter from Houston Roller Derby Sargentina from The Windy City Rollers
Coaching staff Head Coach:Crazy Legs (Queen City Roller Girls) Assistant Coach:Nina Brava (2x4 Roller Derby) Manager:Tyrant Doll(2x4 Roller Derby)
Team Argentina are playing exhibition bouts with a split team as part of their preparations and will no doubt be soaking up all the lessons that their skaters from US leagues can pass on.They plan to travel early to Toronto, get in some practice time and gel their skaters together. The girls that skate for US leagues,do skate for some pretty major ones...Gotham and the LA Derby Dolls among them,these girls will doubtless have a wealth of experience in terms of training and in bouting and scrimmaging against some of the best leagues in the world.It only remains to be seen if Team Argentina can absorb and adapt.