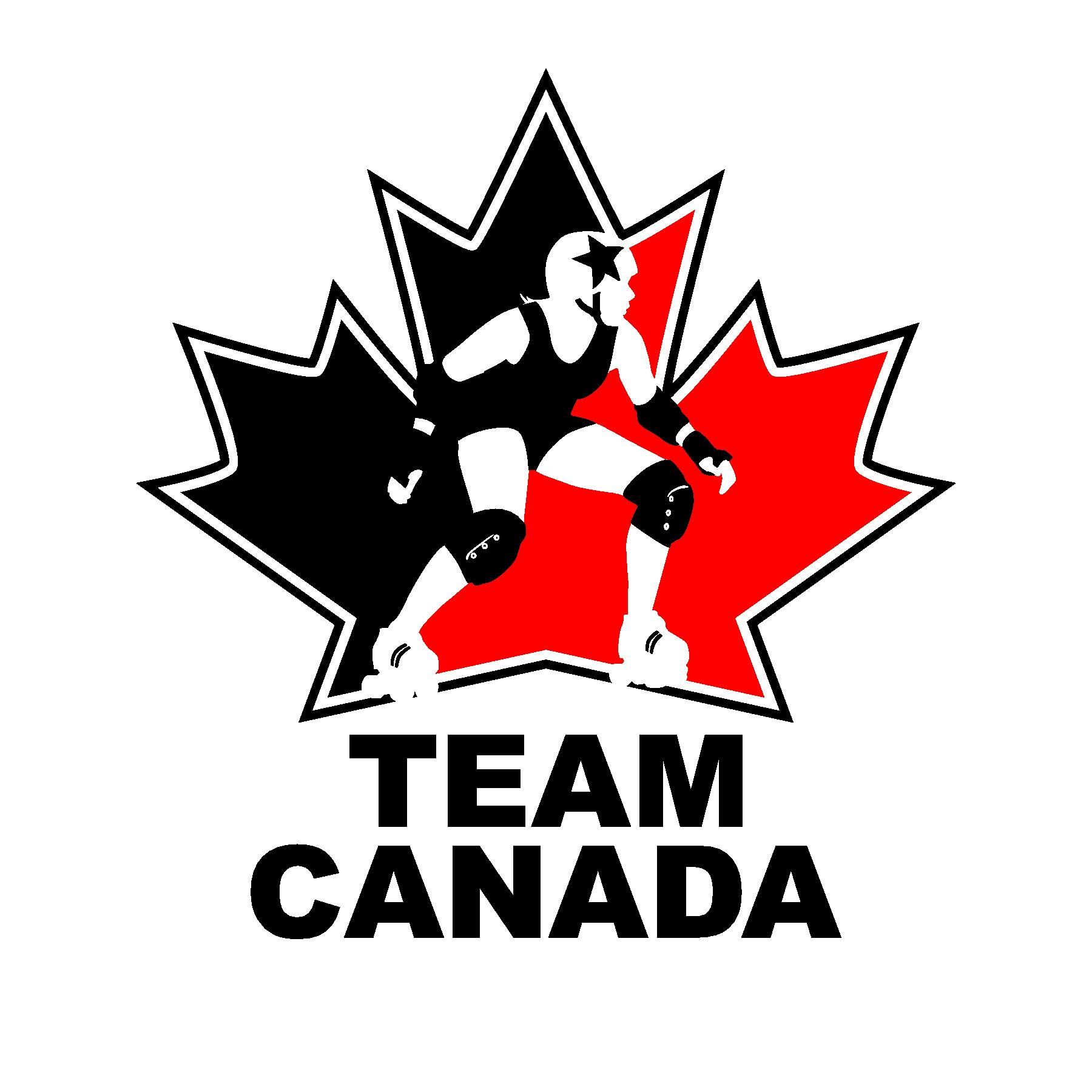 Team Canada logo designed by Chica Bomb,used with permission
Team Canada are beyond doubt one of the contenders to win the upcoming World Cup,they have a stellar squad with a colossal amount of experience.Many of the skaters on the roster will not only be familiar names,but also Derby heroes to many a skater here in Scotland.
The team roster.. Beretta Lynch Kootenay Roller Derby British Columbia Bone Machine,Georgia W Tush,Iron Wench,Jess Bandit(Co Captain),Lil Mama and Smack Daddy Montreal Roller Derby Brim Stone(Co Captain) Toronto Roller Derby Eight Mean Wheeler and Lulu DemonTerminal City Roller Girls Vancouver Gunpowder Gertie and TAZ Red Deer Roller Derby Red Deer,Alberta Hell 'on Keller E-Ville Roller Derby Edmonton,Alberta Killson Forest City Derby Girls London,Ontario Maiden Sane Pile O' Bones Derby Club Regina,Saskatchewan Motorhead Molly Tri-City Roller Girls Kitchener,Ontario Rainbow Fight 709 Derby Girls St.Johns,Newfoundland Soul Rekker Rideau Valley Roller Girls Ottowa,Ontario Teeknee Oil City Roller Girls Edmonton,Alberta Windigo Houston Roller Derby
Coaching Staff Head Coach – Coach Pauly from E-Ville Roller Derby Assistant Coaches – Mack The Mouth of Terminal City Roller Girls, Paul Piche Hammer City Roller Girls
Team Canada have no warm up bouts planned and will instead use the time remaining before the world cup to concentrate on training.They have a mix of scrimmages and training sessions planned to take them up to December and unlike many other squads in the competition,Team Canada will not require much in the way of practice time together to enable them to play well as a team,such is the level of their experience and abilities. The team will also enjoy the benefit of home support,Roller Derby is massive in Canada,there are dozens of leagues,a huge number of which are regularly featured in the press at a local level,with some national tv coverage too.As a result the World Cup venue in Toronto will be like a sea of maple leaf shirts. Expect Team Canada to play their hearts out for their home crowd.