Hot on the heels of the Fierce Valley girls, here's the Nasty Nessies' first interviewee for the year, the lovely Cherry Bow!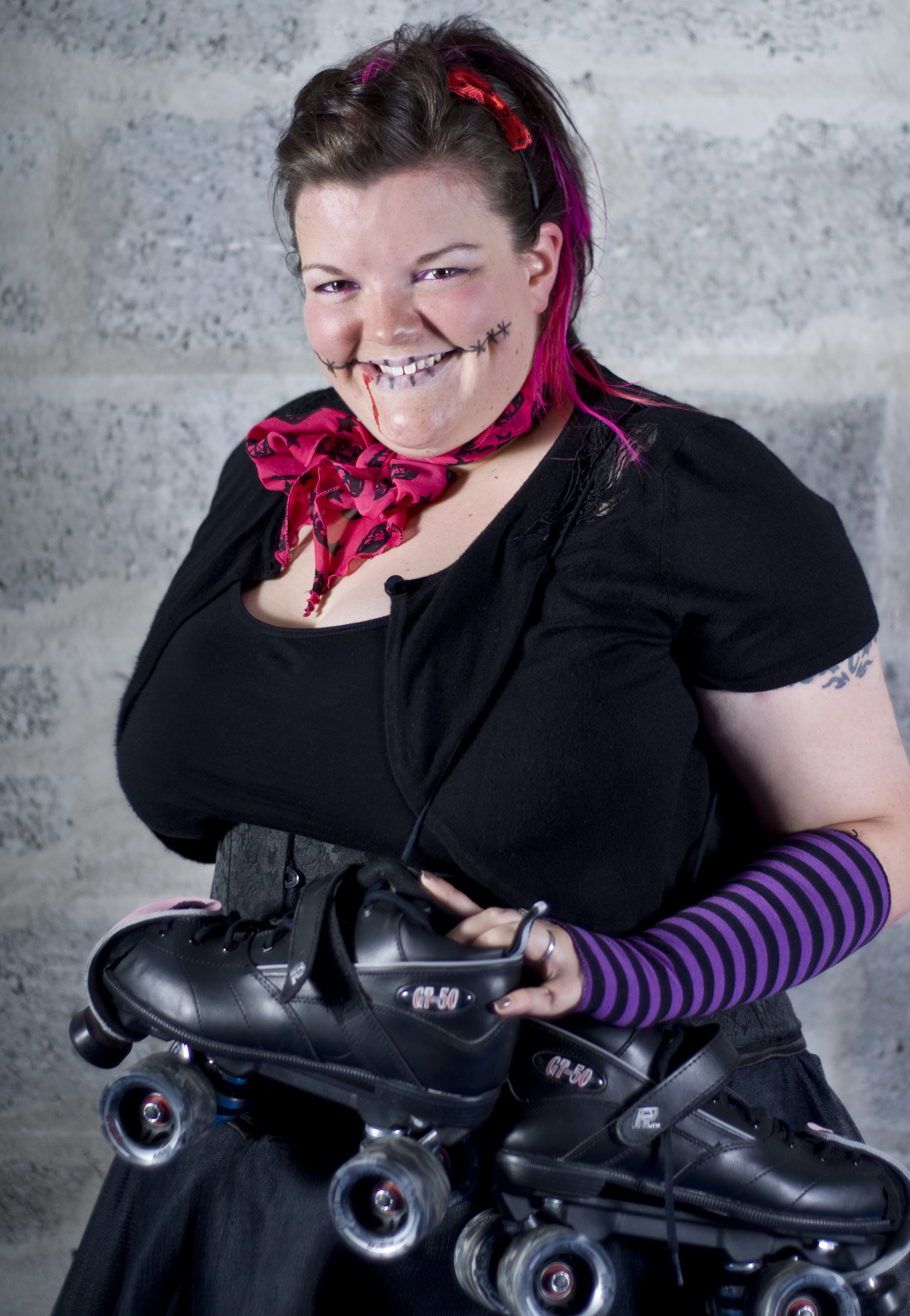 What first attracted you to Roller Derby?
I love rockabilly and 50's style and a friend mentioned Roller Derby a couple of years ago so I looked into it and immediately wanted to try it. I was so pleased to find a sport that I could see myself doing and one that accepts you whatever you look like.
Derby names are an important aspect of the sport, especially when you're starting out. How did you choose you name, and how does it reflect your personality on track?
I do amateur pin-up modelling and Cherry Bow is my modelling name (after my tattoos) so it felt natural to make it my derby name too. I did toy with the idea of changing it to something with a touch more 'Grrrr' but I kinda like being different so Cherry Bow I shall remain... Plus I have my hoody printed up now!
What was your biggest initial difficulty?
Um, learning to skate! Before derby the last time I skated was about 20 years ago and I am not a natural skater so I had to start completely at the beginning. I also had to get over my fear of falling but thanks to my fantastic team mates, awesome coach and my amazeballs hubby, I am becoming more confident with every week that passes.
Lots of roller girls find it hard not to spread the word about their new sport. How have you been spreading the word?
I tell everyone I meet! No really, I do!! It's normally bought into conversation within minutes of meeting me and I talk about derby pretty much throughout the day (ask my family and work mates). People see how enthusiastic you are and it sticks in their minds so they remember- regardless of if they want to or not!
What's the most important thing you've learnt/done this month?
I have learnt to do crossovers which has made me unbelievably happy as this will help for my 25 in 5. The most important thing I've done is rest over Xmas and come back raring to go and get my skate on!
What were the most difficult and best things you've done?
The most difficult is speed work like 25 in 5 as I'm not a fast skater. I'm getting there though and with every week that passes I can feel myself getting faster. The best thing I've done is hard to pick one thing for as I love all of it; but my personal favourite thing so far is derby curling and derby bowling as it teaches you to stay stable while taking a hit but equally is one of the funniest things you have ever seen!
What's new in NNRG?
Well we have a few things up our sleeves but the next few months will be getting mins completed and taking the Nessies to the next level. We also have a couple of newish skaters who are fitting in well and it will be great watching everyone grow. Watch this space as the Nasty Nessies will be coming to get you! :D
Cherry's pick for February is Belle Block-H, so be sure to come back in 30 days to hear about her month!