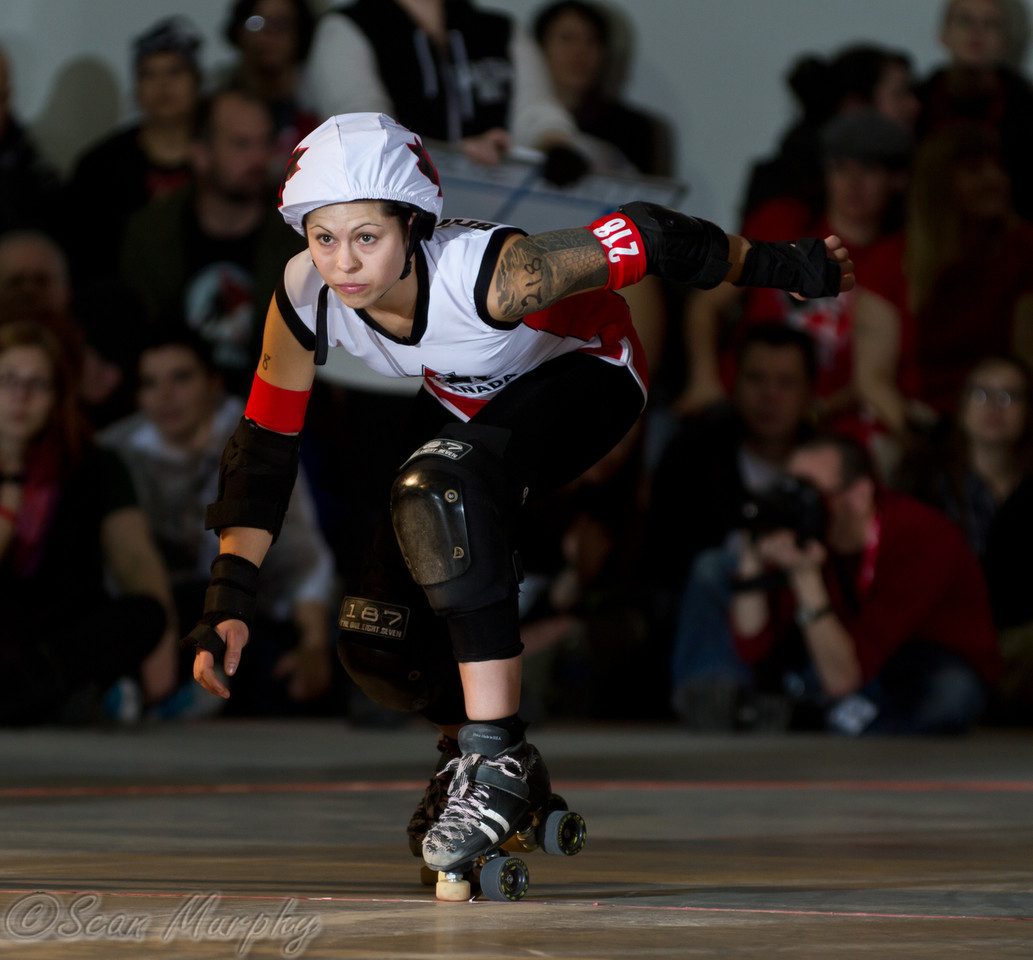 When I was given the assignment to speak to Brim Stone I was so excited. But I knew I had to suppress my inner fangirl to take care of the job at hand. However, I couldn't help but gush a little bit.
Brim, known to her intimates as Kayla Wilkins, skated as part of Team Canada during the 2011 World Cup and also skates for CN Power, the Toronto Roller Derby travel team, and Gore-Gore Rollergirls, Toronto's home team.
Just starting her sixth year in derby, Brim admitted that she had "never understood the appeal of team sports" before giving roller derby a chance, although she did take part in horseback riding when she was younger.
On track, her favoured position is Pivot, and aside from concussion, she has managed to avoid any serious injuries.
Asking someone who has come so far and achieved so much for a list of their derby idols might seem a bit ridiculous, but everyone looks up to someone and Brim was no exception. "Bonnie Thunders and Joy Collision are at the top of my list right now, but I have so many!  There are so many great skaters out there."
Making the cut for Team Canada was no easy task. Brim explained that multiple tryouts were held across the country.
"There was a fitness component (push ups, sit ups, agility test, beep test, etc.), a derby skills component, and a mark given for scrimmaging.  Coach Pauly made a long-list at each tryout, and then chose a team of 20 from that list."
After surviving the gruelling "audition" process, Brim said she was "shocked" to make the team. "I wanted to make the team so badly, and I was so honoured to be put on the roster to represent my country."
She added: "It [making Team Canada] wasn't always a goal - I wasn't very competitive when I started derby - so it was something that developed over time.  I had thought about what an amazing opportunity that would be before the World Cup though, so when it became a possibility I wanted to put everything I had into the tryouts."
And once at the World Cup, Brim Stone was keen to get stuck in, although she didn't get to play against everyone.
"I wanted to play against all of the teams!  I really didn't have a lot of knowledge of what the other teams would be like, so I was looking forward to that challenge.  I have to admit that I did really want to play against the USA, but I wasn't chosen for that particular roster.  That was ok though, in a team sport the team always has to come first to be successful, and sometimes the best thing you can do as a player is to be the best cheerleader for your team!  And now I've got a better idea of what skills I need to work on to be a better skater in the future."
Despite her preference for playing Pivot, Brim found herself on track jamming a lot during the competition.
"So, my personal best moment was a jamming moment for sure - I took hip off of my team mate Windigo's shirt, and swung into the inside track, on one leg, and managed to save it and skate out of the front of the pack!  It was so fun!"
And cheering her all the way into the final was her support system, which included her parents, who travelled from their home two and a half hours north of Toronto, an aunt and uncle who flew in from Alberta, Brim's derby-playing partner, and some of her team-mates from Toronto Roller Derby.
And what did Brim think that first time she heard the Canadian national anthem played?
"It was great - after 5 years of playing derby, I now associate the national anthem with 'go' time!  It was especially important hearing it at an international event."
Following the World Cup, Brim left with a lot of lessons learned, but cites one as the top of the list.
"The most significant was the importance of bringing the international derby community together in one place.  Incredible!  Every country can learn so much from Team USA - how they operate on and off the track - and I think that will push us all to move the sport forward much faster."
But the competition wasn't just all business, and Brim shared her favourite part of the experience, off-skates.
"For me it was all of the support and encouragement I received from my ToRD league mates.  That was what was driving me to do the best that I could do on the track because I wanted to make them proud."
And Brim told me when I asked if she was aiming for total victory at the next World Cup: "Iam always aiming for total victory!!"
Photo used with kind permission of Sean Murphy. For more of his images, visit his website at www.womenofderby.com.