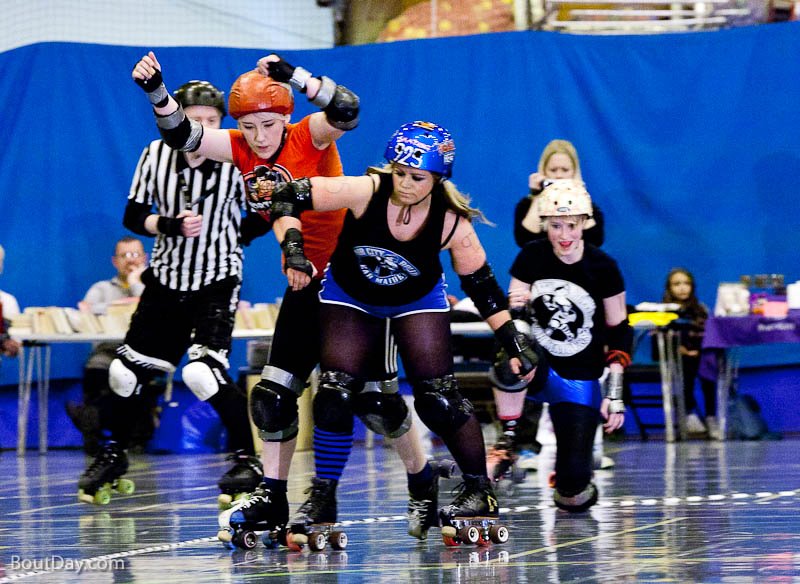 For most skaters, the first time you bout fills you with a mixture of fear and excitement.
You have worked for months to take your place on your league's bout team, passing mins and then getting to grips with tactics, scrimming as much as possible and talking to more experienced skaters to get hints, tips and advice. You know, deep down, you are ready.
However, as bout day draws nearer, chances are the nerves will start to set in. Skating in front of a crowd, playing well, heck even what you choose to wear on the day can create doubt and nerves.
For Reggie Reg, the Fair City Rollers' newest bouting member, the trick was to not let the nerves get the best of her during her first bout recently, when the Fear Maidens took on Granie City Roller Girls' Northern Fights in Scrimmage of the Damned.
Here, Reggie Reg gives an insight to bouting for the first time, and offers advice to any skaters preparing to compete in their virgin bout.
How long had you been skating before the bout?
Six months
What was the best advice you got for bouting and who gave it to you?
On the day of the bout, Jill Antonic told me to just enjoy myself; that it didn't matter if we win or lose; that there is no league table; and that at the end of the day it was all about having fun. This made me feel much less anxious but at the same time motivated me to give it my best!!
What was your "getting ready" ritual on the day?
Porridge and banana for breakfast, some stretches in the morning to loosen me up, fake tan and lots of dramatic zombie makeup; and I walked quickly to Bells to get rid of some nervous energy!!
What did you like most about bouting?
I liked feeling part of the team; I loved having my team shirt with my name on it; I liked using all the skills I had learned during training; I liked feeling that I was making a difference to how the team was playing!
How did it feel going out and competing in front of people?
After the mortification of falling in front of my fans during the skate out, I totally forgot about everyone watching when it came to competing.
What bit did you not like?
Falling during the skate out!!!
* What advice would you offer first-time bouters?
During the skate out, look at where you are going instead of the people watching! Also, everyone gets nervous but too much can be debilitating. You just need to keep calm and remember that everyone in the sport is very supportive, even the opposing team. So just have fun and do your best!!
Photo by BoutDay.com