Back to a normal schedule this month, Fierce Valley Roller Girls bring you their latest diary entry, from the tiny but not at all shambling Zombette!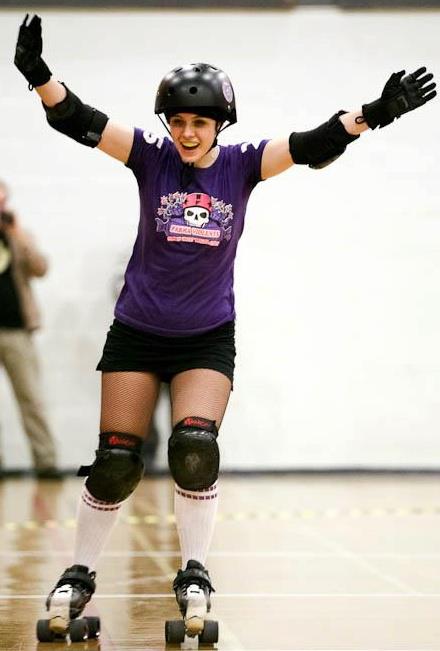 Zombette, by Claire "Chaos Faerie" Brunton
What first attracted you to Roller Derby?
The excuse to put on skates again for the first time in 15 years attracted me to Roller Derby. I was encouraged to come along to a training session by a friend who'd recently taken it up. After a few wobbly laps, my 5-year-old skatey memories began to trickle back and I managed to make it through the session without falling. I have never made it through another training session without falling since!!!
Who are your derby heroes?
I always try to live by Maggie Mayhem's advice and "be my own hero", although it is hard when you know your own weaknesses so well. I'm really inspired skaters like Bonnie D Stroir, Re-AnimateHer and Bonnie Thunders who are at the top of their game and are amazingly talented derby skaters. They show you where hard work and time can take you.
 Derby names are an important aspect of the sport, especially when you're starting out. How did you choose your name, and how does it reflect your personality on track?
Being terrible at making decisions, I found it a bit of a task to pick a derby name. I love old zombie movies, so I knew I wanted a zombie theme name. Also, often being the smallest person in company, I thought Zombette would fit. Zombette doesn't really have a huge personality in track, but she likes to take advantage of that fact when jamming. Slipping through unnoticed, trying not to grab a snack on someone's arm on the way. I am hoping that as time passes and my confidence grows, so will the persona of Zombette.
What was your biggest initial difficulty?
I am my own worst critic, so my biggest difficulty was, and still is at times, letting myself off with making mistakes. If I took too long to learn something, or I messed up a Jam, I would give myself a really hard time about it. I'm getting better at dealing with it now. I try to highlight at least one success for every mistake and take life one jam at a time.
 Lots of roller girls find it hard not to spread the word about their new sport. How have you been spreading the word?
With roller derby being a growing sport, more and more people are hearing about it. I usually find all I have to do is explain the rules, and insist it is nothing like roller ball. I've Invited people along to bouts to "spread the word" and everyone has come away loving it. I think there's a few misconceptions surrounding roller derby, but the best way to experience it is to see it ... then play it!!
What's the most important thing you've learnt/ done this month?
I had taken a bit of a derby holiday, following our intra league bout last month. The plan was to take a month out; away from derby to focus on all the things I used to do before I started skating. I lasted one week before I had bought Lead Jammer magazine and was watching bout clips on you tube and two weeks before I had my skates on again. I have learned that roller derby has become more of a significant part of my life than I had realised, which has be a really nice discovery.
What's new for the Fierce Valley this month?
Mins!! A lot of our skaters have bee re sitting their yearly mins tests and it's my turn this month. Hope I pass again!!