So quickly our traditions come around again: Easter, Halloween, Christmas, and the monthly diaries for Fierce Valley's roller girls. This month it's Dita Von Cheese, who debuted at the Rising Stars bout held by Dundee Roller Girls a few weeks ago.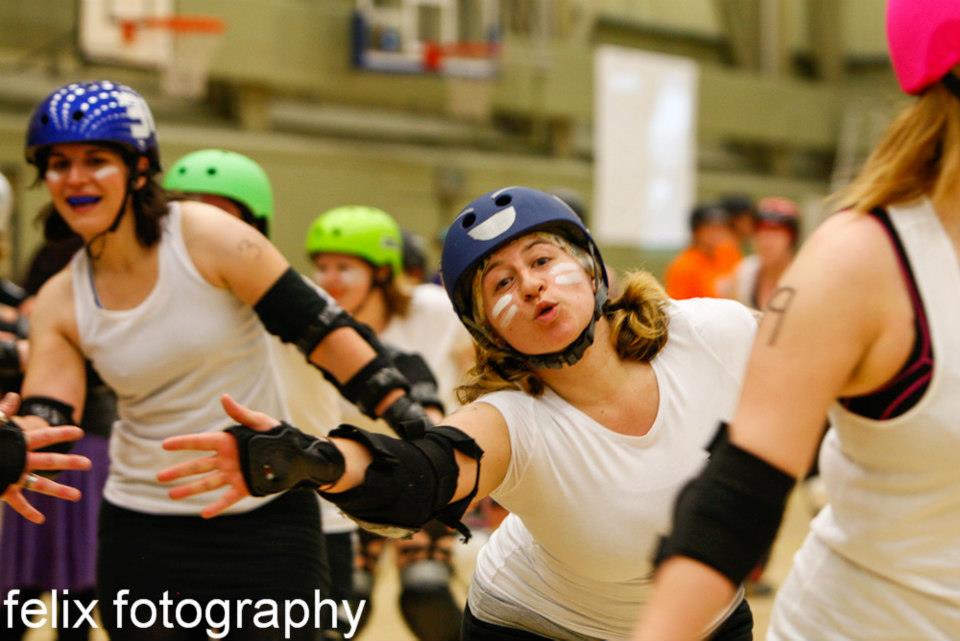 Dita gives the crowd some love. (Copyright: Ian Mccreadie)
What first attracted you to roller derby? I found out about it through a friend and went through to the Fresh Meat Intake in October 2011. As soon as I strapped on the skates I felt like a kid again! I felt like I was racing around the track like a gazelle, it felt so natural. In reality, I was flailing all over the shop, making a racket and probably wrecking the skates! But I felt something I had not felt in a long time, utter joy and a feeling of falling in love. All I could do was think about derby.
Who are your derby heroes? I have many. Pretty much any derby girls I meet, everyone who is part of derby who helps, NSO's, the Refs, the announcers, the fundraisers, the trainers. Everyone. They are all so important and make each league function. I also tip my hat to anyone who has never heard of roller derby and has to put up with me talking about it….endlessly.
How did you choose your name, and how does it reflect your personality on track? I had a few floating about, even had my boyfriend thinking up a few but they just didn't suit. I thought of Dita Von Cheese, because it's just silly and that's just me. I wouldn't suit a scary name or a witty one either. Also, I want to have a logo with a flaming cheese and a sexy mouse.
What was your biggest initial difficulty? My physical fitness level at the start was atrocious. I had roller bladed and ice skated when I was younger, so the actual movements were not the problem. I had left my job as a post lady in favor of an office job and was still smoking, so I had a lot of work to do. Mentally, it was seeing the experienced skaters doing their thing and making it look so easy! I found I was getting frustrated at being unable to keep up, but after a while I slowly got better.
Lots of girls find it hard not to spread the word about their new sport. How have you been spreading the word?  By not shutting up about it! I recently went up north to my home town near Aberdeen for a night out. I found myself pimping out Granite City Roller Girls; I believe you have 3 ladies and a guy interested : D
What's the most important thing you've learned/done this month? There are a few things coming to mind, firstly I have learned I am terrible at 10 pin bowling (we recently had a FVRG night out), that the best bruises are the ones you get from landing on your OWN wheels, and how to effectively counter-block a-la-Psychomilly [of Dundee Roller Girls], who was a guest trainer last week.
What were the most difficult and the best things? I think the tricky part in derby is tactics. There are so many ways to approach a situation, and so many ways it can unfold. I find myself completely lost sometimes and I am in awe of any skater who knows what to do and how to get it done, in two minutes, without being floored, binned or breaking a sweat. The best thing? Right at the start of a bout/scrim. There is endless possibility of what could happen. I like that feeling.
What's new for the Fierce Valley this month? This month everyone is buckling down and getting ready for tryouts at the start of October. We have our first ever home bout on the 17th November; ''For whom the skate rolls'' against the Wirral Whipiteres. Bring on the Metallica themed bout! \m/