Okay, so it's a little late. But all you fans of
Inverness's
finest will forgive us when you read about Schneck Breaker's answers, and for the photo below!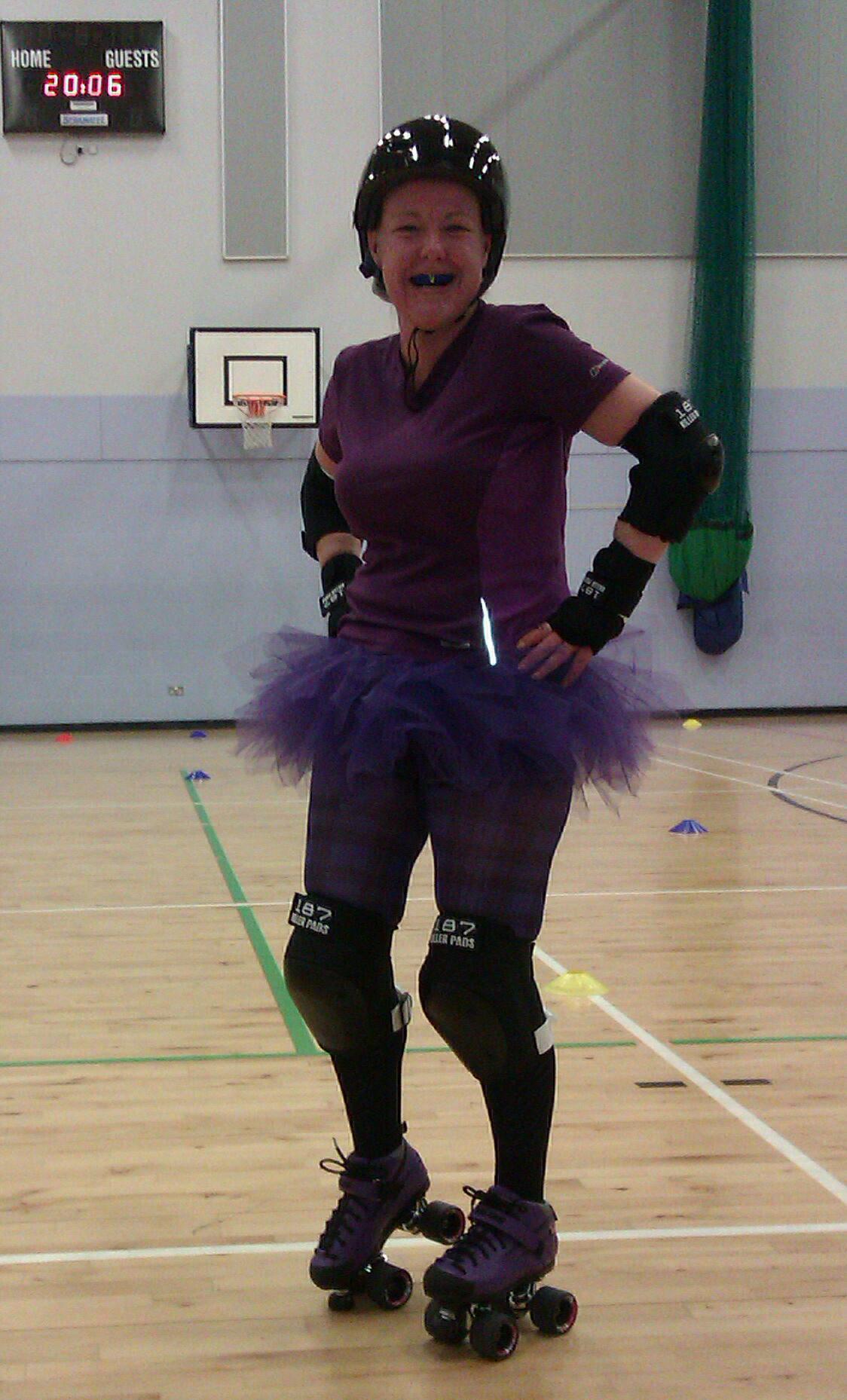 Schneck Breaker, showing her sensitive side!
What first attracted you to Roller Derby?
I had noticed comments made by friends on a social network site, and because of their enthusiasm about the sport, so i did some research. I was immediately attracted to the vibrancy and positiveness I saw on the track. I got in touch with NastyNessies and went to their New Meat session, and was hooked!
If you've seen enough derby to comment: who are your derby heroes?
I've only seen one live bout so far, Dundee Roller Girls VS Belfast Roller Derby,  and it was fantastic. There were amazing women on the track. I watch a fair bit of Derby on youtube, and I really admire Blast Unicorn. She seems to read the situation on the track before others realise what's happening, and she's off, another 5 points!
Derby names are an important aspect of the sport, especially when you're starting out. How did you choose your name, and how does it reflect your personality on track?
I did have a list of names as long as my arm at one point! I finally settled on Schneck Breaker as a salute to Inverness and as an alter ego I wanted it to reflect the determination I have on track, and possibly it sounds slightly scary to opposing teams! I found it more difficult choosing a number to be honest, I wanted something to suit my personality so went for 404!
What was your biggest initial difficulty?
My lack of strength, although I climb hills when I can, it's a different areas of your body you are using in Derby. Also using the non-dominant side of my body was, and still is a challenge.
Lots of roller girls find it hard not to spread the word about their new sport. How have you been spreading the word?
At every opportunity, to be honest, I've put leaflets in the staffroom at work, my facebook page has Derby links all over it and trying to persuade friends who go to the gym that Derby is a much better workout. Oh, and showing off my Derby bruises.

What's the most important thing you've learnt/ done this month? I passed my Mins a couple of weeks ago, the final part was the Official Rules test, so when I passed that I was jumping the height of myself! The most important things I have  learnt was to not be scared when trying out a new way of doing things, and not to get too frustrated at myself when things aren't coming together the way I think they should. T-stops being an example!
What were the most difficult and the best things?
The most difficult things for me were my T-stops, plough and falling. At first it was hard just to let myself fall, because the sense of self preservation would take over, and I would just hurt myself.
The best thing was my 25 in 5, although it was physically draining and  by lap 17 I felt I couldn't  continue, I summoned up the energy and determination, and completed it in 4.46. All my fellow Nessies were sitting on the bench in silence, apart from the odd words of encouragement. That meant a lot to me, as the rest of the team recognised what I needed to succeed.
Also the Nessies themselves, I've had a particularly difficult year, but I know when I get to training I will be met with friendship and encouragement.
What's new for the Nessies this month?
I think this month Nessies are going to continue with putting into practice the skills and methods of training picked up when Viper was our guest trainer a few weeks ago. and of course recruiting new members.
skatey fun times to all the Derby folk!