After Nasty Nessies founder Irn Bruzer launched our series of retrospective interviews with previous Nessie monthly diarists in Jan, this month we have Bee-Yatch to talk about how her feelings for derby have changed over the past year.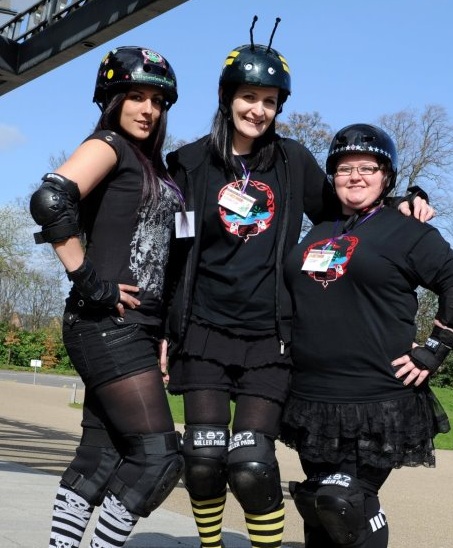 Bee-Yatch (centre) promoting the Nessies at Inverness Comic Con.
Like many skaters, you first encountered Roller Derby through watching "Whip It". Now you're mins-passed and scrimming, how do you feel about the reality of derby, compared with the image you first experienced?
The reality of derby is much better than any film! Getting to know a great bunch of girls and to do a sport that I never imagined I would be capable of is great. It's hard work and requires a lot of commitment but I love every second of it.
Now you've been skating and absorbing Derby for longer, have you picked up any Derby heroes or inspirations along the way?
Inspiration for me comes from my own team mates, they share the good, the bad and the ugly and are always there to help you up and push you past the mental block that can prevent you from moving forward. I genuinely couldn't ask for a better bunch of mishmashed people! As for heroes, well anyone who plays Roller Derby is an instant hero to me!
The last time we talked, you mentioned that the most difficult and important challenges for you had been training related - building endurance and building skills and confidence. Looking back a year, would you give yourself different advice now than you thought then?
My advice to myself would be that everyone learns at a different pace, some people pick things up simply by watching then trying it themselves and others have to break it down more, either way keep on trying and never give up. You just have to learn to get up, dust yourself down and keep on going, you will get there in the end.
And, following on from that, how do you see yourself as a skater now; what are your current challenges and inspirations?
My current challenge is to learn to put together all we have learned in training and apply it to the game. It's good to build on endurance and skills but you need to know what to do with it all. There's so much to think about, strategy, where you should be on the track, where's your jammer, where's their jammer, who is trying to push you off the track, who is about to land a hit on you….phew it's a lot to think about/put into action all at once! ;-) How do I see myself as a skater now…hmm I think I will always be a newbie at heart!
The Nessies have, of course, recruited more fresh meat since we talked. Being one of the Experienced Skaters in the league, how do you feel about the new blood coming in? (Are they scarily better than you were, do you empathise with their initial problems?)
We currently have a great bunch of newbies, they seem to be so fearless! I see some girls after a few weeks and am so impressed with their abilities. I am not a natural born skater so I think I can relate to the more nervous newbie and keep them going with encouragement and be an example of how perseverance can keep you upright, in derby stance of course ;-)
And, finally, what's new for the coming year with the Nessies?
A few of the Nessies went to Dundee last Friday and did some scrimming with the lovely Dundee Roller Girls. We were made to feel really welcome by all the girls and had an excellent time, we literally buzzed all the way home so thank you Dundee! :-)
As for what we have up our sleeve for this coming year, 2013 is going to put NNRG on the map so keep your eyes peeled.
Next month's retrospective will be by Natorious Red!