While modern Roller Derby as a sport is spreading rapidly across the world, and turning up on TV and in newspapers with various degrees of accuracy, there are still parts of modern culture where our favourite sport has failed to penetrate. Most notably, there is only one Roller Derby game in existence, Jam City Rollergirls, which, while WFTDA-licenced, is also essentially a fusion of Mario Kart and Derby. Disappointingly, it's also limited to the Nintendo Wii, with no other platforms even being considered.
Concept art for Power Jam: Roller Derby.
This month, however, hope has arrived with the appearance of the Power Jam: Roller Derby project on Kickstarter. (For those of you unaware of Kickstarter, it's the best known of the "crowd-funding" websites, where potential projects can ask for donations of funds (towards a set minimum target) from the general public. If the minimum target isn't met, then no-one is charged any money (and the project presumably either dies or goes looking for money elsewhere). In order to encourage donations, projects offer "rewards" for pledging funds at various levels - usually on a graduated scale from "We'll tweet you a thanks" for £5, up to grand invites to the opening party, or the ability to contribute to part of the project design, for £1000 or more.)
The Derby community is, in fact, no stranger to Kickstarter, thanks mainly to the Derby, Baby Distribution project, which saw basically everyone in derby worldwide donate money to help Robin Bond and Dave Wruck get their Derby documentary distributed around the world. (We, of course, all got sweet DVDs or Blu-rays of the film.) On a smaller scale, photographer Kyle Cassidy ran a Kickstarter to fund taking Lead Jammer's Moxie McMurder around the States while he photographed skaters for a book.
The Power Jam : Roller Derby project is something different, however. A collaboration between two Belfast-based companies, Iglu Media and BillyGoat Entertainment, the plan is to create a fully-featured Roller Derby management game, with both strategic and tactical elements. As with management games for other sports, you'll manage your league at one level, dealing with recruiting skaters through fresh meat, planning training sessions, hiring halls and promoting your bouts. At the bout level, the plans show a full featured tactical interface, allowing you to give orders to both your jammer and all blockers during each jam (the skaters will be smart enough to do sensible stuff if you don't order them around directly too, of course). The plan is to show the bouting action from a bird's-eye tactical view, zooming in closer for "glam cam" shots of particularly impressive blocks or other important moments.
Speaking for Iglu, Jonny Kane was keen to emphasise that the project was born of a genuine love of derby from the developers: "It was by having conversations over an extended period of time with Roller Derby players and fans that it occurred to us that those who play or take part as Refs or NSO's – no matter what your role – there is so much passion and dedication to the sport that goes beyond just the bout. This really appealed to us, the side of the sport that exists as soon as you scratch the service."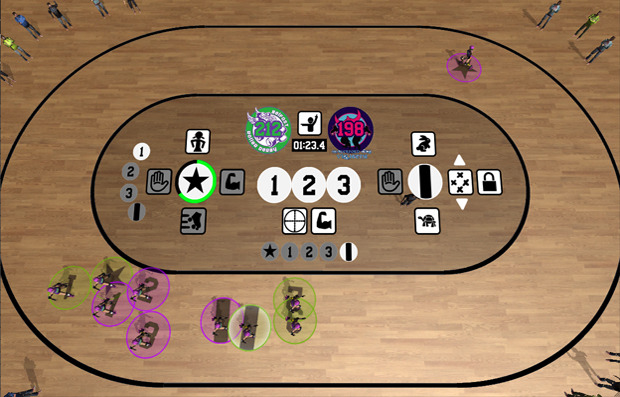 This mock-up shows the tactical options planned for the bout interface.
With media representation, the issue of veracity often comes up (we've all seen TV depictions of derby that were... less than accurate). In this too, Power Jam : Roller Derby is trying to do the right thing. One of the first things the developers did was to contact local league, Belfast Roller Derby, for assistance. BRD's Dempsey Hammer has been pleased with the level of interaction so far: "It's hard to quantify [how much time we've spent talking to Iglu] as we've been in regular contact over email and phone as well as the occasional meeting or mo-cap session. We've been kept updated about the various stages of the project, and we've asked questions when we've wanted to and visa versa, it has been a very positive relationship between us and the guys at both companies!"
Indeed, so concerned are Iglu and BillyGoat at getting the action just right that they're using the motion capture facility at Queen's University Belfast to capture BRD's skaters in action and translate them into the game models' moves. Despite a little trepidation at being the models for the in-game skaters' skills, BRD have been happy to help, and are so far happy with the results.
The astute of you may have noticed that we've gotten this far without any mention of which leagues are going to be featured in the game. That's, partly, where the Kickstarter comes in. In order to raise the £75000 needed to greenlight the game (a very parsimonious amount for modern games development), the developers are putting the final skater and league rosters in the game up for the funders to decide. While smaller donations will get you a copy of the finished game as soon as it's ready (£15 for digital, £45 for boxed), skaters or leagues with deeper pockets will get to contribute content to the game itself. Donating £60 will get you a boxed copy, and also allow you to add a skater name to the in-game roster. Donating £200 will garner a host of goodies (limited edition art, t-shirt, badges), the ability to add a skater name to the roster and, most importantly, Beta access to the game, allowing you to provide feedback to the developers and shape the final game. Donating £250 will let you add a league name to the roster of leagues, add 5 skater names to the skater roster and also give you beta access and five boxed copies (this is obviously a significant saving if you know 4 people who want a boxed copy), and £300 lets you not just add a skate name to the game but actually provide photographs from which the developers will recreate the skaters' likeness ingame (plus that beta access and a copy of the game itself). Finally, for those interested in outreach and promotion (those skateshops out there?), £2500 gets corporate branding added to the game, presumably tastefully done. All of the higher tier rewards are limited in quantity, and several of them are currently on limited-size discounts at present (once 15 leagues have been added to the game, the price for the next 15 will increase to £350, for example).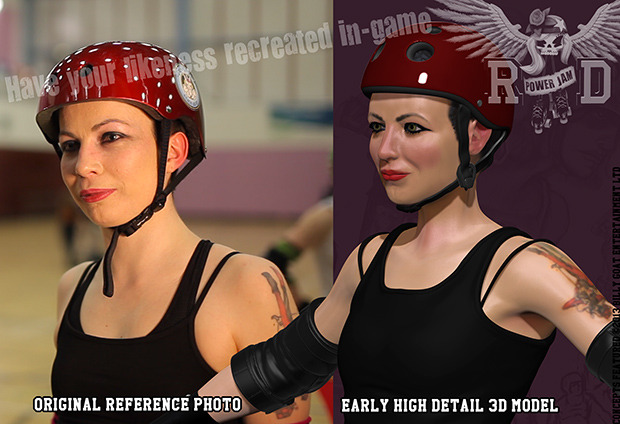 Example of custom skater option for funders.
For leagues who are trying to decide where their money should go for the next year, £250 might seem like a lot of money just to get a name in a game, but Iglu's Jonny Kane was keen to emphasise the promotional benefits of being featured: "This game we expect to reach at least high hundreds of thousands of gamers on the mobile version of the game. This means a huge audience made aware of Roller Derby who would not normally be aware of the sport. This is an tremendous opportunity for leagues to be involved in the funding and development of a great game that will get their own league in front of hundreds of thousands of new fans." It's also worth pointing out that offering inclusion in the game as a high-tier funding reward is a standard practice in Kickstarters for video games, and usually for significantly more money (the Torment: Tides of Numenera Kickstarter, for example, has 41 people currently paying $1000 to have the name and description of a character added to their game).
Even if you feel you can't afford the high tier rewards, it's worth donating anything you can to the project in order to help it meet its goals. (I am assured that Belfast Roller Derby will continue to be involved in the game development, so missing out on Beta access won't mean that there's no Derby involvement). Remember, if Power Jam: Roller Derby doesn't reach its £75000 target by the 15th of April, then the developers won't get any money at all. This might not mean the end of the game, but it will certainly mean a different, and probably smaller, product. If the Roller Derby community believes that it deserves quality representation in the Video Game genre, then there's no argument for not contributing something to helping this happen.
- Power Jam : Roller Derby will be developed in Unity 3D for release on Windows, OSX, Linux, and mobile. It will also be multilingual, supporting English, French, German, Italian, Polish, Russian and Spanish. The digital release will be DRM-free.
All images in this article owned by Iglu Media and BillyGoat Entertainment.
The views expressed in this article are those of the contributor, and do not represent those of the Scottish Roller Derby Blog itself.