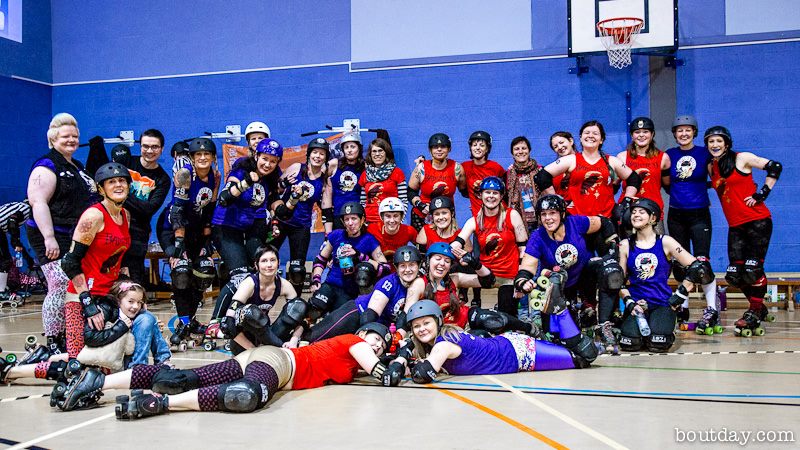 Even hotter than the release date of the new OITNB, we're now hotting up for SEASON 5 of Glasgow Roller Derby's Home Teams!!! Saturday 26th April sees Glasgow's 4 home teams come together in a fantastic season opener, aiming to rack up some serious points that will put 2 lucky teams in good stead for a place in the much-coveted final!
Doors open at 11.30am, so get down early to secure a suicide line seat and purchase some yummy cake/merch/raffle tickets and watch what promises to two full bouts of stunning derby strategy, skills and strength.  And just to mix things up a bit for you, there have been some roster changes that will keep you on the edge of your seats!Bout 1 sees the Bad Omens take on the T-Wrecks - a mighty clash indeed, as the Omens took 4th place last season and the T-Wrecks claimed second place.  The Omens are out to show they are no one's number 4, whilst the T-Wrecks will be going all out to scoop the illustrious first place this year.  This bout will be made particularly interesting as there has been a skater swap -  the powerful Splat, formerly a T-Wreck, is now playing for the Omens - and the jukey Suffra Jett will be donning green and playing for the Wrecks! It's all to play for - this is going to be rivetting!!Bout 2 will see the Helles Belles play the Death Stars.  Again, this will be a fight to the finish as the Death Stars will be fighting to keep a firm hold of their win over the last season, whilst the Belles will be anxious to beat their third place position from Season 4.  The Death Stars will feature some new faces to Grd's home teams, as will the Hells Belles - so watch out for some awesome new talent to admire!  Everyone loves a dark horse!
Tickets are available in advance, however if you're flying by the seat of your pants, they will also be available on the door.