Up in Scotland, we're no strangers to Newcastle Roller Girls; they've played most of our established leagues over the last few years. This year, however, they've made slightly more of an impression, scheduling 4 bouts against Scottish leagues all within the month of May!
As we approach the last of those dates, which sees Newcastle's B-team (The Whippin' Hinnies) take on Auld Reekie's B Cannon Belles in Edinburgh on the 31st, we thought we'd have a chat to Newcastle's A and B teams about their experience so far, and some other exciting things that have happened in the last few months.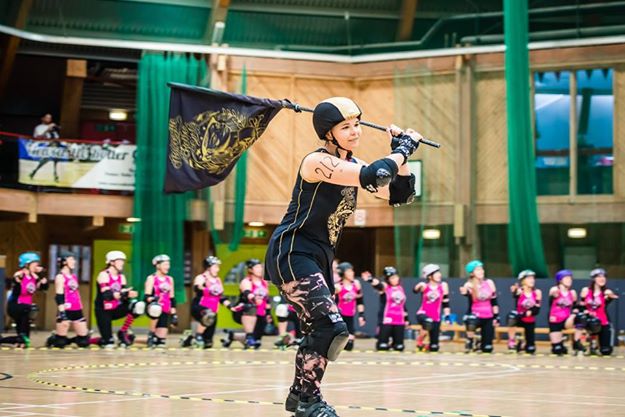 The big event was always planned to be the one Newcastle hosted, a double-header at their usual venue, the Walker Activity Dome, featuring the Whippin' Hinnies taking on Dundee's Silvery Tayzers, followed by Newcastle A, the Canny Belters, facing off against Glasgow Roller Derby B, the Maiden Grrders.
The Hinnies had previously taken on Dundee at the Into The Nitemare organised tournament, Battle of Britain, in November last year. Battling for the title, the Hinnies won with 60 points to Dundee's 51, in an extremely low scoring bout. Theasaurus Wrecks, Hinnies Captain both for that bout and this year, remembers it fondly: "Battle of Britain was amazing. We were the underdogs, and I always think we perform really well as underdogs. ... we had a fantastic bench who knew the rules very well, and that worked incredibly well to our advantage. We also had a really strong team at the time with a lot of great crossovers [skaters who are on the 20 player pools for both the A and B teams, and thus eligible to roster for either]."
Coming into the Dundee bout this year, the team composition was a little different, the Hinnies roster having collected newer, less experienced skaters in the interim. In addition, Dundee's Tayzers had already demonstrated a very powerful team for the new year, with an impressive win over Granite City at the end of March. So, it should not, perhaps, have been surprising that the first game of the double header went to Dundee Roller Girls, 163 to 131.
That the score was that close was a testament to the Hinnies' grit and determination, "In the first section of the 2nd half, the Hinnies were quite battered and feeling a bit down about it, but we kinda escalated away and picked up 70 pts in 15 minutes or so. So we sort of really brought it back in," Thea told us, adding, "[it] shows what a psychological game roller derby is as well. Quite often if you start to think that you're losing it, then you kind of lose your psychological game and sort of give up. If you're willing to battle through to the end, then you can bring it back 'round to your favour." While the Hinnies didn't quite manage that this time around, Dundee certainly felt the need to work hard, "They said to us afterwards that it was one of the best games they'd played in a long time, because they'd felt really challenged by it as well."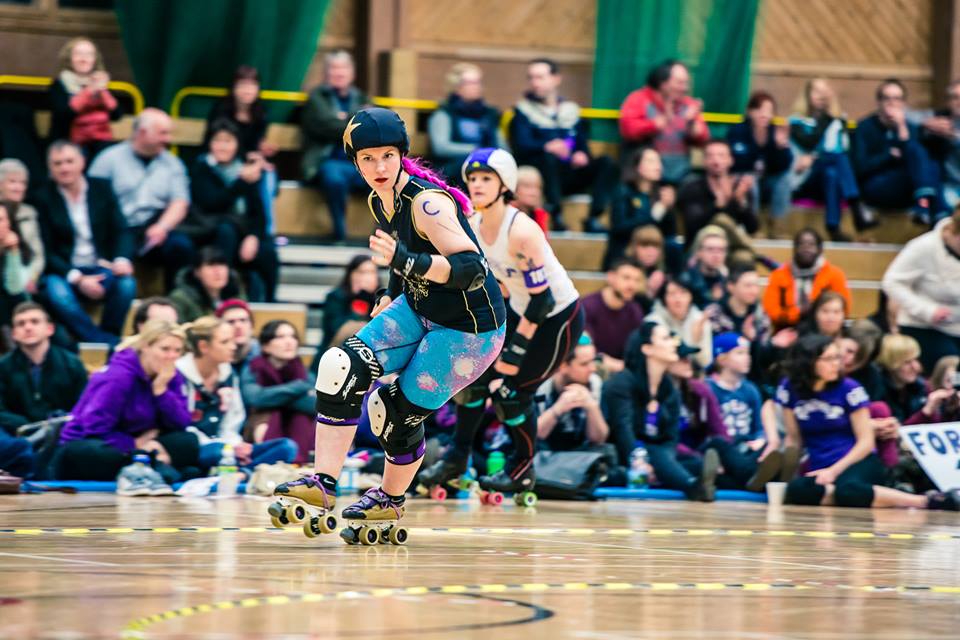 Gin and Sonic, on track.
Unfortunately, the second bout of the day was not to happen, as a leak in the roof of the Walker Activity Dome began to let water on to the track during the inter-game break. With the referees ruling the track unsafe as long as water continued to fall, there was no choice but to call off the game. The Belters' Gin and Sonic was not alone in feeling extremely frustrated by the experience.
"So, you think when you play an indoor sport that it will go ahead rain or shine... Our home venue is in many ways the perfect space for roller derby, and it's not long since it was refurbished, so to say we were gutted when our GRD bout was rained off after a leaky roof issue is a MASSIVE understatement. We have so much love for GRD, they were really understanding (not to mention incredibly patient on the day while we waited to hear if the bout could go ahead safely...) and we're hoping to reschedule very soon."
Currently Newcastle are in negotiations with Newcastle City Council to resolve their venue issues – either by fixing the roof or getting a new venue – but they are determined not to let it affect their schedule at all. (Their next home fixture, seeing the Belters take on Birmingham Blitz Dames (in a double header with Tyne and Fear v The Inhuman League) is still on for the 7th of June, in the Centre for Sport, on the West Road, and has been rescheduled to a later time (but the same date) as a result.)
[Breaking News, added to this document after publication: The cancelled Glasgow Roller Derby bout has been rescheduled for June 28th, and will be hosted by Glasgow at their usual venue, the ARC, as a replacement to the previously scheduled Glasgow A v Hot Wheels game (which is now cancelled).]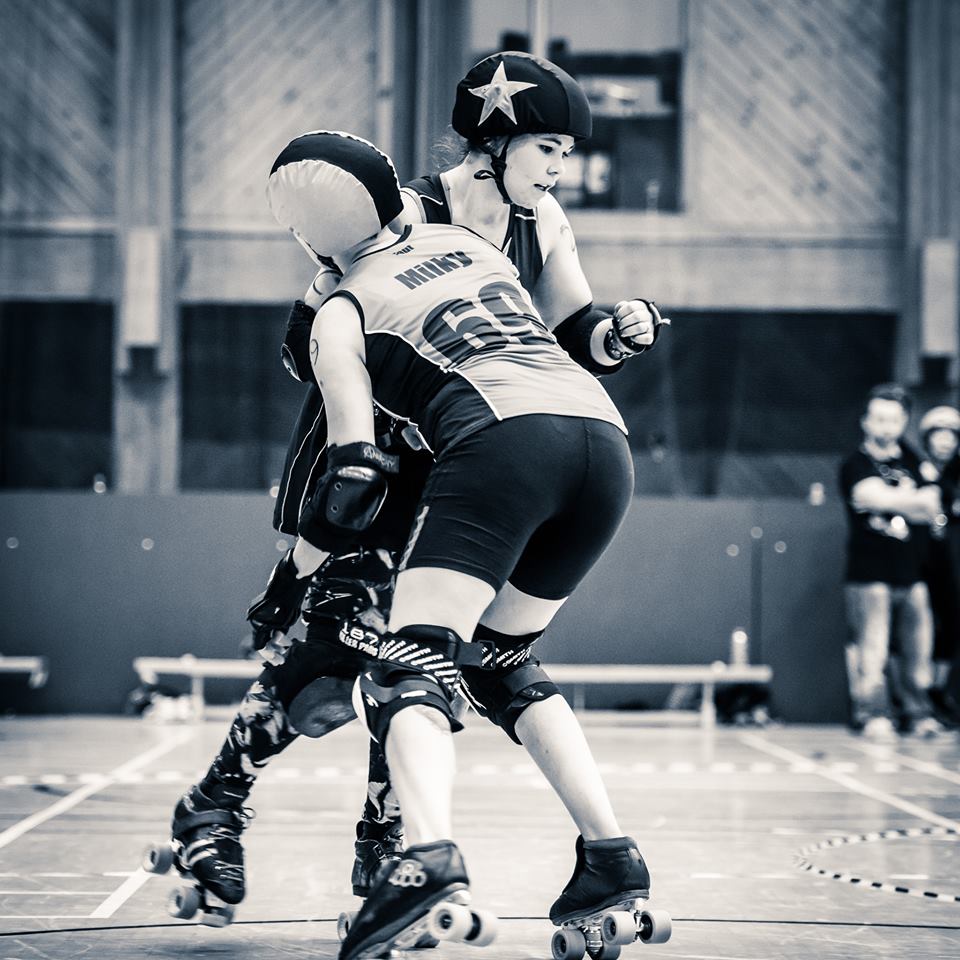 Theasaurus, pushing past Dundee's Milky.
While the loss of their venue is a setback, it didn't affect the next Scottish bout for the Hinnies, as they travelled up to Stirling to play Fierce Valley Roller Girls' Parma Violents. This was a return bout, as Fierce Valley had travelled down to Newcastle in April 2013, and while a Newcastle win was expected, the Hinnies weren't going to relax.
Thea noted "the Hinnies, being a B-Team, being dynamic, is always changing, so we had a completely different lineup to the Dundee game. ... I'm one of the few people who's been with the Hinnies all this time, as the Team Captain, so yeah, we had a great opportunity with FVRG that we could try out lots of new players. So we had 1 brand new player, and 3 or 4 players who'd only played 1 or 2 games before, that was a really good learning curve for a lot of the newer people in the team."
And indeed, taking the opportunity to gain experience for the newer skaters still paid off, with the Hinnies pulling out a close (201 to 169) win – less than predicted, but nothing to sneeze at.
Before we look ahead to the final bout in Newcastle's packed Scottish schedule (and it is exciting for multiple reasons), we should note that Scotland is not the only place that Newcastle Roller Girls have been involved with recently.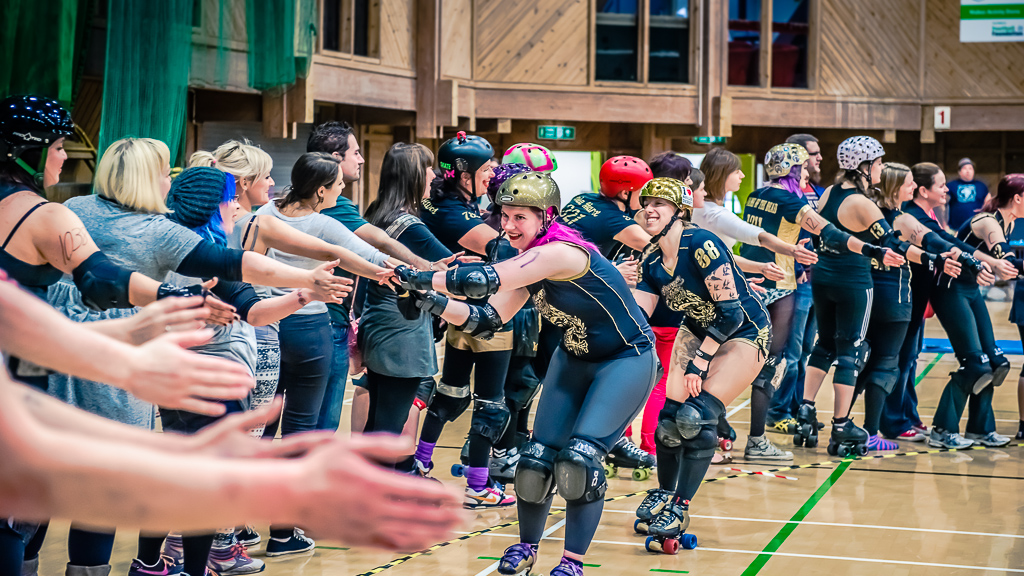 Gin and Sonic, taking high-fives post bout.
For a start, three of the Canny Belters have made the roster for Team Wales Roller Derby, and will be playing for the Valleys in the Blood and Thunder World Cup in December. Gin and Sonic was one of the three, and was happy to talk to us about her choice of Wales over England:
"I was eligible to try out for both England and Wales. I tried out for England on a bit of a whim and really steeled my resolve to try out for Wales and gave it everything I have. I'm so glad I did as we have a really great team and they make me really proud of my Welsh side. It's been brilliant sharing the try out process with [fellow Belters] Hit One Purl One and Marie Bayonet as we've been each other's cheerleaders and it's great having travel buddies for long trips to training! NRG have been so supportive of us and I know we're going to learn lots from the experience and bring it all back to Newcastle."
While the Belters have been getting skaters onto National teams, the Hinnies have gone the international route, playing their first European away bout against Eindhoven's Rockcity Rollers in January. Winning by a single point, the experience has whetted the Hinnies' appetite for Euroderby, in Thea's words: "That was one of the most Emotional games [she laughs] that I've ever played. It was really close."
While normally it would be the A team that gets into International derby first, in this case it was an existing connection that brought the Hinnies to the Netherlands.
"It came about because we had a skater from Dom City which is in Utrect. She came over and skated with NRG for three months, and we kind of just built up a really good friendship. So she said that since they were kind of an up and coming league, they would love to have us come over and do some coaching."
Wanting to get as much our of the trip as possible, the Hinnies found Rockcity Rollers, ranked very closely to them, in Eindhoven, and managed to arrange a bout for the dates they were over.
Thea is still emotional about the event "we'd been travelling for ages, and it was a covered outdoor venue, and it just... it just was so close. In final jam, we had our jammer, Torville and Scream, up and I saw her calling it off, and I didn't even know if she'd made the points, but she just was absolutely shattered, so she had to call it off and we were all there holding our breath just hoping that she'd picked up the points, and she had, so it was amazing.
And that was the first game that my parents had ever seen me play, so they said they kind of got how exciting roller derby could be from that game."
And more international bouts might be on the cards: "I think it's all about funding and finances. I think I'd really like to play Amsterdam. One Love is really good as well, I would like to play a lot more teams of similar to us in the rankings, cause the games that we've had recently with Scottish teams have all been so challenging, and so exciting, and really pushing us to our limit. And that's really .. when you learn a lot about your team."
The Canny Belters, meanwhile, are focussed on the American side of International derby, as Gin and Sonic revealed: "we're dead proud of our Hinnies flying the NRG flag in Europe earlier this year and the Canny Belters have big aspirations for the next year! We became WFTDA apprentices earlier this year and we're hoping to graduate as full members very soon. We'll be focussing on the Northern Series which is a round robin of UKRDA/WFTDA games between Leeds Roller Dolls, Rainy City Roller Girls and Middlesbrough Milk Rollers. Hopefully our first round of WFTDA sanctioned bouts will put us in a good ranking position to go further afield in 2015. We're itching to go a big international tournament like ARRG and Glasgow!"
Since it's only an hour and a half from Newcastle to Edinburgh, the Belters will surely be discussing how to dominate America with Auld Reekie's Twisted Thistles, as both watch their B team sistren play this coming weekend.
This looks like being a particularly close fought bout, with the rankings very close between the teams. Theasaurus Wrecks agrees, " [I'm] Really excited. This is going to be the highlight of the year, I think. I think it's going to be the toughest challenge that the Hinnies have had; obviously ARRG are a really strong team, they've got a fantastic foundation, fantastic coaching from their A Team, they're in a really strong position on the table. So I'm really looking forward to us having that real focused challenge, and trying to achieve the best that we can for that. Having a battle - it's going to be very tough."
And that is not all, as Fierce Valley's junior derby league, the Fierce Valley Roller Cubs, are making a debut appearance at half-time, with a demonstration scrim. The Cubs are all big derby fans as Thea has already discovered, "I'm really excited to see that! They sent a really nice email to us, asking if we could do a photo with them at the end. I'm looking forward to that one :D"
Maybe she'd sign an autograph or two as well (as the Cubs have been known to collect in the past)?
"laughs Oh, I'm looking forward to it. I feel like a minor celebrity(!)"
The Hinnies won't be the only celebrities present, either. Recently, Auld Reekie revealed that (known derby fan) Phill Jupitus will be co-announcing the bout, alongside long-standing ARRG announcer Stephen Tawking. "I have noticed, that on QI, he's worn Kent Roller Girls t-shirts quite a bit, so I'm hoping that he'll wear ARRG and Newcastle shirts after this bout," said Thea. We're pretty sure that Phill will end up getting freebie tshirts from all the leagues present after this...
If you want to see the Whippin Hinnies take on Auld Reekie Roller Girls on Saturday
31 May, doors open at 2pm, for skateout at 2:30. Tickets can be bought at http://m.bpt.me/event/643612
Thanks to Newcastle Roller Girls' Theasaurus Wrecks, Gin and Sonic, and PR Pretty Skate Machine. All photographs from Newcastle Roller Girls - photographers please contact me for attribution!
This article was edited after publication to include details of the rescheduling of the GRD v NRG bout, and to improve cross-linking to league pages.