Completing our look at the teams of Southern Europe heading to the Blood & Thunder World Cup this year, is Team Italy.
In common with all of the Southern European teams, Team Italy is new to the World Cup this time around. Unfortunately, unlike Spain and Portugal, they did not attend the European Championship earlier this month, so it is hard to get the measure of their performance.
Thanks to Sikki Sixx and Robscene Behaviour of London Rockin Rollers for responding to these questions on behalf of Team Italy.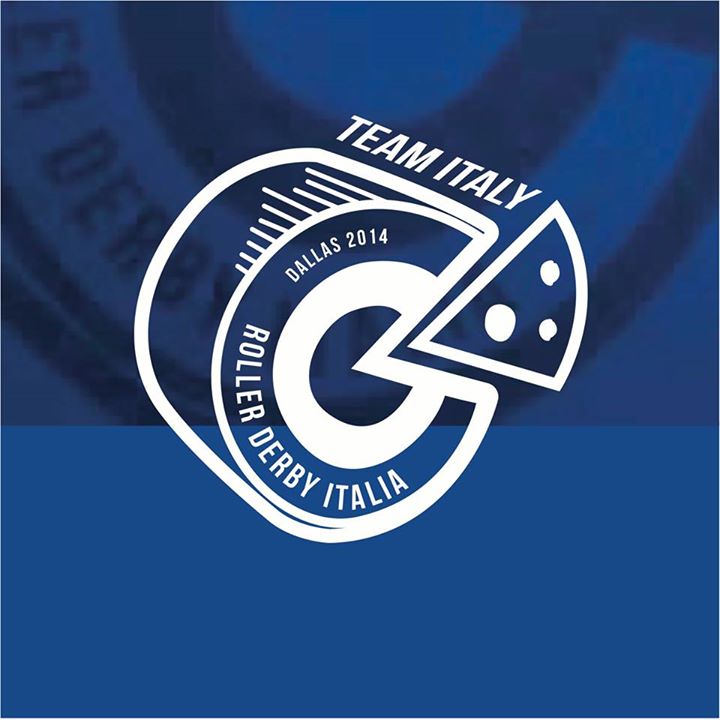 Team Italy logo by ...
Most of Team Italy is sourced from Italian leagues, but the outliers are based in relatively distant leagues. How did selection work?
When we discussed the idea of Team Italy there was relatively little experience in the country and the representative of the Italian leagues at the time asked 4 Italian skaters playing for London, Berlin and Copenhagen to be in charge of the tryouts process and the selection of the team.
We organized two tryouts dates: one in Turin and one in Rome and encouraged everyone that had passed minimum skills to participate. The tryouts consisted of a selection of individual and group drills and a mixed scrimmage. Following these two dates, 23 skaters were selected based on skating skills and game/rules knowledge for a training squad.
With the majority located in the north of Italy, how are practices organised? Are you managing whole team practices?
We definitely are having more training dates in the north of Italy, but we've made sure to include at least a date in Rome. Our selection of location was more based on resources available that skaters location: we would have loved to train all over Italy, but we decided it was best to use already tried halls that were easily accessible for everyone and we've had pretty good attendance for each training session. We are indeed managing the whole team practices: taking it in turn to coach and participate in the drills and each session ends with a mock game/scrimmage
Team Italy is a noticeable absence from the European Derby Tournament in September. What bouts are you having to promote & hone Team Italy before Dallas?
We didn't feel Team Italy would be ready for the September Tournament, but we are planning a game against the 'best of the rest' of Italian skaters and against Team Switzerland. For a lot of skaters these will be the first bout experience, so it will be very exciting.
What have you been doing to raiae funds, awareness + sponsorship for the big expenses of getting to the World Cup?
What are Team Italy's aims for Dallas ?
Our main goal is to gain experience and raise the profile of the sport in Italy. We are realistic about what we can achieve, given the other team's profile, but that doesn't mean that we won't try our hardest to make an impression and let the whole world know that Italian roller derby is here to stay.
Does the English language focus of derby make it harder for Italian derby?
It doesn't make it easy that's for sure: one of the first thing we had to do was to ask each skater to memorise their shirt colour and number in English. Not everyone can speak English, but they surely know what the penalties mean.
The last published Team Italy Roster was :
Bloody Wheels Roller Derby (Torino/Turin) Lara Bertolotti aka Mocking Phoenix #D12 Federica Calbini aka Sixxi Blitz #NME1 Elisabetta Cusati aka Hate's Blades #8 Marta Lo Bracco aka Lille Hammer #313 Claudia Schiavone aka Claw D Hella #MC5Harpies Roller Derby (Milano/Milan) Alice Garbocci aka Vanity Fierce #117 Antonella Giannotti aka Sylph # 21 - Eleonora Luca aka Elo-c-Raptor #8 Anna Magonara aka Voodoo Doll #78 Elena Managlia aka No Brain No Pain #N3N0 Barbara Modolo aka Kill B #5 Elena Tagliente aka Electric Lemon #12Alp'n Rockets RollerDerby (Bolzano) Giada Cembran aka Hellga the Murdmaid #77
She Wolves (Roma/Rome) Serena Paccagnella aka Seitan Helle #L7 Giulia Santandrea aka Bad Attitude #14 Katia Stefani aka Kat Er Pillar #7 Giulia Terrosu aka Steamroller #88 Sara Vichi aka Lady Psycho #22
Bear City Roller Derby (Berlin) Aurora Facciola aka Ouch Capone #96 Chiara Parducci Santini aka Mad Meid #9
London Rockin' Rollers Robi Borgonovo aka Robscene #46 Roberta Venturini aka Sikki Sixx # 666 Verronica Venturini aka Ace Venturini # 911
Copenhagen Roller Derby Marta Campaner aka Martattack #4