Moving around the globe from Europe to South America, the next team taking part in the Blood And Thunder World Cup to be interviewed, is Team Brasil. The team are returnees to the competition, having placed 12th in Toronto back in 2011. We interviewed Lara Raineri on behalf of Team Brasil. Lara is a skater with the São Paulo league, Gray City Rebels, and handles PR and coaching duties for the national team.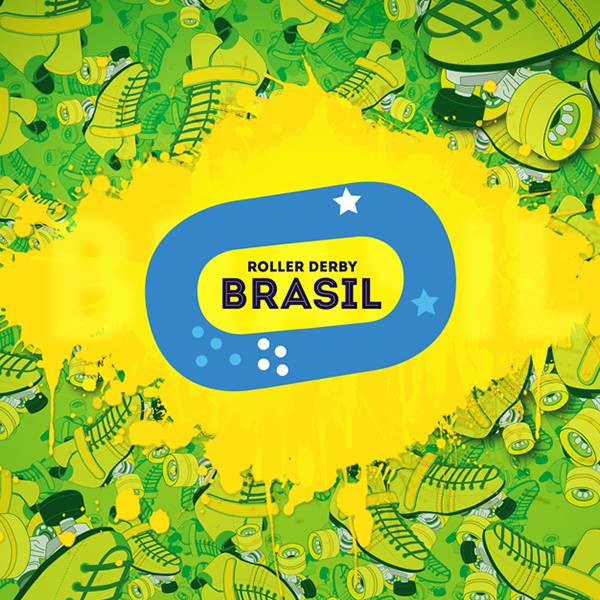 Team Brasil logo art and design: Fernanda Correa
How are the team preparing for the World Cup?...have you played an warm up bouts?
We are training once a month. Players are traveling to the practice, most of the team is from São Paulo, so we get together there. Yes, we already did 6 games only this year.( Team Brasil have been playing mainly composite/exhibition teams every few weeks since January)
Dallas is a long way away, how have the team been raising funds to get there?
We receive donations from all over the world here: http://www.gofundme.com/6rmfco. We are making merchandise, raffles and these kinds of things to help, but each player will have to contribute to their costs. We have Atom Wheels(as a sponsor)and we are searching and trying others.
Unlike almost all other skaters in the world,the skaters from Brasil don't tend to use skater names when they represent their country,(although there is a growing trend towards legal names) Why does Brasil differ in this respect?
It´s a tradition that Brasilian players use the first name, or nickname in their career, especially in soccer, so we decided to maintain the tradition. It´s a truly Brasilian thing... it´s rare to call someone by their last name, but it´s really normal to give nicknames to someone. Also, when we are playing we call each other by the nicknames or first names, so it´s easier for us to communicate like that, they are short, strong and we are 100% sure that "OH! THAT´S ME!".
Back in 2011, Roller Derby already seemed fairly well established in Brasil, what effect did the Team competing in the first World Cup have?
Actually, it wasn´t. We picked only players that could stand in skates in Brasil and could pay for the ticket. Most of the team played for the first time at the world cup. After the first world cup the sport grew a lot here and more girls started doing it and devoting more time to derby.We gained a LOT of experience in the transition from what Derby in Brasil was like before the World Cup and after the World Cup, because we understand the sport and saw how beautiful it is all over the world, so they came back home with fresh energy to make it better here. In 2011 we had 5 leagues, and maybe 50 players in Brasil, now we have 25 all over the country and something like 600 players.
How has the experience of competing in the 2011 World Cup shaped the team this year?
When we came back from the world cup in 2011, we started to wait for the next one. All the experience and learning was shared with the others players in Brasil made us wait for this moment. At the first game in 2011 we had no idea what we were doing, where we were and the size of everything. By the last game in 2011, we made Scotland work hard, and we wanted to come back home, to start working here as soon as possible. We have waited for this for a long time, we want to show everybody how much we learned and that we are not the underdogs anymore. GET READY!
The Team Brasil roster..
107 Andrea Carlsson-Gray City Rebels
1972 Amira Dutra Mello- Bleeding Heartland Rollergirls
13 Bá Lisboa-Ladies of Hell Town
33 Camila Stocco-Maui Roller Girls
Is9 Chu – Chiara Abreu-Wheel of Fire Roller Derby
80 Fernanda Ezabella-Los Angeles Derby Dolls
16 Fernanda Correa-Philly Roller Girls
87 Gilda Guimarães-Gray City Rebels
55 Julia Magalhaes Beirao-Ladies of Hell Town
181 Lara Raineri (COACH)-Gray City Rebels
16t Manu Vasconcelos-Ladies of Hell Town
86 Mariana Leal-Gray City Rebels
1949 Mariana Teixeira-Gray City Rebels
72 Patricia Correia-Rio Riot Roller Derby
505 Paula Mitie-Ladies of Hell Town
20 Roxane Velozo-Boston Derby Dames
208 Shyrlei Braith-Ladies of Hell Town
23 Tati Goes-Gray City Rebels
07 Bianca