Team Ireland
were one of the original 13 countries that competed in the 2011
Blood & Thunder World Cup
, securing 10th place and in 2014 they're back.
Team Ireland will be playing this weekend in The Road to Dallas, competing against Teams Scotland, Wales and West Indies.
Fiona Carton also known as Malibruise Stacy will be skating for Team Ireland in the 2014 Blood and Thunder World Cup.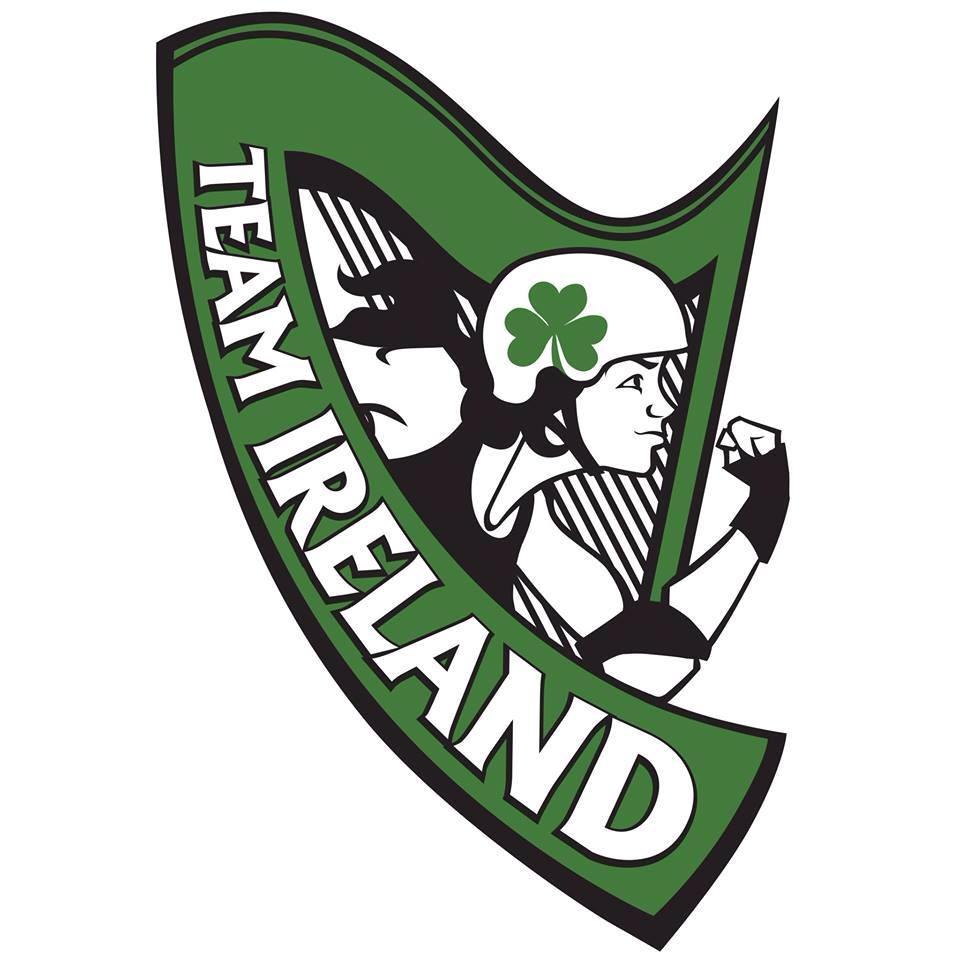 Team Ireland logo (Elaine Snowden and Ann Prendville)
Can you tell me a bit about how your team selection process worked?
The Irish Roller Derby Association (IRDA) looked after filling in our coaching staff positions – they accepted applications for team coach, assistant coach, line-up manager and team manager. All the IRDA member leagues then voted Sin, Kitty, Belle Igerent and Tits in to their roles.
Once the coaching staff were in place, try outs were scheduled for the start of February in Dublin – there were about 50 or so skaters physically trying out and about another 15 video submissions.
Try outs were one full day, broken up into individual skills, endurance, offence and defense drills, and ending with scrimmage. From the try outs a 32 skater training squad was put together.
How have your training sessions been, have you had difficulties getting the team together for training?
So far the training sessions have been going great! It's difficult getting people from different countries together – especially when everyone already has a lot of their own league commitments, some of which might clash with Team Ireland. We tried to reach a compromise by training every two months – but having the training over the whole weekend to really get the most out of it. Another measure we've taken to make it easier is trying to spread out where we're having training sessions – so far we've trained in Dublin, Cork and Birmingham.
I've been lucky that Team Ireland training has only clashed with my league training – other girls in the squad have had training weekend's clash with their home team's games which puts them in a position of having to chose.
Playing in the World Cup will be very strenuous, How have you been preparing? 
I've definitely upped my off-skate training-  mostly focusing on weight training a couple of times a week and occasionally when the weather is decent going for a run. I've been lucky in that my home team (Dublin Roller Derby) has also made the decision to work on our strength and fitness as a team – having our whole team work out together is extra motivation and support!
I also try to be good and get to a yoga or pilates class once a week – but it's hard to fit in with everything else. Nutrition-wise, I've been keeping up a high protein diet to fuel my body for all this extra exercise – so I've been eating a hell of a lot of chicken, eggs and veggies!
Flying to the USA from anywhere is expensive, how have you been fundraising and achieving sponsorship?
We've been trying a few different ways to raise funds for the squad. We ran two bootcamps in Ireland this year which were really successful. We've also held open bouts where proceeds have gone to our travel funds and we have t-shirts we've been selling at different events around Ireland and the UK. We're working with some companies to help with sponsorship (S One are helping keep our heads safe with helmets!) – but of course our welcoming more! We also ran a really successful IndieGoGo campaign with limited edition merch which raised over €4500! We're so grateful to everyone who contributed.
What teams are you most looking forward to playing?
I guess everyone wants the honour of playing the current World Cup title holders – USA, that would be deadly!
I'd also love to have a rematch against Finland. I was in the crowd watching the last world cup and the Ireland – Finland game was my favourite game of the tournament!
What are you most looking forward to about the World Cup this year?
I'm excited to see the growth of roller derby around the world – seeing how far the 13 countries have come since the last world cup in 2011 and watching the 17 countries who are competing in the world cup for the first time.
The Team Ireland roster
42 Agent Dana Scurry
14 Ann Predville
23D Bloody Harry
24 Celtic Tiger
LD50 Chemkill Hazard
32 Cork Rebel
0 Feral Fairy
490 Fiona Carton
16 Jemerald
1033 Jewel Suffer
451 Lil Paine
45 Maul'er Malone
17 Moa Hogarth
69 Rachel McAlpin
3 Puscifer
1337 Ra-Ra Rasputina
77 Roisin McGrath
7 Sarah McMillan
X3 Siobhan Murphy
74 Stabba