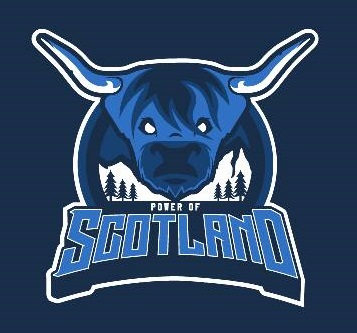 Scottish Men's National Roller Derby Team, Power of Scotland, are off to Calgary next year to compete in the second Men's Roller Derby World Cup.
(They're also off to the 4Nations tournament this weekend, to play against France, Wales and England, which we'll have some reporting about after the event.)
In support of their expenses in travelling across the Atlantic to represent their country, Power of Scotland have planned a packed fundraising event for the 13th of December on the theme of "Beards, Brains and Brainpower".
The "beards" component will be represented by the result of the Sponsored Beard Shave contest. Three Power of Scotland more hirsute skaters - Bairn City's rEd Baron, Wirral's 12 Gauge and Mean City's Optimus Grime - have been competing to collect sponsorship funds. At this fundraiser, the skater with the least funds raised will be professionally shorn of their carefully tended facial hair.
Meanwhile, the "brains" component is provided by a Team Quiz Night, featuring multiple rounds and multiple prizes. Teams are limited to 5 people. The quizmaster, Alan Muir, has been working hard on fiendish practical puzzlers, so we anticipate a challenging event.
Of course, the "beers" element is provided by the host venue, The Raven, at 81-85 Renfield Street, Glasgow.
The night of fundraising will start at 18:45.