Lothian Derby Dolls have been kind enough to send us this update on their year
:
2015 has been a busy year on and off skates for Lothian Derby Dolls.
This year the Dolls have been really focusing on progressing our new skaters into the team, building on the skills the experienced skaters already have and being involved in helping the wider roller derby community.
The Dolls are very proud to have 6 skaters bouting in our team who have come through the LDD fresh meat programme this year and one referee passing his refereeing tests to be officiating regularly. With all the excitement and skills of the last fresh meat who graduated in December, we are going to have even more skaters hot on the Dolls' heels.
LDD skated in three public bouts against the Central Belters in May, GCRD 'B' team, the Fight Hawks in September and New Town Roller Girls in October. LDD put together the Dolly Mixtures to play against DRG 'B' team in September with skaters from the Central Belters, Doonhame Derby Dolls, Voodoo Dollies and Mean City.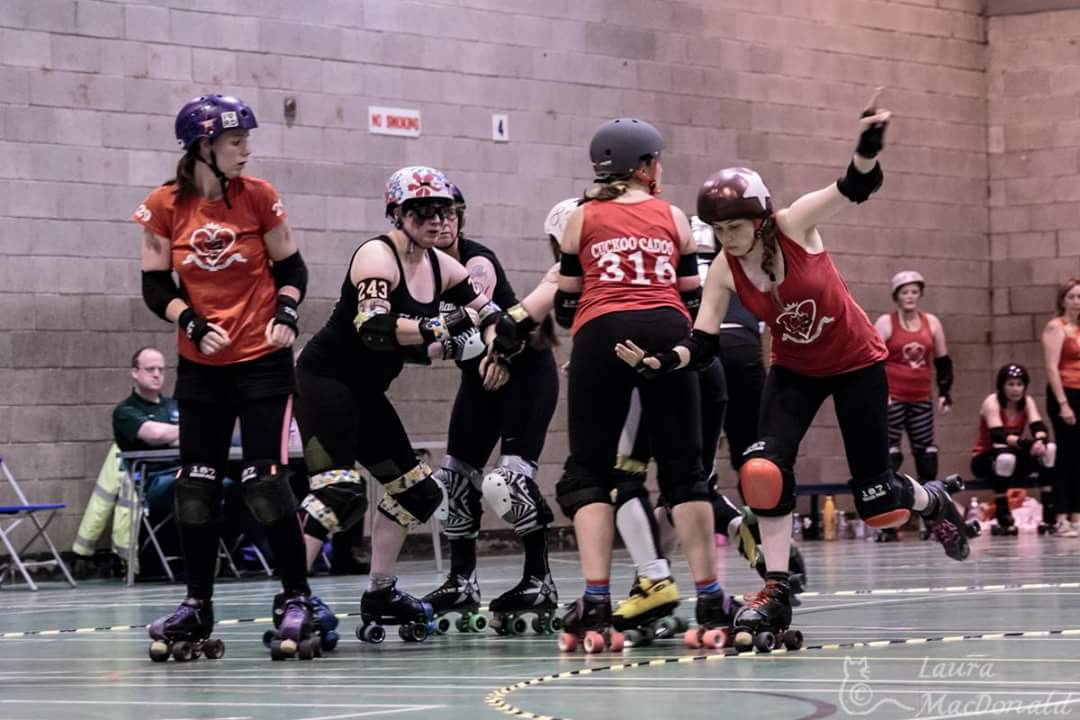 LDD taking on Granite City B, the Fight Hawks (Photo: Laura MacDonald)
We also had a wonderful year of being out in the derby community more, which has helped us build strong ties with teams such as BCR's Central Belters and Capital City Roller Derby. LDD have been happy to have some co-ed experience with CCRD and enjoy our new found partnership. The Dolls have also been busy this last year taking part individually, guest skating, refereeing, NSO-ing and helping out with other teams.
Our events team have been busy organising all our fundraising events as well as bouts, scrims and meetings.
LDD are always looking to skate on different floors and were delighted to be given the opportunity to skate at Transgression Park, our local skate park. LDD and TP are working on a partnership, so watch this space!
LDD were lucky enough to welcome [London Rollergirls + Team England coach and Southern Discomfort skater] Ballistic Whistle for a training session which all our Dolls got so much from, with some finding themselves a little star-struck.
A word from our 2015 Captain Psycho
 In 2015, what was your LDD highlight?

Being nominated as captain for the Doll Stars for 2015.

 How do you feel about how far LDD has come?

The team has improved massively over the years since the start but more so in the last year due to the commitment of the league members.

 Your personal proudest moment of 2015?

Seeing 5 of the last fresh meat to go on and play their first game and receiving my award for the most inspirational Doll. I was totally gobsmacked.

 What are you hopes for 2016?

To see the creation of the 2nd LDD team, the Rising Stars.
LDD has only been so successful due to the strength and commitment of all the Dolls who are involved in LDD. LDD has had some of our skaters get injured and we have missed them on the track, but because of their commitment we have not missed their presence, especially when they are shouting at us all while coaching or organising social events, so we can all laugh together.
LDD are also excited to welcome two more LDD babies to our team in 2016 and can't wait to meet them both.
LDD have come so far in the last year and we have no plans to slow down in 2016.
Love and Shoves, Lothian Derby Dolls!