While this Friday and Saturday feature Asia's first ever WFTDA tournament, the time difference means that there's also plenty of time to experience the best that the United Kingdom also has.
After opening the British Championships Premier Tier with a double header only a few weeks ago, Glasgow Roller Derby are topping their own event with a Triple Header of Premier Tier bouts this Saturday, 26th March.
Starting at 11:15, in Glasgow Caledonian University's ARC Sports Centre, Glasgow themselves will be taking on both Royal Windsor Roller Girls' "Who Dares Windsor" and Leeds Roller Dolls' "Leeds Rebel Roses", while Newcastle Rollergirls will be returning to the North to also take on Royal Windsor.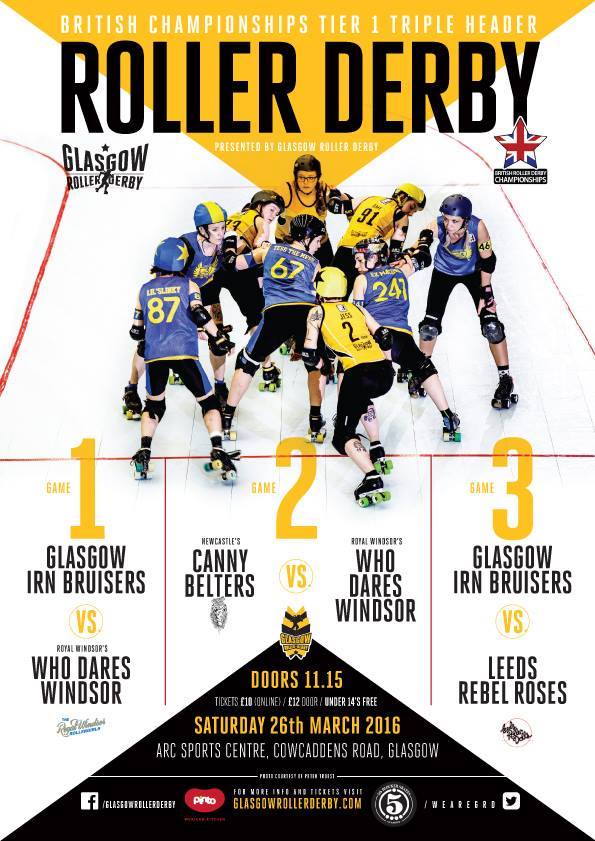 On points difference, Newcastle are currently topping the table; although drawn with Leeds and London on actual wins. They'll be looking to take a second win, solidifying their position at the top; but of course Leeds themselves are in the same position to take the lead. Meanwhile, both Royal Windsor and Glasgow themselves need to pick up wins to move up the table. With two games each, they'll be looking to pick up as many points as possible. (Winning both games would move either team to the top of the table in a single fixture!)
Royal Windsor spoke to us about their feelings on the challenge. "We have been training super hard for this weekend. It is a momentous occasion for us as we want to make our mark on this year's premier tier. We are looking forward to putting all our hard work into practice and hopefully coming away with a result that the team can be proud of."
Flat Track Stats expects Glasgow to triumph over Royal Windsor with about a 3:1 score ratio, and over Leeds about 3:2; with Newcastle predicted a 5:3 win over Royal Windsor. Of course, the last fixture in Glasgow completely defied the statistics, so everything is definitely to play for!
Hosts Glasgow Roller Derby's Sarah McMillan told us: "Glasgow is really excited to be hosting the British Championships Premier Tier games this weekend! 3 of thee highest level of UK roller derby games will be played in one day, here in Glasgow!! Our All-star team, the Irn Bruisers will be playing two games in one day - first up, we're playing Royal Windsor and the last game of the day will be us against our old friends Leeds! The other game is Table toppers Newcastle playing Royal Windsor, so it promises to be a really exciting day! More information and advanced tickets are available on the GRD website - www.glasgowrollerderby.com with a 10% discount on a ticket for blog readers using code SCOTBLOG"