And now to Team Scotland, who made us cry with national pride in 2014...was it just me? In the 2014 Men's Roller Derby World Cup Scotland were in Group Orange with Belgium, Canada and Japan. They were knocked out by our friends in Wales and shared 7th place with Argentina.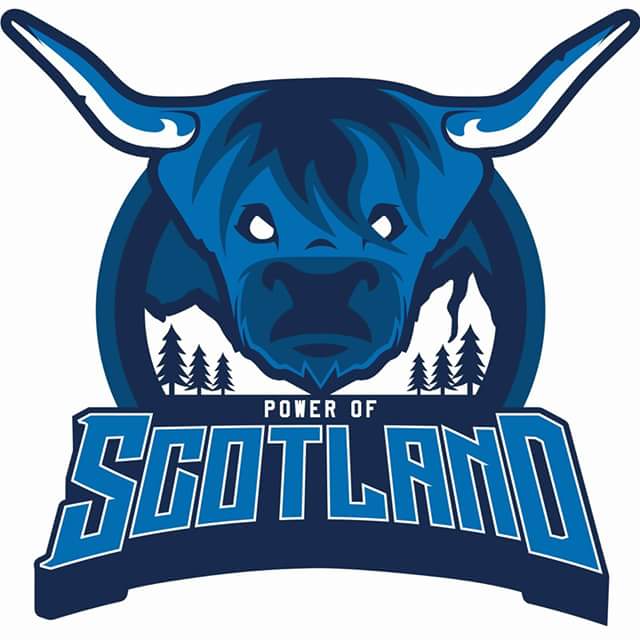 Power of Scotland logo 2016
I spoke with Optimus Grime about Team Scotland in the run up to the 2016 Men's Roller Derby World Cup.
How are preparations going for the world cup?      
They are going very well. We have had a list of targets to reach, both on and off the track and are on  course to achieve them all. There have been a few bumps here and there, but they have just been flawless adjusted and things have seemlessly carried on. We are very pleased thus far.
How often do you train?
Since day 1 we have known our training schedule which has been great for attendance. Huge credit to our training and management for sorting that out so early. We are training every 2nd sunday in Grangemouth. Turnouts are great, especially since 1/3 of the team live in areas of England. Each session has been really tough, but we are growing all the time and it gets better each time.
Off skates training varies. There are no set team off skates training due to everyone living so far apart, but all skaters are pushing themselves more and more on and off the track. I know everyone is taking this very seriously and doing everything they can to be in the best condition they can be.
From which leagues have your players been selected?
There is a very big geographical distance in the roster. The entire list includes;
Granite City Brawlers - Aberdeen Bairn City Rollers - Falkirk Mean City Roller Derby - Glasgow Capital City Roller Derby - Edinburgh New Wheeled Order - Manchester Inhuman League - Sheffield Super Smash Brollers - Nottingham Southern Discomfort - London Wirrel Pack Animals - Liverpool Kings of Block & Roll - Exeter
Management & Coaches: Dundee Roller Girls Auld Reekie Roller Girls Granite City Brawlers
What are your team goals for the World Cup?
Quite simply but realistically.....make it out of the group stages. Anything after that is a bonus. We are both fortunate and unfortunate to have a 6 team group. Fortunate for the chance to play so many teams from all over the world, but with that comes a higher chance of fatigue. We are very excited though.
Looking at the group there is really only 1 slot available as USA will no doubt advance from the groups. With 5 teams battling for that space this will be extremely competitive, but we have the talent and desire to be that team that gets to the quarter finals.
Tell me about your fundraising and sponsorship
We have recieved some great sponsorship for the run up to the World Cup. Mostly with our uniforms, merch and safety gear.
Our sponsors are;
Datum360 MP Locums S1 Helmets Witness the Fitness
We would also like to offer a huge thank you to;
Interplanetary Print Syndicate Roller Derby City Power of Greyskull EDF Energy The Whisky Wolf
Our fundraising has been a variety of coaching and event organisation. We have had a sponsored; Beard shaves, Pub quizzes and Bungee jumps.
The biggest source of fundraising have been bootcamps and guest coach sessions which have been as wide spread as our roster and even abroad. Such as Belfast, Malaga and France. The biggest of which was our Big Bootcamp in Dundee.
What can we expect to see from team Scotland at the World Cup?
Basically a huge improvement from our last world cup involvement. Not any less passionate, but far more strategic, skilled and patient, from both a jammer and blocker point of view.
Also alot of new faces, but plenty of previous ones too. Our roster is far more extensive than the last World Cup, just from the leagues people have come from. This has brought a big variety of skills to Power of Scotland this time around and has made for a very balanced team. Finally, we hope to display a better performance & therefore ranking this time around. Moreover, show the world that we can still give the big boys a hard time on the track and be considered one of the better teams in the world.
Team Scotland are indeed in a six team group for the 2016 Men's Roller Derby World Cup. They are in Team Red with Finland, Ireland, Japan, Mexico and the USA. Their first game will be on Track 1 against Team USA at 11am Calgary time, 4am UK time...make some coffee although I'm sure the excitement will wake you up.