Down south, Team England have been hard at work with a massive set of tryouts over the last 2 months. After two initial tryouts in August, one in the North of England (hosted by Rainy City Roller Derby, the highest WFTDA ranked league north of London), and one in the South (hosted by London Rollergirls themselves), the initial talented few still had to face the final second-round tryout session in Birmingham, hosted by Central City Rollergirls. UKRDA Observers were, of course, present at each tryout to ensure fairness.
New Team England Manager illbilly, along with multiple selection teams chosen for their expertise in the Regions have deliberated and come to their final conclusions for the Training Roster.
As expected, the roster draws strongly from the highest ranked UKRDA member teams: London Rollergirls provide 14 members, and Rainy City Roller Derby an impressive 7, with Middlesbrough Milk Rollers, Newcastle Roller Girls, Bristol Roller Derby, Liverpool Roller Birds, London Rockin' Rollers, Central City Rollergirls, and (across from the 'States) Charm City Roller Girls all helping to fill out the roster.
Official England Photographer Jason Ruffell captured images of the tryouts here and here.
In full, the  Team England Training Roster is: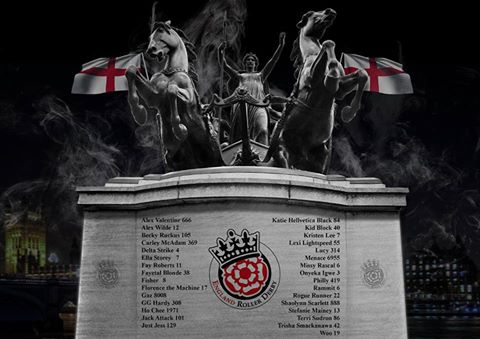 Image by:Sam Bishop
Alex Valentine 666 Rainy City Roller Derby Alex Wilde 12 Rainy City Roller Derby Becky Ruckus 105 Liverpool Roller Birds Carley McAdam 369 London Rollergirls Delta Strike 4 Bristol Roller Derby Ella Storey 7 Middlesbrough Milk Rollers Fay Roberts 11 Rainy City Roller Derby Fayetal Blonde 38 Rainy City Roller Derby Fisher 8 Rainy City Roller Derby Florence the Machine 17 London Rollergirls Gaz 8008 London Rollergirls GG Hardy 308 Charm City Roller Girls Ho Chee 1971 London Rollergirls Jack Attack 101 London Rockin' Rollers Just Jess 129 London Rollergirls Katie Hellvetica Black 84 London Rollergirls Kid Block 40 London Rollergirls Kristen Lee 7 London Rollergirls Lexi Lightspeed 55 London Rollergirls Lucy 314 Newcastle Roller Girls Menace 6955 Rainy City Roller Derby Missy Rascal 6 Rainy City Roller Derby Onyeka Igwe 3 London Rollergirls Philly 419 Rainy City Roller Derby Rammit 6 London Rockin' Rollers Rogue Runner 22 London Rollergirls Shaolynn Scarlett 888 London Rollergirls Stefanie Mainey 13 London Rollergirls Terri Sudron 86 Middlesbrough Milk Rollers Trisha Smackanawa 42 London Rollergirls Woo 19 Central City Rollergirls