As we mentioned last week, we're so excited about Newcastle Roller Girls' EuroClash International Tournament that we're running a series of interviews with all the attending teams in the period until 25th March, when bouts kick off.
How better to start off than with a chat with Middlesbrough Milk Rollers, the highest WFTDA-ranked UK team attending EuroClash?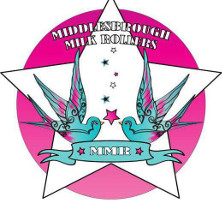 You can listen to our interview below, where we discuss MMR's 2016, and the experience of bouting in the USA for the first time, as well as their plans for EuroClash (and British Champs), and their upcoming Bootcamp (featuring MMR and Team England skater Ella Storey, and MMR's Gunpowder Dot and Skatewell Tart)
The Bootcamp event page is here: https://www.facebook.com/events/1288667924513344/
and of course, EuroClash is here: https://www.facebook.com/events/365884340424845/
Tickets are available for both events right now!
[soundcloud url="https://api.soundcloud.com/tracks/303202073" params="auto_play=false&hide_related=false&show_comments=true&show_user=true&show_reposts=false&visual=true" width="100%" height="450" iframe="true" /]