Next in our coverage of teams attending the
Tomodachi Derby Tournament
in Okinawa, March 24th to 26th, is one of the entrants into the "B" tier of the tournament.
At the
Tomodachi
, the Spring Rollers will be competing against the exhibition team Team Women's Roller Derby Japan, and Tokyo Roller Girls' Sushi Rollers.
Sarah Cason gave us this history of how the team formed.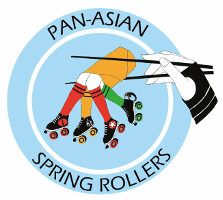 The Pan-Asian Spring Rollers, a fusion of derby teams from Beijing, Shanghai, Hong Kong and Bangkok, merged in November 2016 to form a joint league for the upcoming Tomodachi Derby Tournament in Okinawa, Japan this Spring. 
As individual teams, all had recieved the invitation to join the tournament as much as a year ago, but the challenges of sustaining a roller derby team outside in this particular region meant that it was seen as nothing more than an extremely beautiful pipe dream.
Until, that is,  
Shanghai's Lauryn Kill met one of the Beijing players completely by chance while in Beijing for an unrelated work event. The two of them got talking. The Beijing player mentioned the tournament and that they didn't have enough players to compete, and the idea to form a mixed team was born!
Shanghai contacted
 Beijing and Hong Kong and put forward the idea of forming a joint team - an idea that both teams immediately got on board with! Beijing suggested bringing Bangkok into the mix, the teams having recently joined forces for Beijing's successful Roller Derby Invitational in partnership with UN Women's HeForShe campaign. Bangkok were keen, and from four small teams, the Pan-Asian Spring Rollers were born!
Unity of purpose was what really brought the teams together into a unified whole. Roller derby is still catching on in many parts of Asia and hasn't yet gained the popularity it has in many western countries. For the
 skaters of the Pan-Asian Spring Rollers, the tournament is about the game (always!) - the opportunity to scrimmage can be a rare one in places where roller derby is struggling to take hold - but it's also and importantly about raising awareness of our sport in our region, about building thriving relationships with our sister teams, and about working together to promote and develop the thrilling and empowering sport of roller derby across the region.
We feel that it's only by uniting, sharing skills, knowledge and ideas, and working together to overcome the challenges we face that we can build a self-sustaining and successful roller derby community in our delicious little corner of the globe.