As Newcastle Roller Girls' first international tournament, EuroClash, fast approaches, we're keeping to our schedule to bring you more interviews with the attending teams.
Today we're covering one of the two competitors from mainland Europe, Berlin's Bear City Roller Derby.
Bear City have had a long history in European Roller Derby, founded back in 2008 (as Berlin Bombshells) as one of the first two teams in Germany, they also played the first bout in Germany against Stuttgart Valley Rollergirlz back in 2009, and attended the first ever European international tournament, Roll Britannia, the same year. Joining WFTDA as an apprentice league in 2010 (trailblazing in Europe once again, as they would when gaining full WFTDA membership in 2012, first in mainland Europe), they also founded the EROC European organisational conference at that time. It's fair to say that the league has probably done more than most to promote and develop the sport in Europe.
More recently, Bear City Roller Derby have divided their time between their regular attendance at the WFTDA Division 2 Playoffs [which the recent changes to the format may break this year] and participation in the German National Tournament, the Bundesliga.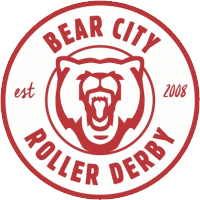 Bear City Captain Peanut Butter Panic and Co-Captain FoXy Führer answered some questions for us:
Bear City has been one of the few European teams to represent at the WFTDA Division 2 Playoffs consistently for 3 years in a row now. You even managed to improve on your seeding in 2016, taking 5th place from 8th seed. How did it feel to be representing Europe on this stage, and how do you prepare for something like this?
It has been a great honor to be able to take the stage, and help show how competitive European derby has become. Granted, there are many other high-level leagues also representing Europe in D1, but to be able to be part of those leagues showing that strong and competitive play is not only in North America, really makes us proud and fuels our fire to continue pushing the level of our play.
We prepared for this by really analyzing our previous games in the season and focusing on 2 or 3 things that we needed to improve on. For example, in Midwest BrewHaHa we identified that our offense needed a lot of work, so we made sure to focus on offense during our training and scrimmage times: offense starts, offense on power jams, offense on a scoring pass, etc. Even if we weren't always successful, we kept trying different ways to be more effective and help lighten the load for our jammers. Some ideas stuck, and became integral parts of our toolboxes, some ideas still need to be refined before we can use them, and some just didn't work at all. The important thing for us was to keep trying and refining our plays. We also ramped up our trainings, with some additional training times and increased intensity.
In fact, Bear City spent more time in the USA than in Europe in 2016, with four more bouts at the Midwest BrewHaHa as well. There's obviously significant costs to the increased investment in play with USA teams, what do you feel are the main benefits, other than Ranking?
Our league decided many years ago, that we wanted to play on the highest level we possibly can, whether it's nationally or internationally. With that in mind, we set up our league structure to support this goal, and even though at times players were not able to afford the costs, it was really important for us to find ways to finance the trips without leaving them behind. For that, and this is one of the biggest benefits, we've created a really close and motivated league, who always supports each other. Besides the A – Team, our B - Team, C – Team, Officals, and all members work together behind the scenes to reach this goal.
There is also the additional team bonding that comes from this kind of trip. We typically fly out a few days before the trip to help adjust to the time change and jet lag, and in the time we have fun activities to help us get to know the city better, and to keep us moving before game time. We've done bus tours, boat tours, escape rooms, each of which impart a piece of the city onto us and really allow us use the time to come together as more than only a group of individuals that play the same sport. We also see the cities that may not be the typical choices when planning a trip to the US, some of which we probably would have never visited otherwise.
Whilst your attendance of at the Bundesliga is with an exhibition team (not your A team), you still managed to top the rankings in the German Nationals. Why did you choose to enter a different roster to the "standard" A team, and how do you feel about the increased number of National tournaments in Europe?
Having the Bundesliga and the "Ranking" season at the same time, can make it difficult to coordinate our season plan. As we schedule our season plan, we need to always have in mind that the majority of the Bundesliga games will be after September, due to the sanctioned season running from about March - August. Naturally, we always want to bring our strongest game to the Bundesliga, and we felt that these games are a great opportunity for our league to give back to Germany and the leagues here. Due to the increased intensity our A Team sees during the season, we decided to mix our A and B teams for the Bundesliga to give those players a chance to excel where they may not have been able to during our regular season games. In the Bundesliga games, we also take the time to try new tactics, player rotations, formations, and really step out of our comfort zone.
Certainly, the increase of National Tournaments in Europe is very exciting and opens new opportunities for new team matchups to happen. Additional national tournaments in Europe mean that more teams will be able to play each other closer to home, we will see new matchups, and really get a feel for how strong various teams actually are. Presently, teams, us included, decide to go to the USA for a tournament or tour in order to play teams closer to their ranking; however, with the increase in tournaments in Europe, that play comes closer, and perhaps we will even see more US teams traveling to Europe for tournament play. Thank you to all the teams who have worked hard to organize and host these tournaments which give us the opportunity to play. We even have WFTDA D1 Playoffs in Sweden! It is a milestone that all of us have been working toward for years.
On EuroClash - you'll be playing the hosts Newcastle, Auld Reekie and Middlesbrough in your fixtures. Of these, we don't think you've played Newcastle or Middlesbrough before - Auld Reekie / Berlin bouts have been a more regular fixture, and one which seems to go either way! How are you feeling about (and preparing for) these games?
Auld Reekie has always been one of our favorite opponents! Both of our leagues were founded in 2008 and since then we have a very good and friendly relationship. We are very similar in relation to our structures, visions, and gameplay. They are always good hosts, fair opponents, and a tough team to play against. So everytime we meet on track, it feels like meeting a really good old friend.
While we have never played Middlesbrough before, we've kept an eye on them and have seen their hard work they put in during 2016. They went to the US, played different teams there, and won every single game. Middlesbrough is definitely going to be a tough opponent for us!
With that, never underestimate the hosting league! Hosting leagues seems always exhausted, stressed out, there is a lot of going on – organizing a big tournament like that is not always fun and a big challenge for the whole league. However, it is also a good opportunity to grow together as a league and forces are released from which you thought they were not there. Newcastle has the home field advantage here, and will be on fire!
For us, it is always an exciting challenge to play teams we have never played before. We are using our resources to make sure we are up to date with how the teams are playing and what their rosters look like. Footage is always a great resource to utilize, which allows us to see what strategies teams are using and how we can effectively shut those strategies down. Playing three games in two days is tough, both physically and mentally, even with previous tournament experience. Which means that part of our training also includes effective mental training, so we can continue to push forward and always bring our strongest game.
And, in the time between your two fixtures, which teams are you most looking forward to watching?
Considering that all of the teams are ranked closely, I feel that none of the games should be missed! It'll be hard not to watch the games until the last minute, when we need to prepare for our own games.
That being said, we are definitely excited to see Paris play, since we will be playing them the next weekend. It will be a nice preview to what we can expect in our game against them.
---
EuroClash will be held from the 25th to 26th of March at Newcastle Roller Girls' regular venue, the Walker Activity Dome. Tickets and other information at the official website: http://www.euro-clash.com/