We're bringing you another roundup of the upcoming Roller Derby this weekend from across the world. As always, we're using Flat Track Stats for much of this information – for regions with less good coverage, we also do a bit of intensive searching using a tool which scans the Facebook events of Roller Derby leagues known to Derby Listing.
Predictions of bouts are from FTS, if possible, and from our own SRD Rank where FTS cannot make predictions (for example: Latin America, or non-MRDA men's bouts). (SRDRank also has recent WFTDA rankings, including the 31st June ranking, as well as SRDRank, and allows you to make predictions from them.)
If we've missed you from our roundup, please let us know! [Or add yourselves to FTS and/or Derbylisting]
(Note: we're especially likely to be missing items this week, as Facebook's response to the Cambridge Analytica scandal has resulted in them turning off large parts of the services we use to automatically collate events for this article. We don't think we've missed
too
much, but...)
We're trying a new colour coding this week, to differentiate BOUTS from RECRUITMENTS and OPEN SCRIMs, and BOOTCAMPs.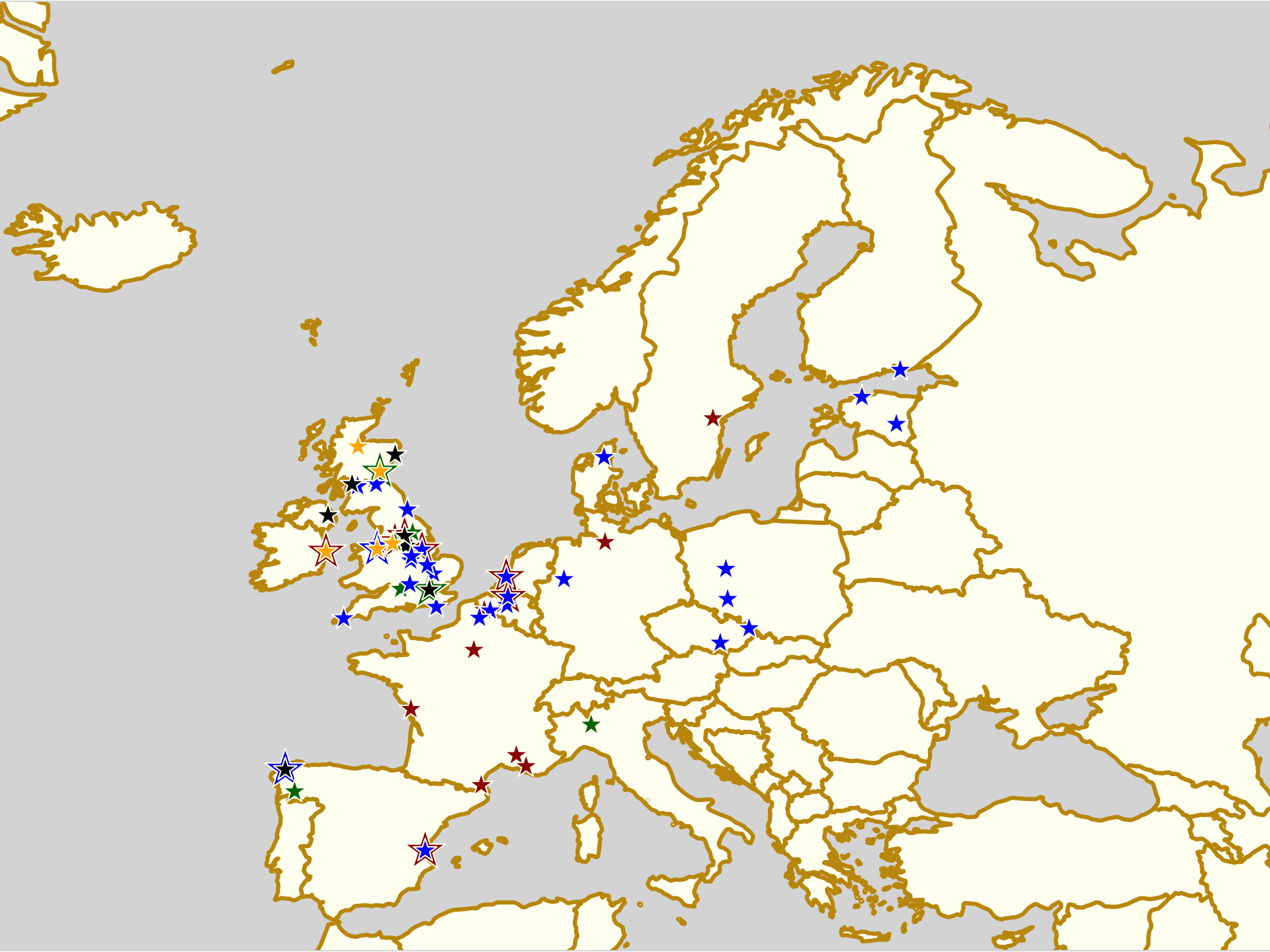 Scotland
The major event in Scotland this weekend is Dundee's Officiating Bootcamp, leveraging their internationally known officials to bring the best coaching to Scotland.
Wed, Edinburgh: A new (as yet unnamed) Junior Roller Derby league practices and recruits at The Boardwalk, every Wednesday [EVENT]
Thurs, Dumbarton: Chicks in Bowls Scotland host Quad Meet sessions [6-10pm, Unit23 Skatepark][EVENT]
Fri, Glasgow: Glasgow Men's Roller Derby's ongoing new skater intake continues every friday, for the foreseeable future! [EVENT]
Fri, Inverness: Inverness City Roller Derby host a special Open Training session, on the evening before the first ever Pride event in Inverness, Proud Ness. [EVENT]
Dundee: Dundee Roller Derby's Late'n'Lite series of bootcamps comes to the Daytime, with a 5 hour bootcamp for Referees and NSOs. Coaches are drawn from DRD's extensive collection of internationally experienced Referees and NSOs.  [EVENT]
Dundee: The Late'n'Lite Bootcamp above finishes with an OTA scrim for the officials to practice their skills on. This is open to all. [EVENT]
Sun, Aberdeen: Chicks in Bowls Scotland host a Sunday Skate followed by a park skate outside [Transition Extreme Sports] [EVENT]
Sun, Dumbarton: Chicks in Bowls Scotland host all-ages coaching for Ramps and Bowls skating [10am-midday, Unit23 Skatepark?]
Tues, Aberdeen: Chicks in Bowls Scotland host a regular Quad Meet (Transition Extreme) [EVENT]
United Kingdom
The rest of the UK's "post-season" is pretty active for all that, with the Great Yorkshire Showdown in Leeds, no less than four bootcamps of various kinds, and a host of other smaller fixtures and open scrims.
Europe
Europe's post season is also pretty active this weekend, with Sunday apparently a time for double and triple headers across France - and Germany hosting the Kick Ass Cup 2018 on Saturday, plus derby in Ireland and Sweden, Spain and Belgium as well.

Pacific
Every weekend seems to see another major tournament in Australia - and this weekend it's the first ever Australian National Roller Derby Championships - a "State level" tournament.

Latin America
As usual, for Latin America, this is what we can find in the area - we always appreciate help in finding events here. This weekend sees a confluence of national events in multiple countries, with Chile hosting their next Torneo X fixture, and Mexico hosting the Division 2 championship of their Nationals.


Africa and Middle East
Our regular events in South Africa, Dubai and Abu Dhabi continue!
Thurs, Pretoria, South Africa: P-Town Roller Derby's weekly funskate open-skating events continue, with the chance to meet+sign up with the team [EVENT]
Sat+Mon, Dubai, United Arab Emirates: Dubai Roller Derby hold their usual practice sessions (which we think are open to interested new skaters, on prior request) [EVENT]
Sun+Tues, Abu Dhabi, Emirate of Abu Dhabi: Abu Dhabi Roller Derby's recruitment season starts, with their practices open to new skaters who want to try the sport [EVENT Flyer]
Elsewhere
Fri-Sun, Dallas, Texas: Dallas Derby Devils host the 2018 B Teams Champs, of interest to us due to the attendance of Victorian Roller Derby League B, the Queen Bees! [FTS Tournament][EVENT]