We're happy to present this guest post from Hulls Angels Roller Derby's All Stars Captain, Wilken, on their recent experience at the Aalborg-hosted The Northern Takedown international tournament.
On May 4th 2019 Hulls Angels All-Stars travelled to Denmark to participate in Aalborg Roller Derby's TNT (The Northern Takedown) Tournament.
This is the 3rd year Aalborg's Combat Bullies have hosted a tournament and the first year which HARD has competed.
Not only was the tournament the first international tournament HARD has competed in, it was my first tournament as Captain.
Looking at the rosters of the other teams (Belfast Roller Derby, Rockcity Rollers, Cologne's Graveyard Queens and the hosts Aalborg's Combat Bullies) it was clear that this was going to be a tough tournament! Not only did we have 3 (!) games on the Saturday we were also only taking 9 skaters.
Nerves aside, the key mantra for this weekend was that we were going to play our game which involved lots of phrases such as 'butts in holes!' lurrr and slurrrr' and 'back, back, back' like ducks quacking.
A special shout out goes to my Vice-Captain Milv, who not only organised the bulk of the trip but sorted out a cabin in the woods for us to stay in. There was definitely some Friday 13th vibes going on as we walked into the living room to see massive film posters with superimposed Danish politicians' faces on them! Anyways! Bunk beds were allocated and a food shop to Aldi was done! Thrill Murray cooked up a super tasty pasta salad so we could carb load ready for the following day.
Aalborg Roller Derby have a fantastic venue and were superb hosts throughout the whole weekend with cracking food provided and a wonderful airy venue.
The first game was against Belfast, and it seemed to fly by! After an anxious start we slowly settled into a rhythm and despite having four(!) foul outs (oops!) we'd cinched our first victory abroad! For me, I was happy with one win as Hulls Angels have never managed to claim a win in Europe before! But our offensive powerhouse Hi-Jaxxx spurred us all on for more as we prepared to take on the top seed of the tournament- Eindhoven's Rockcity Rollers.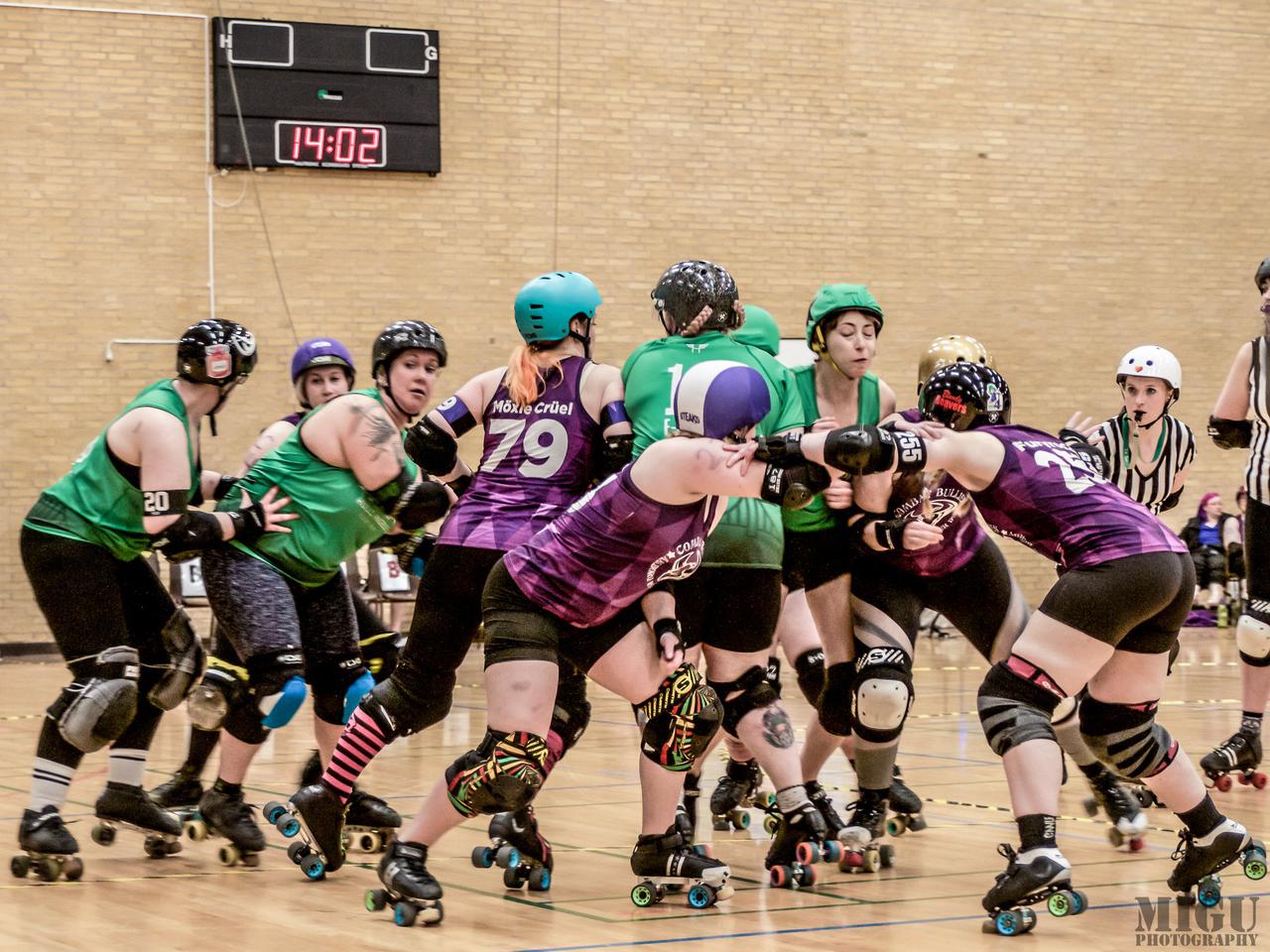 I feel that it was this game in which we really started to hit our groove. The first game was full of nervous energy, but here we kept calm and focused and on the game plan.
As the game got underway, our newly promoted All Star jammer Dani was smashing through walls as if they weren't there, Purdy opened up holes for our jammers whilst simultaneously shutting down the opposition. Rockcity were tough but we were living up to our name. At the end of the game we managed to sneak a narrow victory!
Two wins down and I was on cloud nine! But we still had our last game of the day to go. Pressure mounted as we realised that if we won this game, we were guaranteed a medal! Bench Coach Rollo made sure we stayed centred and focused as we prepared to close Saturday against Cologne, who like us had also played three games in one day.
Although both teams were beginning to run low on energy, Cologne went out hard and fast! We really had to dig in and band together. At times the game could have gone either way! But as the clock ticked down and the final whistle was blown, we could hardly believe we had done it. Three wins in one day and a guaranteed a medal!
As we all got back to our creepy cabin, had a hot shower and nursed our aches and pains, it actually dawned on us…. What if? What if we could win this?
Thankfully on the Sunday we only had one game- the hosts Aalborg's Combat Bullies.
Despite Aalborg already having played that day we knew that this would not have given us any advantage. We had been fortunate enough to have watched their previous games and they looked like strong hitters that played a very physical game! We weren't wrong!
As the game got underway, Aalborg had begun to rack up an uncomfortable lead, so a tactical time out was called by Rollo, to focus. This seemed to do the trick, as we went back on track with a new energy. F-Bomb was closing down any enterprising jammers wanting to sneak up the inside line, Melon Collie was the glue of the team, keeping us together and keeping us calm when the pack started to speed up. Frost Spite was defying the laws of physics as she jammed for what must have felt like jam 200! But it was then that the tide began to turn back in our favour! That gold medal was within sniffing distance!!!
The final whistle blew………. and that was it! We'd done it! And I am pretty sure most of us are still wearing out medals now!
I truly feel that this weekend was a mammoth team effort. We could not have skated as well as we did if it was not for our amazing bench crew; Bench Coach Rollo for winning his first official review! Line Up Manager Ju for not losing her head when we may have been losing ours, and Mansfield Roller Derby's Dragon's Jen, who was so supportive and quick with the feedback. You were all completely invaluable. Thank you.
On behalf of Hulls Angels All-Stars, I would also like to thank everyone involved in organising and taking part in The Northern Takedown 2019, the NSOs, referees, announcers, photographers, catering staff, volunteers and Aalborg Roller Derby. For our first European tournament you have set the bar very high! Amanda! We missed you every day!
Overall, it was a weekend of sweat 'taches, strangling goose poses, wooden giants, paracetamol, sunshine and fun. I can't wait for the next one! Groove is in the Hull!!
And I won a hat! #winnerwinnerchickendinner