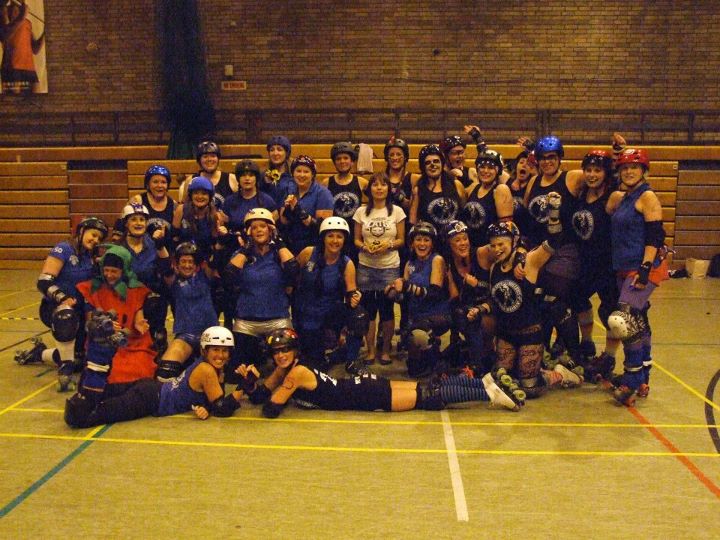 On Saturday, September 24, the Fair City Rollers bout team, the Fear Maidens, travelled to Huddersfield to take on the Wakey Wheeled Cats in Knack Yo Libre.
The Maidens left Perth on Saturday morning, with team members both excited and nervous for the bout ahead. And with a number of skaters experiencing their first bout, the nerves were higher than normal.
Once the first whistle went, FCR looked tight, working well together as a team to stop the Wakey side getting points. The main Fear Maidens jammers were Teenie Bash, KPz Nuts and Ninja Knickers, with captain Pistol Panties, Nutshel and Breezy Does It also taking turns.
The rest of the team was made up of Jill Antonic, Terrifying Tink, De-femme-ation, Needles and Dread,Van Damn, Crash Vegas, Val Gore and Tenacious Dee.
Despite the Fear Maidens working well, WWC seemed to have the upper hand from the start. With around half a dozen bouts under theirs belts so far in 2011, compared to the Rollers' one, their experience shone through and they were ahead for the entire contest.
However, for the vast majority of the bout, FCR kept the scores close, working hard to try and gain as many points as possible and they were helped by a 20 point power jam by KPz Nuts right at the end of the first half. They were also hitting hard, sending more than a few Wheeled Cats out of bounds.
Final score: Wakey 169, Fear Maidens 99.
Despite not managing to get the win, the Perth team can be proud that they put up a good fight, played well together and showed their strength.