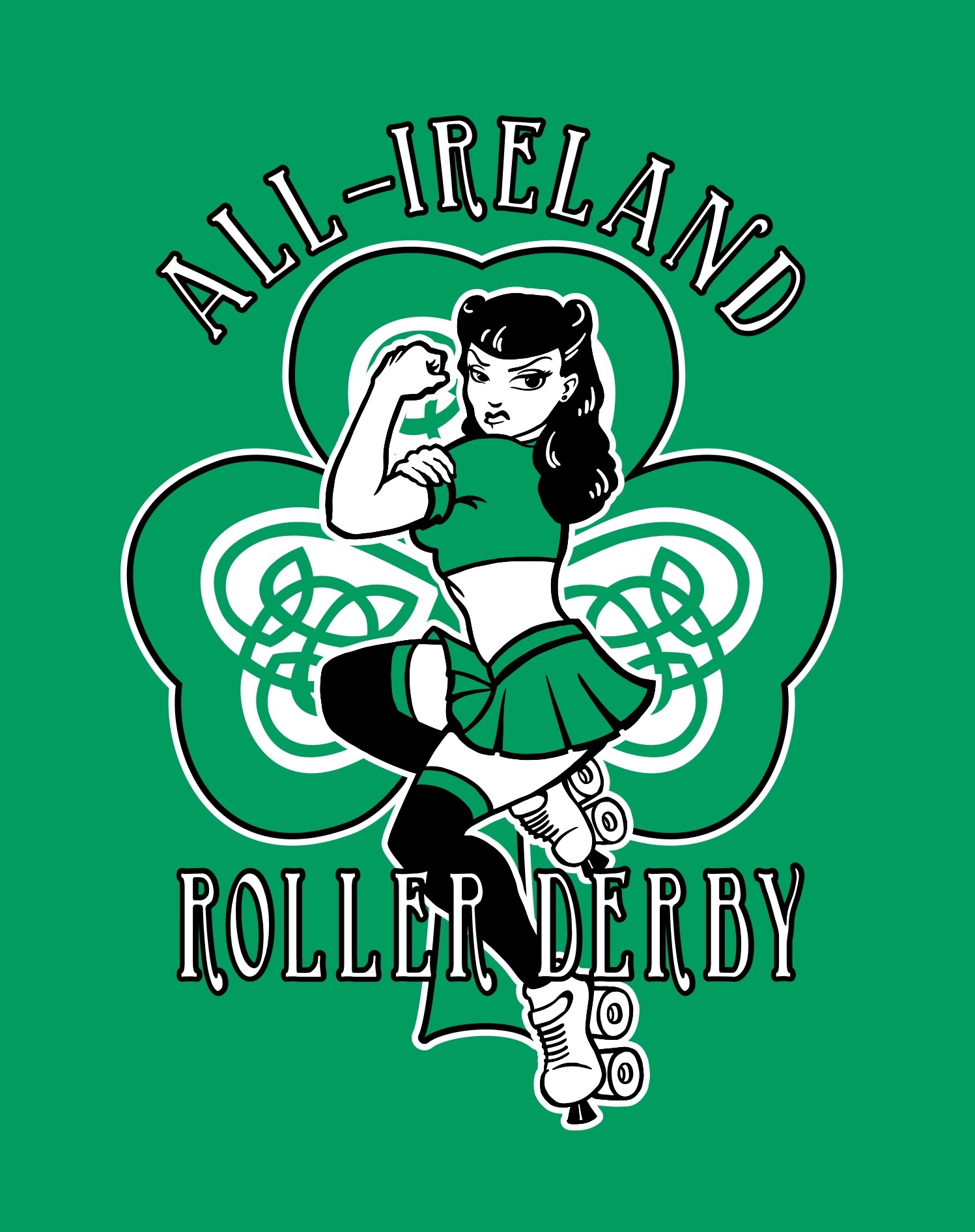 Team Ireland logo designed by MuteArt,used with permission
As the first Roller Derby World Cup approaches,it's time to size up the teams involved,kicking off with Team Ireland.
When you look through all the team rosters,one of the first things to strike you is how much international experience a lot of these teams have.Although this is perhaps less true of the Irish team than some others,they do have a sizeable chunk of their squad regularly playing up and down the UK in some very highly respected leagues.Many readers will recognise quite a few skater names from the roster,including players from Scotland's very own Glasgow Roller Girls.
Agony AnnT,B.A,Belle For Leather,Jessica Rammit,Kitty Cadaver,Lil' Edee,Peppy Nephrine,Tina Gutt-Her And Jam and Zola Blood-Dublin Roller Girls Bad Faith and Sinister Mary Clarence-London Roller Girls Crow Jane,Phantom Gemerald and Rush'N Barron-Cork City Firebirds Holly Sheet-Dolly Rockit Rollers(Leicester) Jessica Mooney-Kernow Rollers(Falmouth) Roisin Roulette-Birmingham Blitz Dames Wile.E Peyote-Rat City Rollergirls(Seattle) Chemikill Hazard and Coco Pox-Glasgow Roller Girls
Team Ireland's Head Coach is Violent Bob of The Dublin Roller Girls,ably assisted by Jessica Mooney of Kernow Rollers and Team Manager is Dirty Knees Lou-Eez from The Dublin Roller Girls.
The teams from Scotland and Ireland have much in common,both are fairly small countries which makes it far easier for skaters to get together to practise and gel as a team than it does in say,Australia or the United States.Although with just under half the squad in teams outwith Ireland,this may or may not prove a difficulty for them. Being small countries means we both have a small number of leagues to draw skaters from,Ireland only has three bouting leagues and seven more in various stages of setting up.Just over half of Irelands skaters are drawn from the bouting teams,three from the newly formed Cork City Firebirds and nine from Ireland's first Roller Derby League,the Dublin Roller Girls,so much of the squad already knows how each other plays.
Like Team Scotland,The Irish squad are planning warm up matches to gel their team together,with one closed bout confirmed so far against Sheffield Steel Roller Girls in October.
The fact that the Ireland squad features two of GRG's skaters should make a Scotland V Ireland bout interesting.Having bouted or scrimmaged against pretty much everyone in the Scotland squad,they have a huge amount of experience of the styles,strengths and weaknesses of the skaters that make up Team Scotland. Team Ireland could well be a force to be reckoned with,their biggest group of skaters have the unity of coming from the same league and they have some frankly stellar players.If they can gel into a team they will do well.