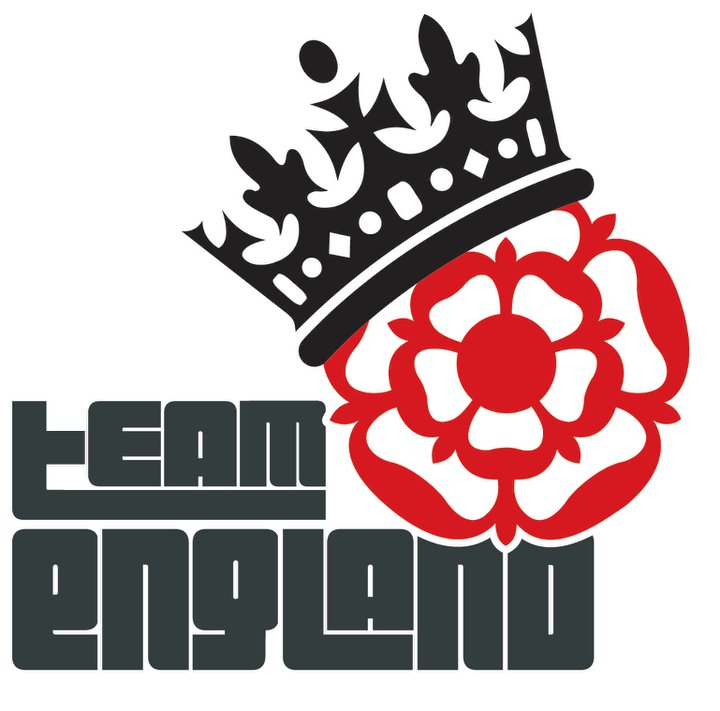 Team England Logo designed by Vagablonde,used with permission
There is no way around this fact:England have put together an amazing team-twenty girls from eight leagues,some of the best and most respected anywhere in the country.The collective experience of these skaters cannot be overstressed and as a result England will be a major force in the forthcoming World Cup.
The Team England Roster Fox Sake,Frightening Bolt,Grievous Bodily Charm,Juicy Lucy,Kamikaze Kitten,Metallikat,Ninjette,Raw Heidi,Shaolynn Scarlett,Stefanie Mainey and Vagablonde from The London Roller Girls Jack Attack and The Mighty Mighty Bash from The London Rockin' Rollers Dee-Mise and Missy Rascal from Rainy City Roller Girls(Manchester) el VISIOUS from The Hellfire Harlots(Nottingham) Hustle'Her from Central City Roller Girls(Birmingham) Rogue Runner from the Dolly Rockit Rollers(Leicester) Violet Attack from the Birmingham Blitz Dames Feral Fairy from Leeds Roller Dolls
The Coaching team comprises:Ballistic Whistle of LRG,Barry Fight of CCR and Rollin' Stoner of The Royal Windsor Roller Girls
At the recent Eastern Region Playoffs,LRG's London Brawling squad finished in fifth place,a more than credible feat against some of the best leagues on the face of the planet,an amazing moment in UK and European Derby history and surely the crowning glory thus far for the London Roller Girls.Eight skaters from that squad have made the team for England and as there are no scheduled warm up bouts,Team England will instead choose to spend their time until the World Cup in training.Rest assured that those eight skaters are wringing out every last scrap of that experience in the States and passing it on to the rest of their team mates. The English squad will be able to train together,many of them will already know each others styles and strengths and they have experience of both UK and European bouts....including against many of the members of Team Scotland,confidence and motivation will be high after London Brawling's performance in the States.Undoubtedly Team England will do well in the World Cup.