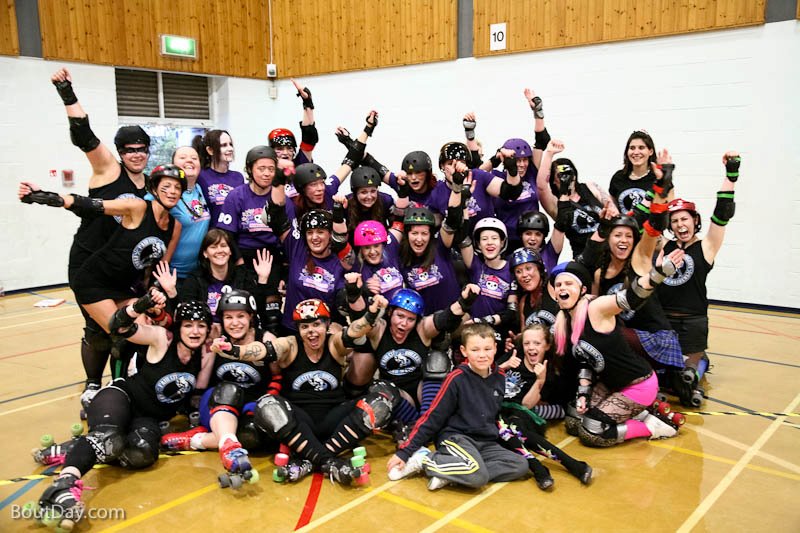 Fair City Rollers bout team, the Fear Maidens, travelled to Grangemouth to take on Fierce Valley Roller Girls' Parma Violents in Candy Jam.
It was the first ever bout for the Fierce Valley league, which will turn one later this month. And with family and friends watching - the bout was closed to the public - they showed how far they have come in a short time.
Both sides got into the Hallowe'en spirit for the skate out, with costumes, masks and facepaints. The Parma Violents even used Michael Jackson's Thriller as their skate out song.
It was soon down to action, with the two teams lining up for the first jam. Captain for the Maidens, Ninja Knickers took on jammer duties.
And right from the start, both sides fought hard to win the game.
The Fear Maidens were dealt a blow early on, when long-serving member Van Damn was sidelined after going down in the second jam of the bout. A trip to the hospital after the bout - she stayed to the end to cheer for her teammates - revealed she suffered a chipped bone in her ankle.
However, the Maidens didn't let that stop them, and they fought hard, staying ahead for the whole 60 minutes.
At halftime the score was 97 - 24 in favour of the visitors.
The Parma Violents never let their heads drop, even when the gap between points was more than 70. They continued to hit hard, making the most of power jams to rack up more points. It was only towards the end that the effects of the hard hits from the Fear Maidens started to show.
Just a few minutes from the final whistle, the FM found themselves another player down when Tenacious Dee was ejected from the bout for taking out an opposing player in what was described afterwards as a "Superman move". But by that point, the Perth team had the result in the bag.
If that's what the Parma Violents are like in their first bout, a year from now they could be pretty much unstoppable! Definitely a team to keep an eye on.
And the Fear Maidens continue to go from strength to strength. In under four weeks they will go head to head with Dundee Rollers Girls' Silvery Tayzers at Pivots of the Caribbean.
Final score - Fear Maidens 170, Parma Violents 55.
Best Jammers - Teenie Bash (FM), Zombette (PV)
Best Blockers - Terrifying Tink (FM), Calamity Jen (PV)
MVPs - Jill Antonic (FM), Fun Ghoul (PV)
Photo used with the kind permission of http://boutday.com/