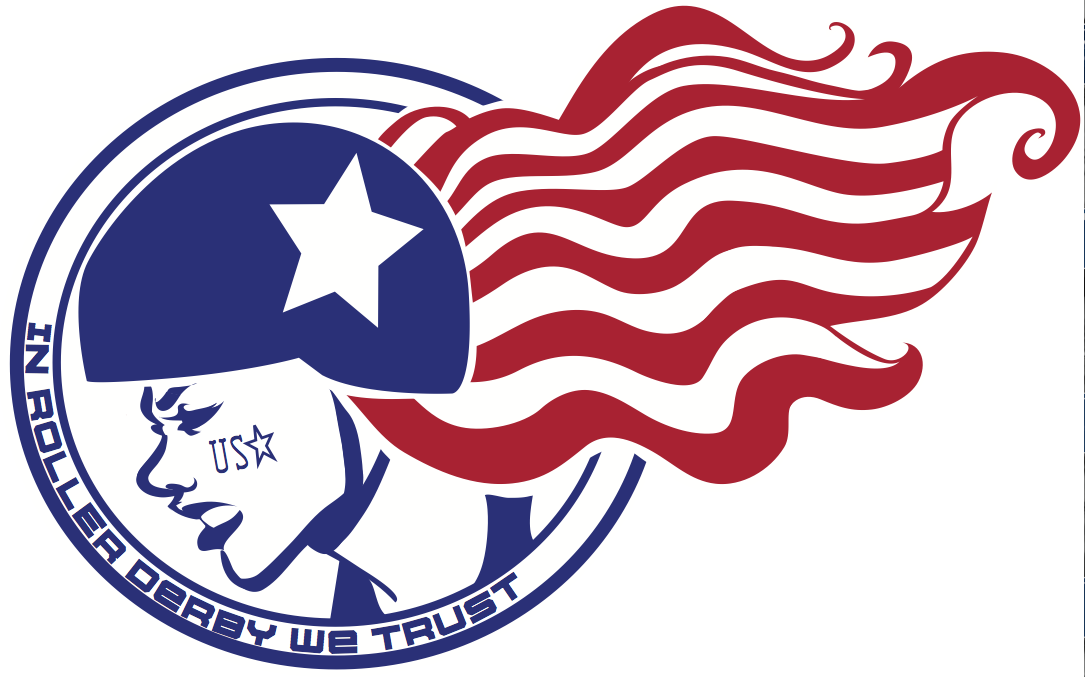 Team USA logo designed by
Dani Kaulakis
used with permission
Team USA like Team Canada are without doubt one of the main contenders to win the World Cup.They have a stellar line up,masses of experience and are Derby heroes to many skaters all over the world.
Team Roster.. Urrk'n Jerk'n,Amanda Jamitinya,Psycho Babble,DeRanged and Frida Beater(Co Captain)-Rocky Mountain Roller Girls Donna Matrix,Fisti Cuffs,Suzy Hotrod(Co Captain),Bonnie Thunders and Sexy Slaydie-Gotham Girls Roller Derby Atomatrix,Sassy and Tannibal Lector-Oly Rollers Smarty Pants-(Asst Captain)Texas Roller Girls Medusa and Juke Boxx-Minnesota Roller Girls Snot Rocket Science-Steel City Derby Demons Soulfearic Acid and White Flight-Rose City Rollers Varla Vendetta-Windy City Rollers Teflon Donna and Shenita Stretcher-Philly Roller Girls Little A-Tampa Bay Derby Darlin's Tracy "Disco" Akers and Heather Juska-Denver Roller Dolls Joy Collision(Captain)-Charm City Roller Girls V Diva-Dutchland Derby Rollers Claire D.Way-Boston Derby Dames
Head Coach-Buster Cheatin'-Gotham Girls Roller Derby Asst Coach-Bonnie D.Stroir-San Diego Deby Dolls Manager-"Endless" Justin Campoy-Gotham Girls Roller Derby Manager-Vivien LeighEmOut-A'Salt Creek Roller Girls/Missile Mountain Roller Derby
Team USA will play no warm up bouts other than a 14 on 14,Stars V Stripes expo bout in Toronto the night before the World Cup starts.They only have two team practices scheduled,but such is the calibre of their skaters they probably don't need much time to gel as a team. The eagle eyed among you will have noticed that there is no final, set in stone game roster.Instead Team USA have a team roster of 28 players with 6 alternates from which to chose a final team,but quite frankly,you could pick twenty skaters at random from that line up and still have a world class squad.The only real problem for USA team selection is that many of their skaters will be taking part in the 2011 WFTDA Championships.Any injuries picked up during the Championships could rule out skaters for the World Cup which is only two weeks later.