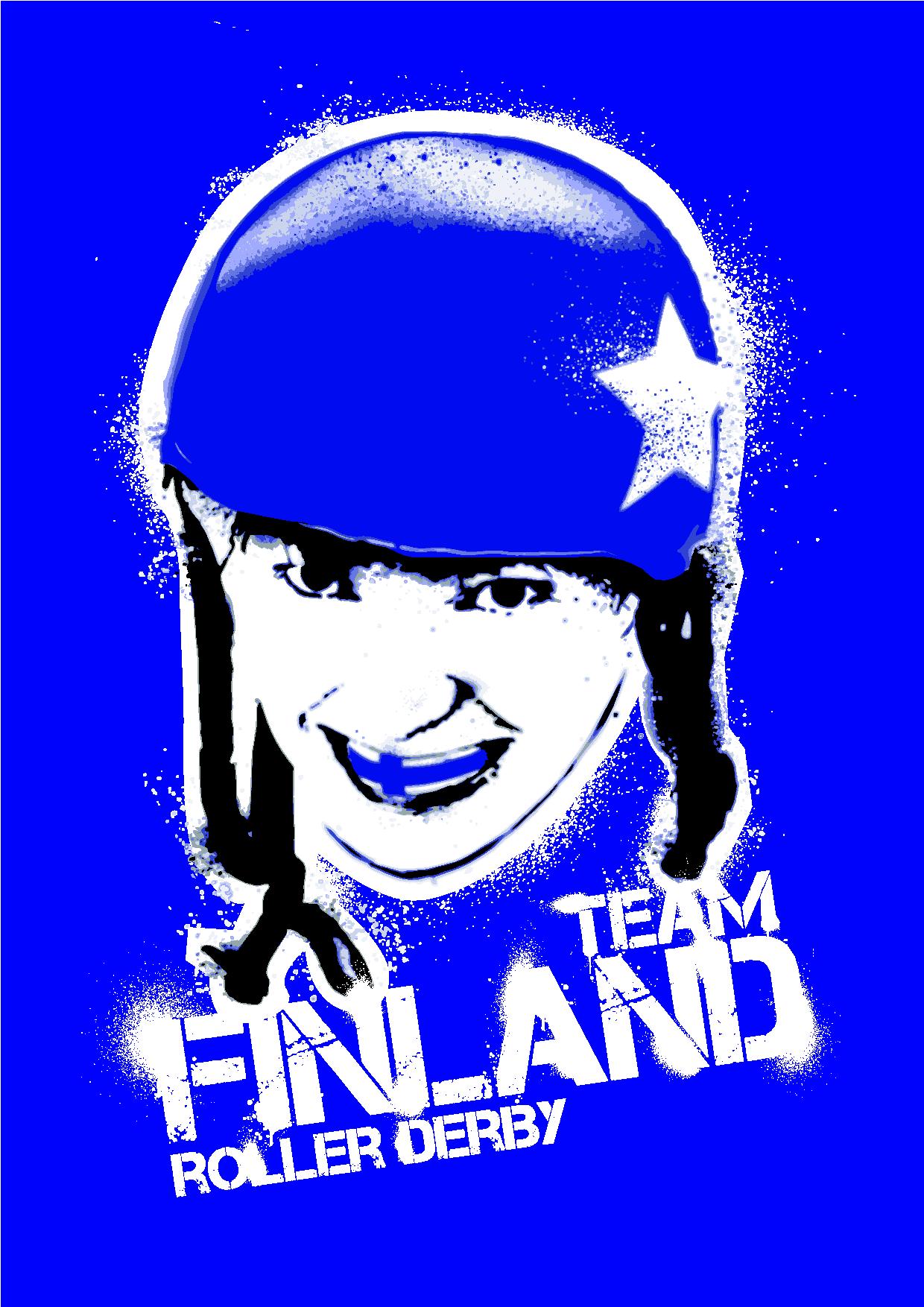 Team Finland logo designed by Pekka Räty,used with permission.
Roller Derby is a new sport for much of Finland,most of the dozen or so leagues in the country have been formed in the last year.Helsinki Roller Derby is their oldest league,dating back to 2009 and they were accepted in the WFTDA Apprentice Program in July 2011.The bulk of the Finnish team all and all the coaching staff come from HRD and have quite a bit of experience playing some big name teams,taking part in the recent Battle Of Nordic Light competition and a very narrow defeat to Stuttgart Valley Roller Girlz
Team Roster- Doris,Lizz Troublegum,Kati Kyyrö,Kata Strofi,KC Knucklebone,Trixie GrandBang,Liisa Saari,Suvi Hokkari and Page Disaster of Helsinki Roller Derby the Blizzard from Bristol Roller Derby Misty Muffdiviah from Crime City Rollers Pink Spanker,Udre and Only of Kallio Rolling Rainbow Bloody-HO-Mary from Tampere Rollin' Ho's Juicy Butther from Dirty River Roller Girls
Coaching staff-All from Helsinki Roller Derby Head coach: Estrogeena Davis Assistant coach: Tigre Force Manager: Claire Leah Threat
Team Finland have only been able to practise together a handful of times,so much of the training has been down to individual skaters and leagues.Although the assistant coach,Tigre Force,has been travelling around Finland,coaching the leagues involved and providing feedback to the coaching staff and other skaters. A fundraising warm up bout against Team Sweden in early October ended in defeat for Finland,the final score being 135-71.As far as i am aware this is the only instance of two national squads bouting before playing in Toronto.Although doubtless the bout would have served to gel the team together and provide an insight into the workings of Team Sweden,which may prove useful should the two teams meet again during the World Cup. Like several other teams in the competition,Finland are something of a dark horse,with their mix of experienced and newer skaters they could well prove a threat to many other teams, depending on their training and preparation.Only time will tell how much of their hard work will pay off in Canada.