It's not just the Nasty Nessies that the Scottish Roller Derby Blog is following on a monthly basis. The Forth Valley's finest roller derby league, Fierce Valley Roller Girls, is also providing us with a regular update on their progress. Forgoing the privilege of going first, Grizabelta has selected Max Attaxx (501) as the first interviewee, so, it's over to her: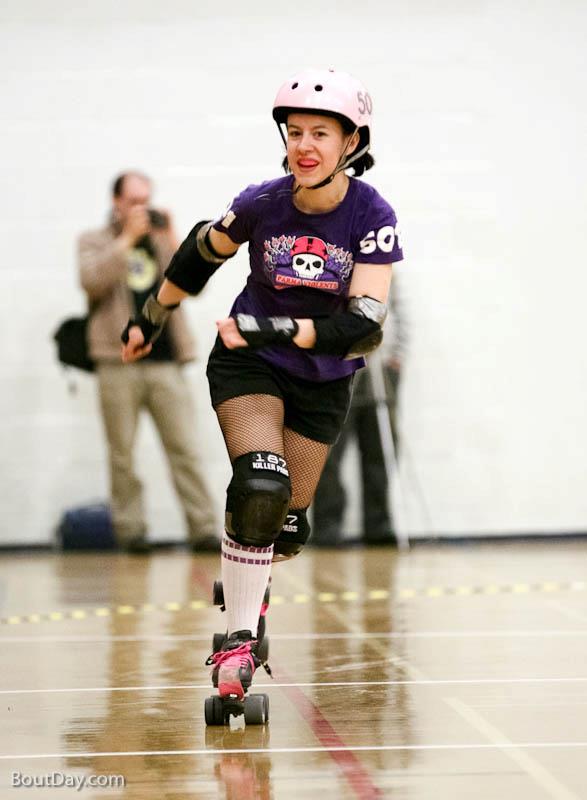 What first attracted you to Roller Derby?
It was a sport played on roller skates, in which you get to hit other people and have a crazy name – how more awesome can it get?!
What was your biggest initial difficulty?
This would definitely be that I had never skated before in my life! (Apart from one go at ice skating which did not end well at all!) Thankfully that didn't put me off strapping those skates to my feet and going for it!
Lots of roller girls find it hard not to spread the word about their new sport. How have you been spreading the word?
By talking about in incessantly to anyone who will listen – and a few people who didn't want to listen! :)
What's the most important thing you've learnt/done this month?
I participated in my first bout this month (well 30th October) and I've learnt so much from it I'd find it hard to pick out just one thing! It was a great experience to skate in front of a crowd (albeit a small crowd!) and to skate against an experienced team! Great fun and a steep learning curve!
What were the most difficult and best things you've done?
The most difficult I would say was trying to catch up with the other skaters in my team! I started later than some so that combined with the fact I'd never skated meant I needed to really push myself every practice to do better! There's still so many things to learn though and get better at!
The best is now a joint win between two things – getting my 25 in 5 (Woop!) and my first bout! Both of which made me all the more convinced there's no sport better than Derby!
What's new in FVRG?
Apart from our very exciting first bout, which was the official 'launch' of FVRG's first bouting team the Parma Violents, we have also arranged a Cabaret night on the 11th of November! With Cheerleaders, poetry, magic, music and comedy, its shaping up to be an awesome evenings entertainment with the added bonus of seeing and chatting to your fierce neighbourhood roller girls! ;)
Come back next month to see who's next for Fierce Valley, and if you can make it, do try to turn up to the their Cabaret event, as it's sure to be a blast!