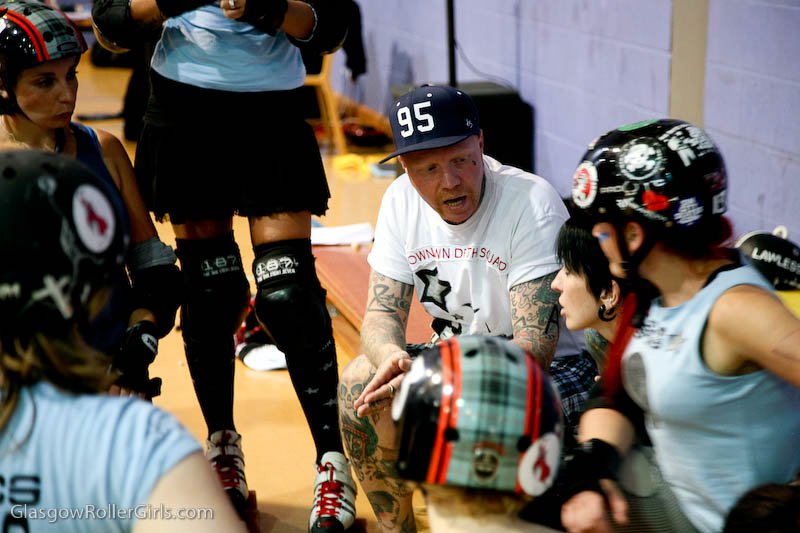 Photo of Knuckles by
Dave McAleavy
With the first ever Roller Derby World Cup just weeks away,we caught up with Knuckles, Team Scotland's Bench Manager, for a chat
What is your background in Derby?
I started with Glasgow Roller Girls just over 4 years ago before they had their first bout. Starting out as an NSO and then starting to Ref.
I became the Head Ref for Glasgow and was a Referee in over 30 bouts
How did you get involved in bench managing?
I decided that I had had enough of being a referee and was thinking of leaving, but prior to leaving wanted to try bench managing. This was last year and I got the chance to bench the one of Glasgow's home teams the Bad Omens. I really enjoyed it and from their got the opportunity to bench for Glasgow's travel Team ,The Irn Bruisers. Since I started benching I have been lucky enough to bench for two different home teams in different seasons , GRGs travel team and a couple of games for the Maiden Girders. Obviously I have done the two Scotland games as well.
Towards the end of my Ref days, I was starting to become disillusioned by the game but have started to really enjoy it again as a bench manager. It is totally different and you feel a bigger part of the team.
What makes a good Bench Manager?
I don't know what makes a good bench manager, but I can tell you what I do and what works for me. Their are a few different ways that bench managers operate but in my opinion the captains decide on the strategy and I help them implement it. I tend to work with the jammers try to assist on when to call etc and advise pivots and captains of what strategies the opposing team are using.
Trust is a big part of it and you have to gain the Skaters trust, that your instructions are the correct ones for the team. It takes a few games before the Team really trust your decisions but I have been welcomed into the role by everyone and we seem to be working well. Obviously the transition was slightly easier for me due to my rules knowledge as a Ref.
You have to keep an eye on points and ensure that the correct number gets attributed to your team, you also have to keep an eye on penalties, to inform the line up manager so they can do their job. I am a big believer that we are all one team and we have to ensure communication is excellent on the bench.
I also like to give the Skaters encouragement if they have done something well and suggest some things if it's not going so well. If you have been to any bouts you will know how vocal I am with the team.
Three Majors gave me some tips he had seen the Montreal Bench use in terms of hand signals and this has been of great assistance. I also got to meet Sonic Boom from Toronto and picked up some stuff from him as well. You can always improve and I try and take in as many pointers as possible and see what works for me
How does it feel to be involved in Team Scotland and going to the World Cup?
I am a fan of Derby as well as being involved and getting the opportunity to work with skaters outside my own league is amazing. To get to work with Crazy, Alma,Fight Cub etc. and to watch them skate with the best from the other leagues is magic. Crazy and Whisky as your back two, what team wouldn't want them in their line ups?
To get to go to the World Cup and represent Scotland is the stuff of dreams I am about to burst out singing to BA Robertson, 'We Have a Dream'. It's hard to put into words how much this means to me but it really is a privilege to work with this team and I hope we do well in Toronto.
This is going to be something that I will look back on in years to come and think those were the days
How are you preparing for the World Cup?
Watching a lot of Derby and listening to Viper (my wife) working out strategies. I don't think a day goes by that we aren't talking about some aspect of the game.
Usually Viper is watching some tactic on DVD and playing it over and over whilst she breaks down the play.
Canada and the USA aside,which teams do you think will be good competition for Team Scotland?
I really want to play Brazil or Argentina, I just think that would be fantastic
But the game for me would be Scotland v Germany.
Both Glasgow and ARRG have played Stuttgart recently and I think that Scotland v Germany would be explosive Germany are really coming up in the rankings with both Berlin and Stuttgart playing great games. For me this would be the challenge it would be a hard hard bout but I believe our Scottish girls could win it.
What do you think the World Cup will do for Roller Derby in Scotland?
It s great for all Derby players in Scotland and I think that by the time it comes around again the try outs will be even bigger. The Skaters that do go will also pick up plenty of skills and contacts to take back to their parent leagues.
Also if you watch the improvement in Skaters that have been involved in the Scotland trainings you can see its a good thing. For example Psychomilly from Dundee Roller Girls has been outstanding and seems to have improved in such a short space of time. She obviously has benefited from training with the Scotland team and will be one to watch in the future.
I hope that it unites the country and everyone watches online and sends in their support.
This sport will be here long after we are finished in it and as far as I am concerned this Scotland team should be in the Derby hall of fame. They are the first Scotland National Derby team and in years to come new skaters will look up to them as the forbears of this sport.
In fact they are officially Derby Royalty :) after this.
Many thanks to Knuckles for taking the time to do this interview and to Dave McAleavy for providing the image