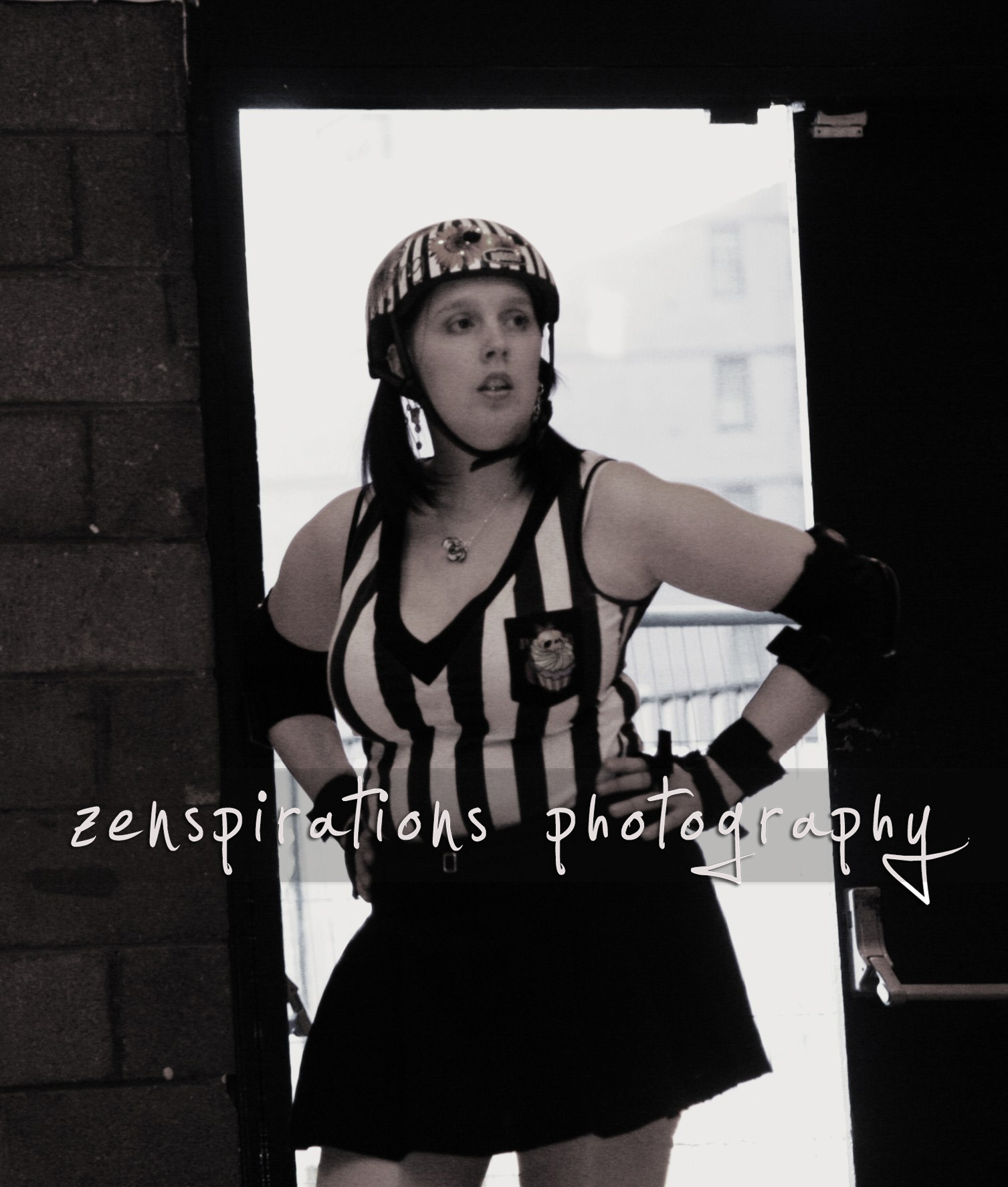 Photo of Ella Bella Bang Bang by Zenspirations Photography
Ella Bella Bang Bang will be a familiar figure to many readers,Ella's legendary fairness,impartiality and knowledge of the sport make her a highly respected ref,Alongside fellow Arrg zebra, Cherry Fury ,Ella will be making the trip to Toronto to officiate at the World Cup.We managed to secure a little of her time for a chat...
What is your background in Derby?
I found roller derby by accident one day while looking at things on Myspace of all places! I stumbled across the Glasgow Roller Girls page and had a look at what roller derby was. I thought it looked like a lot of fun and instantly I wanted to be involved. I was unsure about joining GRG though as I didn't think I knew anyone and at the time I was pretty shy with new people. So I searched to see if there was an Edinburgh League. As luck would have it there was one just starting out and I got in touch and asked how I could be involved. As I knew I did not want to be a competitive skater due to having spinal surgery as a teenager. So I have been involved in ARRG since its very beginning.
Yours must be one of the best Derby names,how did that come about?
Thank-you. Again that was another happy accident. My friend at Art School wrote a comic about me called Princess Alison-Ella and I always really liked the Ella part of it, not so much the princess part ;). So I just tried to build a name around it and that is how Ella~Bella Bang~Bang was born.
Why did you become a ref and what do you love about it?
As I said earlier I knew I didn't want to be a competitive skater as I had spinal surgery as a teenager, so I can be a wee bit protective about my back and although as a referee I need to be able to fall and take hits and I do have massive wipe-outs during bouts (sometimes) I felt that this was the safest way for me to be involved in roller derby and get to skate too. I am glad I made this choice as I do totally love being a referee and I have met some wonderful people through this. I have also learned a lot about myself and I feel have become a more confident person as a result. I don't think I could pin point what I love most about being a referee. I just like being part of something as amazing as Roller Derby.
What makes a good referee?
I always think someone who is willing to learn and act on constructive criticism makes a good referee. In my eyes we need to constantly learn the rules and improve our skills. I never want to get to the stage where I think I have made it, or that I know it all. As for me if I ever got to that stage I would no longer able to develop as a referee and therefore I would not be getting any better. I was told when I started out as a referee that the better you get at refereeing the more of your mistakes you will spot. That has always stuck with me and its true! I remember my first public bout and thinking well that went okay. I have never thought that again! I am forever pointing out my mistakes to myself afterwards in the hope that I won't do them again.
Most skaters have skating heroes,do you have any skaters or refs you look up to?
I look up to and respect every referee I have ever worked with as each and every one of them has taught me something and helped me develop further as a referee. I have always respected the opinions of Brutally Frank and Three Majors. I admire Cherry Fury's determination to be the best she can. Ballistic Whistle helped me out a lot when I started and I think I would aspire to be as fair as Miss Trial.
How does it feel to be reffing at the world cup?
A whole massive mix of emotions. I am nervous and excited and terrified and thrilled all a the same time. I feel that this is a great thing for the progression and development of Roller Derby in general. But on a personal note I feel that this is a great opportunity for me to develop further as a referee. I think I, along with will all the referees involved, will learn a lot about officiating. I hope this will boost my own level officiating and that it will help me feedback into ARRG and help to boost our level of officiating. I am really please and thankful to have been given this opportunity.
What do you think the World Cup will do for Derby in Scotland?
As I have said I think the World Cup will help the progression of Roller Derby as a sport. I think it will do a lot to promote the sport and will help generate more interest in our sport. I think having 2 Scottish referee's going and 7 in total from Europe will also have a positive impact on the general standard of officiating as we will all be able to feedback to our own leagues and will also in turn be able to impart the knowledge gained to all other referees we work with in the future.
Any advice for anyone who is interested in becoming a referee?
Read the rules, a lot. Watch Roller Derby, a lot. And talk to referee's. We in ARRG have quite a few newer referee's who have been developing their own skills and knowledge through fulfilling Non Skating Official roles and all have had positive things to say about their own experiences. Although this is not how I started out, I would highly recommend it for anyone considering being a Referee.
Many thanks to Ella Bella Bang Bang for taking the time to do this interview and to Zenspirations Photography for permission to use the photograph