December is the darkest month, so it's a good job we have another monthly entry in Fierce Valley Roller Girls' selection to brighten up your day. Last month's interviewee, Max Attaxx, selected Fun Ghoul as her successor, so here's her views on her past month or so.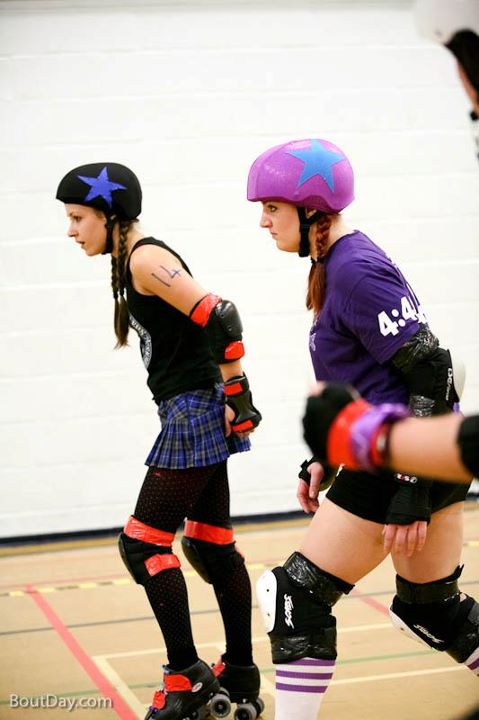 What first attracted you to roller derby?
My first memory is of seeing ARRG's 2010 "The Prisoner of Azkaslam" bout advertised in the Edinburgh Fringe Festival programme, and deciding to book myself and a couple of friends tickets as a post-birthday present [to them] to watch the bout.
In the run up to the bout I did a bit of internet research into derby, but my first bout was still a confused blur of watching the girls with the star panties zoom round and score points whilst the other girls tried to hit the hell out of her. I'd already decided before the bout that this was definitely something I wanted to try, and afterwards I needed no more convincing.
I'm not sure what it is about derby that made me so attracted to it, but most likely a combination of that I was looking to take up a new sport/leisure activity, it looked like a challenge, and I loved skating when I was a kid, the punk/DIY/grassroots aesthetic of the sport, the camaraderie…oh, and the hitting!!
What was your biggest initial difficulty?
My biggest initial difficulty was definitely being able to find a league I could commit to the training schedule of.
I work shifts, mostly evenings and weekends, which is obviously when most leagues train, so I'd looked into GRG, ARRG and Fair City's training and the commitment they needed from Fresh Meat, and, sadly I had to resign myself to the fact that because of my shift pattern, I would never be able to skate.
Then in the December of last year I heard that there was a new league starting in the Forth Valley area, I finally managed to track them down around Christmas, and started skating in mid-January. To make the training I had to go to a lot of Sunday afternoon shifts at work without showering afterwards, but it was worth it in the end. Plus, I picked up the skill of the "derby shower" very early on.
Derby names are one of the best known aspects of roller derby. How did you pick yours?
Basically, Fun Ghoul is Frank Iero's character in the "Dangerverse"…which is the world in which My Chemical Romance's Danger Days: The True Lives of the Fabulous Killjoys is set; he's one of the Killjoys. I'm a fan of theirs, and the whole post-apocalyptic, post- punk, DIY vibe of the Dangerverse world I think gels with grassroots derby. Plus, they wear garish colours, face-paint and kick-ass, which makes up at least a small part of what we do.
Lots of rollergirls find it hard to not spread the word about their new sport. How've you been spreading the word?
Harassing everyone I know about how amazing it is! Making them come to our events, buy raffle tickets, sponsor our Goodwood skate…friends, family, colleagues, sometimes strangers, no one is safe from the derby word.
To be honest though, the internet is an invaluable resource for derby, especially social networking for getting information about your league and events out to the public, and also sites like Derby News Network and Roller Derby UK TV for screening and archiving bout footage, so if people aren't sure what it's all about, you can point them at an actual bout there and then.
What's the most important thing you've learnt/done this month?
Don't forget the endurance!
I think before our first bout we got a bit wrapped up in technique and drills and let our endurance drop a little. At the time we only had one session a week focussed on anything above Fresh Meat level, so it was a compromise we had to make.
Now we've got our new Friday session, it means we have time dedicated to on-skates endurance, which is so fantastic, but it's been a killer to get back into! I was wheezing after a five minute skate last week after pushing it too hard through determination not to get any less than my usual 30 laps (silly, I know!).
Other than that, I learn new ways that my league mates are utterly fantastic every session, and I'm so lucky to know such an inspiring, and insane, bunch of ladies (and gents!).
What were the most difficult and the best things you've done?
The answer to both those questions is our first bout (see above).
It was difficult, as it was only the second time ever we'd skated as a whole team, we lost two of our players pre-bout to injury and illness, and we were on home turf, so there was pressure to not get our asses totally handed to us! I think the first half was toughest, as we were trying to find our rhythm, but by the time the second half kicked off, we were all just out there to have fun and really enjoy the best 1st birthday celebration ever as a league!
It was also the best, as I was awarded MVP for the Parma Violents, which has definitely been the highlight of my derby career so far.
What's new with the league as a whole?
We've just had our first AGM, and as a part of that set up a lot of new and exciting committees, so I'm really looking forward to seeing them push FVRG to the next level over the coming 12 months.
We have our First Annual (hopefully!) FVRG Awards taking place on the 16th, which I'm organising with the help of the lovely Max Attaxx, at our whole-league Christmas roller disco, so we'll be doing a dodgy Oscar/BAFTA style double-act presenting bit that will probably end in chaos after too many sweeties are consumed!
And then next year we have our first open bout (!!) "Bruise Brothers" on the 18th February against Dundee Roller Girls' Silvery Tayzers, up in Dundee, so I'm really looking forward to that, and keeping everything crossed that I'll be picked to bout for the Parma Violents again.
I can't wait for an even more awesome derby filled year with FVRG in 2012!!