In another World Cup interview,we talk to Ballistic Whistle,Head Coach of Team England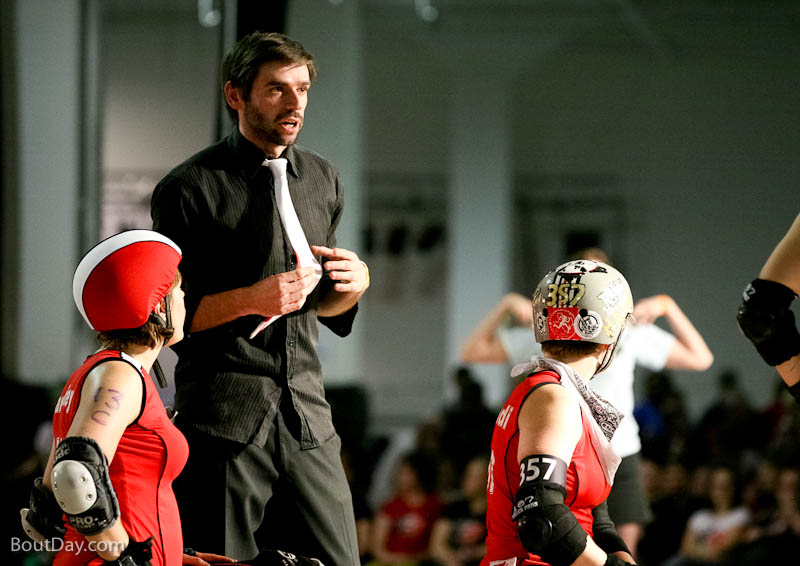 Photo of Ballistic Whistle by Dave McAleavy
At the World Cup,Team England placed a well deserved third,how does it feel to have represented your country and managed a squad of skaters to such an amazing achievment?
Well, technically I haven't represented my country....being Australian and all. I did take a sick joy from writing myself into what my countrymen would consider the wrong side of that classic sporting rivalry though. However, I do feel that English derby is truly where my heart lies. Having invested so much time and effort into the sport in this country it was emotional to have the opportunity to lead a team of excellent skaters at an event which saw sickening amounts of national pride.
From the streamed footage everything seemed to run very well,what were your impressions of the World Cup?
I thought it was really well produced for a first event of its kind. Obviously there were some elements that I would've preferred were different - for example the pillars in the middle of the track - but given the scale of the event I thought Black Dahlia did an amazing job of pulling together something that no-one, up until now, had decided to brave attempting.
What are your World Cup highlights? Both personally and for the Team
My actual highlight from the world cup can't go in print so I'll just say that I loved the New Zealand Haka as well as watching the USA v USA bout. The thing that really sticks with me was just seeing so many different countries representing their brand of derby. It was great to watch. That, and being able to coach some fantastic skaters that I don't normally get the opportunity to.
Team England drew a varied group with Ireland and Argentina,interestingly, Team Ireland featured some skaters from The London Roller Girls,given that those skaters are well versed in the way you work,how did that affect your tactics for that bout?
Well, for whatever reason Team Ireland chose not to play those skaters in our game against them. We had the luxury of being able to observe the Ireland team before we played them so had an idea of how they were going to set themselves out. Having said that, they certainly played a style we weren't expecting and made our opening game really tough which, given points differential was vital to the knockout phases, put a little extra pressure on us for the remaining group game.
A sizeable chunk of the Team England squad had played in the Eastern Region Playoffs as part of the London Roller Girls team where you were also Coach,how much of an edge do you think that experience gave you over most of the other teams in the World Cup?
Getting better by playing better teams is one of the hard and fast derby truths that LRG swears by, so having the opportunity to go to Regionals just made those participating players stronger, both physically and mentally. I can imagine that a lot of the players at the cup would never have felt the experience of being involved in such a large-scale, high-profile event such as that, so having players who were able to put all that to one side and focus on the job at hand was quite advantageous to us
Argentina were one of the unknowns in the competition,how impressed were you with them and the newer,less established teams?
It was almost impossible for us to do research on many of the unknown teams. Footage doesn't exist and you only really find some snippets of the one or two "stars" playing with their own league. Argentina and Brazil were especially exciting to watch during the cup as they were essentially representing the newest frontier of derby (out of the teams at the cup anyway). I was incredibly impressed with how well Finland did and am just sad that I didn't have more free time to catch more of their games.
Looking back at England's World Cup bout scores,it seems that you sailed through almost every match,however,scores rarely reflect how hard fought a bout was,who among your opponents gave you the hardest bouts?
The Canada game was the toughest by far. We never really got into the game and were working hard just to stay within touching distance. We got off to a terrible start against Australia, but just needed to take a breath, have a chat, and we were able to regain control of that one. For me, the most unexpectedly tough game we played was against Ireland. Not because it was our first bout of the tournament, not because it was played at 9:30am on a Friday, but because Ireland played a really strong, disciplined game. They gave us a fight right from the start and pretty much made us re-evaluate our tournament game plan.
What do you think of the European Cup that has recently been announced?,can we expect to see Team England there?,or do you have any other international bout plans?
I love the idea of a Euro Cup. I think whoever takes responsibility for organising it is going to have to deal with headaches Blood & Thunder avoided, now that the teams are established and have a voice. Something that Dahlia started catching more and more as the prep for the World Cup went on. I would hate for a Euro Cup to happen without Team England there. The team took the festive season off, but we're going to be discussing how we want to move the forward in 2012. Obviously a lot of the players have hectic derby schedules already, so working out how we can fit it in is going to be somewhat tricky. As for other international bouts, there are some things that are being discussed, but I can't divulge anything at this stage.
2012 will be an exciting time for Roller Derby here.There are new full WFTDA and apprentice leagues all over Europe and the Track Queens competition coming up for them later in the year,plus the European Cup.All of which can only improve the standard of the sport right across the board.How do you see the future of Derby in Europe?
I have fingers crossed that WFTDA will consider formalising the European Region in terms of the existing Big5 tournaments. It's going to be tough to work out how a Region with such a small number of teams and such a diverse ability level will fit into their tournament structure though. That's a task I don't envy. I'm hoping that the Euro Cup will give an opportunity to some other European Countries to establish their national teams as well. The Track Queens tournament is really exciting as well. I realise there have been localised tournaments such as Tattoo Freeze and Highland Fling, but I'm hoping this can be the spiritual continuation of Roll Brittania wihich is now so long overdue. 2011 saw me witness European teams playing strategies that were less than 3 months old at the time. That many of the established teams have reached that point means their progress should accelerate even more rapidly in 2012. Exciting stuff.
Many thanks to Ballistic Whistle for taking the time to do this interview