This is guest post from Bryan McWilliam aka Flyin' Bryan Killman,Bryan is the manager of
Chicks Ahoy!
of Toronto Roller Derby and a freelance journalist from Toronto. He has covered roller derby for
Gear Up For Sports
and his writing portfolio can be viewed at
Bryan McWilliam.com
.
Last December, Blood and Thunder Magazine hosted the first-ever Roller Derby World Cup, in conjunction with Toronto Roller Derby at The Bunker in Toronto, Canada.
The tournament had several exciting moments, from the overall dominance by USA, to host country Canada playing to a silver medal. The event also featured a bout where 500 points was scored by one team and the rare appearance of a "ghost jam," which occurred during the Ireland/Finland bout.
Team Scotland added some astounding moments of their own into the mix, having played one of the hardest hitting bouts of the weekend against New Zealand, adding their rendition of "Flower of Scotland" to the opening ceremony and scoring a thirty point jam of their own, courtesy of jammer Marshall Lawless.
However, what could arguably have been the most exciting moment of the tournament came upon its conclusion. A most valuable player award was handed out to one member of each team for their outstanding performance over the course of the weekend.
An impressive list of skaters from around the world such as Iron Wench for Canada, Francey Pants for France, Swede Hurt for Sweden, Shortstop for Australia and Joy Collision for USA earned the honour for their teams.
When Lisa Donati a.k.a Marla Mayhem, a member of Team Scotland who also plays for Glasgow Roller Girls, was announced as the MVP for her nation she had a look of wonder on her face when she ran up to accept her award and pose with the other MVP's for the press photos.
Perhaps Marla was surprised by the announcement, but with the kind of tournament she had against some of the top skaters in the world, the award should have been expected.
Marla showed no fear from the jammer position as she fought through tough packs and took bodily damage over the course of the three days. She scored a large majority of her team's points along with fellow jammers Lawless, Blazin Phoenix and Clinically Wasted and the tournament decided that her effort and "never say die" attitude was worthy of the MVP honour.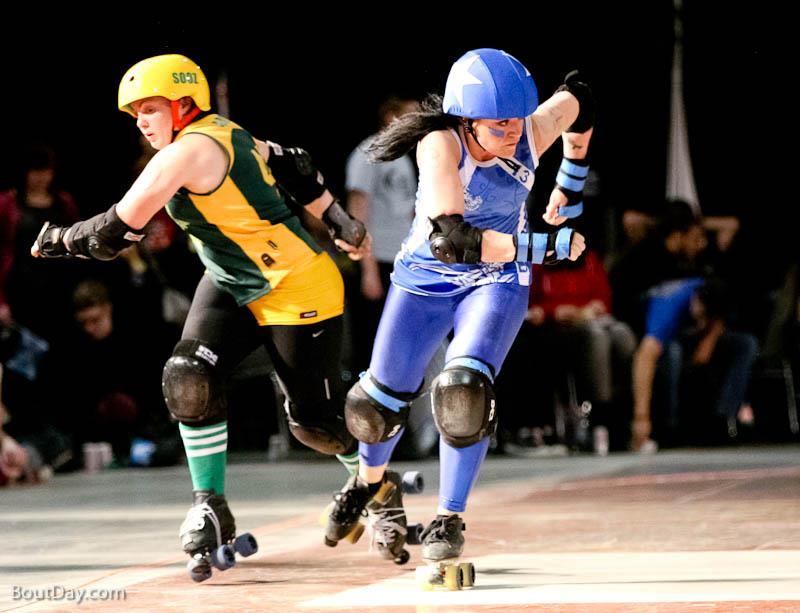 After getting back from the World Cup, getting over the loss of her voice, working through a mountain of work from her two businesses and spending time with her two pre-schoolers she managed to answer some questions for Scottish Roller Derby.
Bryan Mcwilliam: How did it feel playing in the first ever World Cup?
Marla Mayhem: A great honour and amazing experience. I feel hugely inspired to do better having skated with the world's greatest skaters, especially so many in a short space of time.
BM: Did you enjoy Toronto? How do you think Blood and Thunder and Toronto Roller Derby did hosting the event?
MM: Toronto was great. I'm a fan of cities built on a grid system; it's clean and from what I experienced, most efficient. Fortunately, I managed to squeeze in some sights too, once I recovered from our post cup celebrations.
Blood and Thunder have got off to a great start laying the foundations for future World Cup events. The tournament ran to schedule, B&T were great hosts, always available, & willing to help. Having the opportunity to get injuries dealt with on site with Dr Rick was a godsend and definitely a requisite for all future tournaments. I met some amazing people and hope I have the opportunity and good health to be up for more.
BM: What were some of your personal in-game highlights?
MM: Well, skating with athletes at the top of their game wasn't too shabby. New Zealand was tight and that's my kind of game. USA was crazy and brilliant together, it's the only footage I've seen and I had to watch myself through my cringing fingers – those women really are something. Each game had its own merits and delivered its own highlights for different reasons, but when Team Scotland delivered what we were aspiring to, it couldn't get any better.
BM: Did you think you would win the MVP for Team Scotland? Why do you think you were chosen?
MM: Not at all, especially as our first day was so challenging. It's difficult to comprehend that you're doing okay when you're taking such a battering and defeat.
BM: If you could give your MVP award to any one of your team-mates who would it be?
MM: I think I'd need to share it with Wild Oates, Marshall Lawless & Mistress Malicious. Malicious knows tactics and play like no-one else. I love watching her thought process filter from brain to skate – as ever, it was in top form in Toronto. Oates and Lawless have been training like devils and it really shows; every time I see them they get fitter, stronger and up the challenge for the opposition.
BM: What does the future hold for Marla Mayhem in life, in derby and in any other interesting aspects?
MM: Ah, life. I'm shifting the whole focus of my life, work and derby this year. I am intending to make 3 training sessions this year, 2011 I was lucky to make 1 or 2. We have a great season lined up - Berlin, Paris, Malmo, and Rainy City - and I'd like to bring my best to the Glasgow Roller Girls' Irn Bruisers. I have 2 young daughters whom I'll be mainly hanging out with until August when they start nursery and primary school, a bit of skating with them hopefully. I have 2 businesses, one of which I will be stepping back from, the second of which, I launched last year ,Psycho Pants, and will be putting my energies into progressing that to the next phase.
Off-skates training I try to build into normal life, for example cycling with the girls in a trailer in the back, running to the shops, squats in the garden, etc. I loathe wasteful time, like sitting on a bus or in the car when I could cycle, walk, do something rather than nothing. Other than that, random things I'd like to do is explore the old, disused underground network in Glasgow, it'll be freaking scary, but good scary. I'd also like to try trapeze and to design a font.
The future seems bright and busy for Marla Mayhem as she looks to bring her success from the World Cup to her home team in Glasgow. If she keeps up the type of play she did in December she will definitely be a skater to watch for as the Glasgow Roller Girls season begins in 2012
Many thanks to Bryan for this interview and to Dave McAleavy for kindly supplying the photo of Marla Mayhem.