Fierce Valley Roller Girls
are having an exciting time this month, with their first ever
home bout tomorrow
, against the Wirral's Whipiteres. Who better, then, to make this month's diary entry than the Parma Violents' Captain for the bout, Calamity Jen?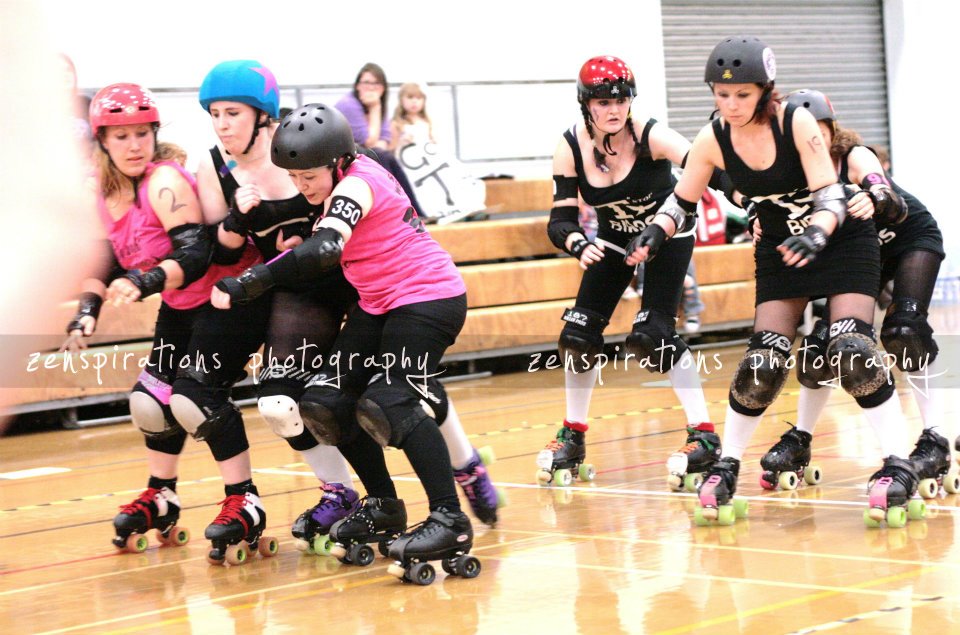 Calamity Jen powers through!
What first attracted you to Roller Derby?
I was at a Roller Disco in Falkirk with my best friend (Hey Ho, Let's Jo!) when Grizabelta and Chaos Faerie got chatting to us about Roller Derby (I should add that they were drawn to us by Jo's purple sparkly hotpants as they were FVRG colours, not by our skating skills!). All that I knew about Derby at this point was what I had learned from watching Whip It! the week before and so we went along to practice, borrowed some kit and the rest, as they say, is history.
Who are your derby heroes?
There are so many! My heroes are skaters who are both extremely talented and hard working, and also those who go that extra mile to help and motivate others. Suzy Hotrod (Gotham Girls Roller Derby) is a huge inspiration due to her sheer skating ability but also because of her personality-she tells it like it is and doesn't take any bulls**t from anyone! Alma Geddon (Auld Reekie Roller Girls) is also a personal hero of mine for her outstanding blocking, her ability to command a pack and keep everyone together, and also for the amount of time she is willing to give up to help develop other skaters and teams-she has provided me with so many words of wisdom and played a big part in improving my skating but would never take any credit for it.
Derby names are an important aspect of the sport, especially when you're starting out. How did you choose your name, and how does it reflect your personality on track?
It took me a while to settle on a name, as it was really hard to come up with one that wasn't already taken (damn you Two Evils!), but I eventually settled on Calamity Jen after a friend suggested it. It was fitting as I have ridden horses since I was a toddler and as, initially, I was a calamity on skates-constantly falling on my ass! I now hope that I have the ability to inflict calamity on others on track! Funnily enough, I'd never watched the musical until after settling on the name but now that I have I think it's even more fitting-she's a foul-mouthed, tough girl, who isn't afraid to take on the boys!(as my Merby friends will attest to)
What was your biggest initial difficulty?
Getting my head around the rules, transitions and my fitness levels-before derby I hated going to the gym and hadn't been involved in a team sport since my High School basketball days. I'm a really competitive person and so Derby has really motivated me to keep improving and pushing myself to the limit at every practice/scrim/game in a way that no other sport ever has.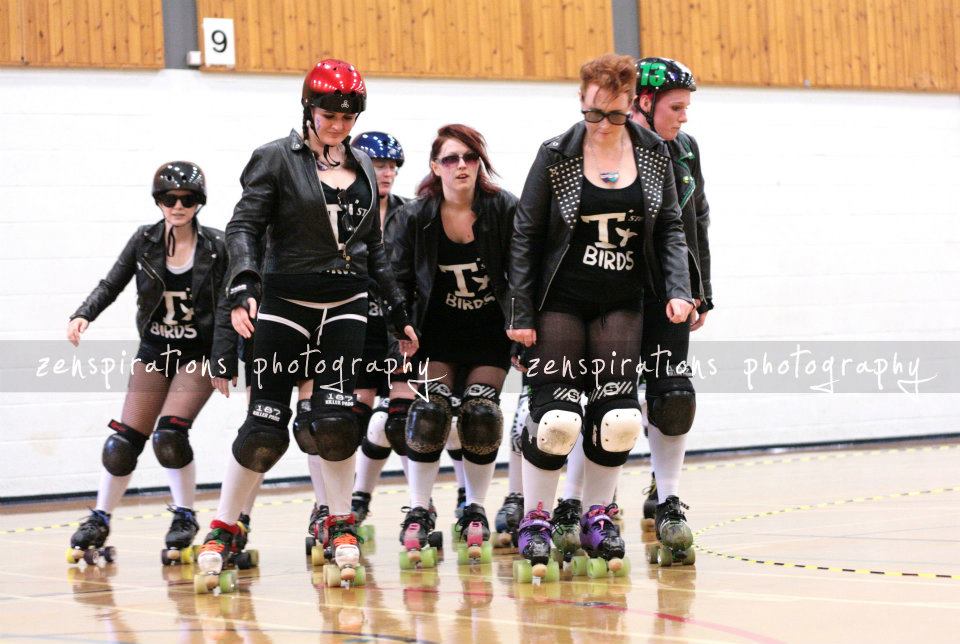 Channelling Burger Palace Boys for the Grease-themed FVRG intraleague.
Lots of roller girls find it hard not to spread the word about their new sport. How have you been spreading the word?
By talking about it constantly! It's become a running joke with my non-derby friends that it's all I talk about nowadays but I think that's just the nature of the game-it becomes a way of life. I've helped FVRG to spread the world through various events (the most recent being a vintage craft fayre in Falkirk) and have also told my workmates about it, which has led to the Head Teacher of my school (I'm a primary teacher) inviting some of us along to give a demonstration-my class of primary 6's can't wait to see Miss McIndoe on skates!
What's the most important thing you've learnt/ done this month?
The last month or so has been a very steep learning curve for me as I have (along with my vice captain Fun Ghoul) prepared my team and support crew for our upcoming bout. The most important thing has probably been working together as a team-both on track and off-to discuss and develop tactics, implement them on track, create strong walls and switch from defense to offense as a pack.
What were the most difficult and the best things?
The best things were definitely the additional team training sessions with Crazylegs and Alma Geddon as I learned SO much during each session and they really pushed me to up my game in general. The most difficult has probably been trying to master my derby stops-I still havn't nailed them but will keep on trying!
What's new for the Fierce Valley this month?
FVRG are extremely busy this month as we prepare for our first open home bout, For Whom the Skate Rolls, against the Wirral Whipiteres, on Saturday 17th at the Peak in Stirling-please come along and cheer us on! Everyone has been working tirelessly to bring everything together so that the day runs smoothly-we really do have the best volunteers, NSOs, Refs and volunteers imaginable and we would be nothing without them. We will also be holding our AGM this month and have just celebrated our 2nd birthday-it really is all go at Fierce Valley!
Calamity Jen!