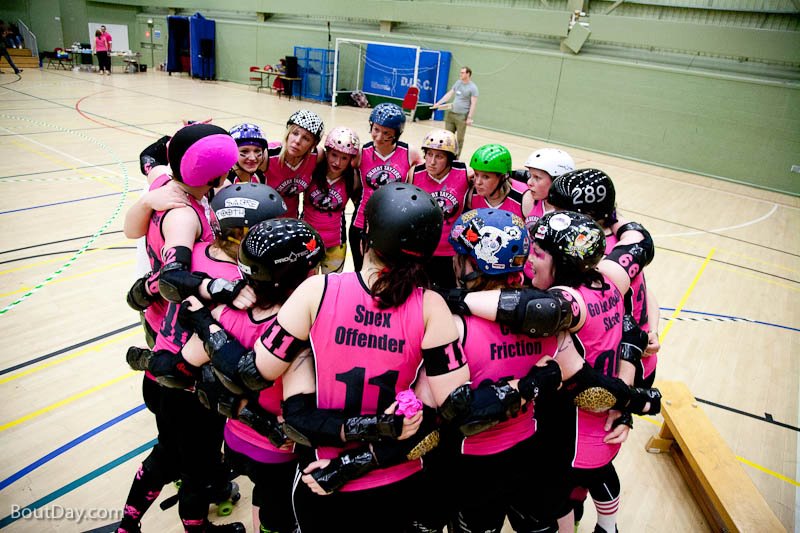 Photography by Dave McAleavy
Latest in a series of end of year interviews,this time its the turn of Dundee Roller Girl's Milky to reflect on the last twelve months and look forward to 2013.
Dundee Roller Girls had an excellent season overall,turning in some strong wins, and only losing once to Glasgow Roller Derby's Maiden Grrders,what have been the highlights of the year for DRG?
We've had an amazing year and I think for me, there were two big highlights. Winning our first away bout outside of Scotland against Manchester Roller Derby was incredible. They were the first team we played as Dundee Roller Girls and the first team I captained against. We lost that first time, so securing the win against them on the return bout really showed us how far we'd come in a year and I could not have been more proud as captain. I cried loads. Quite embarrassing. The other highlight would have to be our win against ARRG's Cannon Belles. Because...y'know...it's ARRG! We couldn't have asked for a better atmosphere on the day, they're an amazing team.
2012 has been in stark contrast to the previous year,where DRG had a single win,how have the team managed to turn that around so spectacularly in such a short space of time?
2011 was a massive year for us, with the dissolve of Dundee Destroyers and the birth of Dundee Roller Girls, we had to entirely re-brand, re-structure, everything. This year, we've really hit our stride in terms of organisation, team-cohesion and training. We really focussed on going back to basics and developing as strong a team and as close a team as possible. For me, I think the biggest boost was the introduction of the six-month captaincy. Previously, we'd swapped captains between bouts, but this led to training being a bit disjointed. The long-term captaincy has given us such smooth training, giving captains time to work on the aspects they feel the team needs work, and giving the team time to really grasp new tactics. We've also had a lot of new skaters join our bouting team. Their enthusiasm, skill and knowledge brought such an awesome motivation to the team, it's really boosted us to develop together. I also couldn't answer this without mentioning a vital addition to the Silvery Tayzers this year – our bench manager Mark McCarthy. I've never met anyone who can motivate a team the way he can. We've never lost a bout with him on the bench!
Picking up on a couple of the highlight bouts,DRG made a little bit of Scottish Derby history when you hosted the country's first Co-Ed bout this year.Is Co-Ed something we will be seeing again in Dundee and,more generally,how do you see the future of Co-Ed and Mens Derby in Scotland?
That bout was amazing fun! We're thinking of making it an annual thing. I think co-ed and men's roller derby will always be welcome and supported in DRG. We're really close to the Jakey Bites in particular and they've shown us a lot of support over the past year. DRG run co-ed scrims monthly and they really do change the way you skate and the way you think about the game – there's so many male skaters in Scotland I admire and look to in terms of skating style. I think there's a huge amount to learn from the different style they bring to derby. The co-ed Su5al tournament run by the Jakey Bites this month was easily one of my favourite roller derby experiences to date so I hope 2013 brings more co-ed! Men's derby seems to be really taking off in Scotland with local leagues doing fantastic work in such a short space of time. I'm hoping to get to officiate a little more men's derby – I've got a few opportunities already lined up which I'm looking forward to. I'm a big supporter and I'm excited to see how these new teams develop.
The penultimate bout of the season against ARRG's Cannon Belles was something of a nail biter and surely a contender for bout of the year,resulting in a narrow win for DRG.Given that the last time the two teams met ,the result was a blow out victory for ARRG.How did the team approach the bout,did you go in playing for the win or for damage limitation?
DRG always aim to go into bouts positive. The bout with the Cannon Belles was a strange one – we'd had such a good year up to that point and felt so confident in our team that we really did go in playing for the win, but that felt a bit foreign considering ARRG's reputation and the incredible calibre of their skaters. We're very much a second-half team, as was definitely the case on the day! It takes us a little while to really get into the game, but when we do, I think the closeness of our team really comes through and we work together amazingly. Our captains for that bout (Viva La Derby and Spex Offender) are incredible skaters and incredible leaders. They've both got so much knowledge and such a good understanding of the game, they couldn't have prepared us better for that bout. From my point of view, that was the best DRG have ever skated. I think we were all a bit stunned at the end...that was the most nerve-wracking last jam I've ever jammed!
On a more personal note,you are one of very few people who skate competitively and also referee in Scotland at the moment,additionally,you are also Chairperson at Dundee Roller Girls.How do you balance skating,reffing and your commitments to the league?
I sort of fell in to officiating when DRG started running our weekly open scrimmages. We often didn't have enough refs so skaters needed to step in. I realised pretty quickly it was something I wanted to pursue, but wasn't really sure how to balance it with bouting and training with DRG. I was lucky to have a huge amount of support from our head ref Righteous Oxide when I started really working towards it, and some amazing feedback and wisdom from Cherry Fury set me on the right path! Granite City Roller Girls were awesome and gave me my first opportunity to jam ref their away game in Leicester with the Dolly Rockit Rollers (cheers guys!). The most important part for me of balancing bouting and officiating was to make sure I kept the two entirely separate. I don't and never will ref for DRG and the only time I take out of training is to ref our scrimmages. Doing that has made it really easy to balance bouting and officiating and to be taken seriously as an official. I think it's important to draw a line between the two. I can see that as bout schedules get busier, I'll probably have to make a decision between which it is I'm going to do full-time, but right now, I'm happy doing both. In terms of league commitments, DRG are such a supportive league and we've really settled into our organisational structure this year, it's been a total pleasure to be a part of that. We're a close-knit team, and I think a lot of our success this year has come down to our amazing committees keeping us running, and our main chairperson Cat. Without her I'd be lost most of the time!
Looking ahead to next year,the new rule set comes into effect in January.What do you think of the changes from a referee's perspective?
I'm super excited. I think the new rules set is going to un-complicate the game significantly and make it more accessible to spectators. From an officiating view, I spend most of my time jam reffing, so the removal of minor penalties will be fantastic and make our job a wee bit easier! I'm hoping to pick up more pack reffing experienced this year, and I think the new rules set will make the transition more achievable. I'm looking forward to a more straightforward game and can't wait to ref under the new set.
Lastly,can you tell us anything about DRG's plans for 2013?
DRG are looking to build upon our success this year. We've got an exceptionally busy year planned and have bouts booked with some big names and our first over the water away game in Belfast! We've also just had an amazing group of skaters move up the ranks to mins-passed and I can't wait to see them join the Tayzers and bout with us. Their talent is a bit frightening really, but good motivation to keep improving! 2013 is going to be a huge challenge for us and I'm really excited to think about what we'll have achieved by this time next year.