While the bigger leagues have had their 2012 filled with bouting, the rapid growth of derby in Scotland means that there are many other leagues who have been spending the past year growing and moving towards bout readiness. With Inverness' Nasty Nessies covered in a special edition of their Monthly Diary to come, we thought that New Town Roller Girls, Deadly Divas Roller Derby, Shetland Roller Derby and Lothian Derby Dolls all deserved the time to tell us how they'd been doing over the past 12 months.
New Town, based in Livingston, and the Derby Dolls, based in Edinburgh and the Lothians, are near contemporaries, and both have been growing and developing over the past year. Both leagues have spent the past year growing and developing their skills towards passing mins.
In particular, after a slow start to the year, everything started coming together for New Town Roller Girls in the last 6 months, their numbers swelling to 18 by the end of this year, with 4 skaters, and referee The Real Scrim Shady, already mins-passed. The league's founder, Hazzard, was keen to credit "Reff Goldblum of FVRG," as "the man that helped us pass our mins and has been a great help to us!", with others being equally positive about the recent attendance by Auld Reekie's Circuit Breaker, and the many other skaters from other leagues who have visited them.
The ladies in black and electric blue also held their first fundraiser in November, the event also serving as the official unveiling of their newly printed boutfits. If Hazzard was upbeat about roller derby and their place in the community,  "I thought [derby] was amazing from when I first found out about it and all that's really changed is that I've come to know the sport better and love the camaraderie of the community and the sheer fun of being involved!", The Real Scrim Shady was even more positive, stating "First time I went along, it was a bunch of people who didn't even know each other's names, nervously skating round the hall following the instructions of Hazzard and Reff Goldblum. It was fun for sure, but since then everyone knows each other, people push each other to do better and give pointers where needed, there's a noticeable anticipation in the run-up to each session. People look forward to it and, as far as I can see, great progress has been made. It feels like a team now instead of just a bunch of friendly strangers."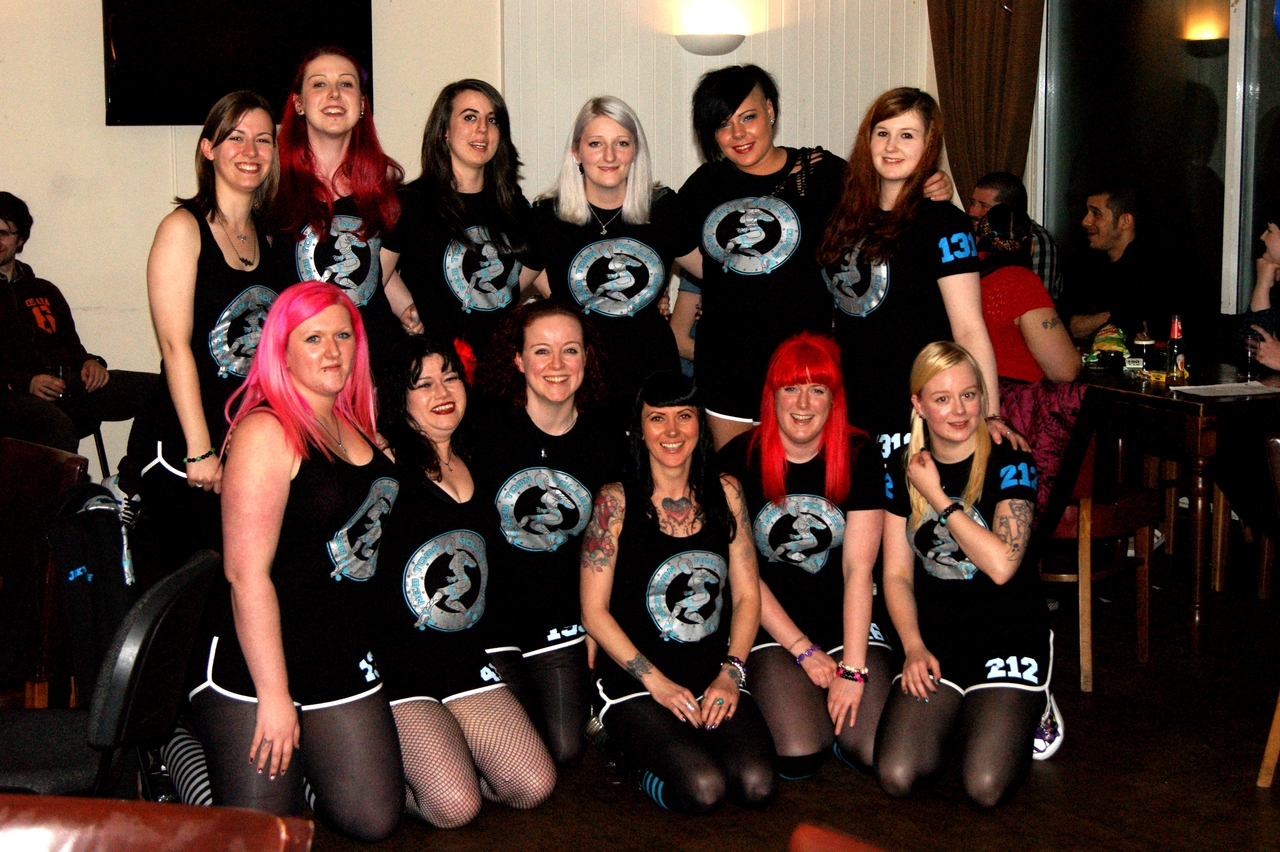 New Town Roller Girls at their Fundraiser this year.
New Town are very much looking forward to having enough team members mins-passed to bout, although the team is divided on who their first opponents should be, with skater Bump-Her Stick-Her feeling that "Fierce Valley seem to be our closest 'buddies' but bouting against them would be terrifying as they are amazing", with Hazzard taking the more conservative choice of close buddies "Deadly Divas Roller Derby could well be our first bout partners but you do never know..."
The Lothian Derby Dolls have advanced slightly faster than their peers in attaining a full roster of mins-passed skaters, aided by their acquiring of experienced derby coach Cain Unstable. Duke Box, speaking to us for the league, mentioned both Cain, and offered "thanks to Lead Jammer Magazine, Inkabilly and Into The Nitemare [derby store]" for their donations and sponsorship. The league also held a successful Halloween themed roller-disco, which had good attendance and promotion.
Duke Box was also clear that the Derby Dolls, while branding themselves "a team for the Lothians" with "skaters from all across the Lothian area; Mid, West, East and Edinburgh" have been getting on well with the well-established Auld Reekie in the capital itself. "Having ARRG in Edinburgh has allowed us opportunities both to watch them play and support them" she said, adding that the Derby Dolls "have also had some of our skaters join them in scrimmaging this year and hope to have the chance to more in the future, as we wish for all leagues close to us."
While the Derby Dolls are now capable of fielding a full roster of skaters, they are cagey about their first bout; an initially prematurely announced inaugural fixture has since been delayed or rescheduled. Whenever their initial bout is held, LDD will be attending the Into The Nitemare store-sponsored 'Battle of Britain' tournament in November. As one of the two unseeded competitors, it will be interesting to see how they fare, and a good learning experience for them in the process (even experienced teams like Glasgow Roller Derby and Auld Reekie find extended tournaments to be an exhausting endeavour).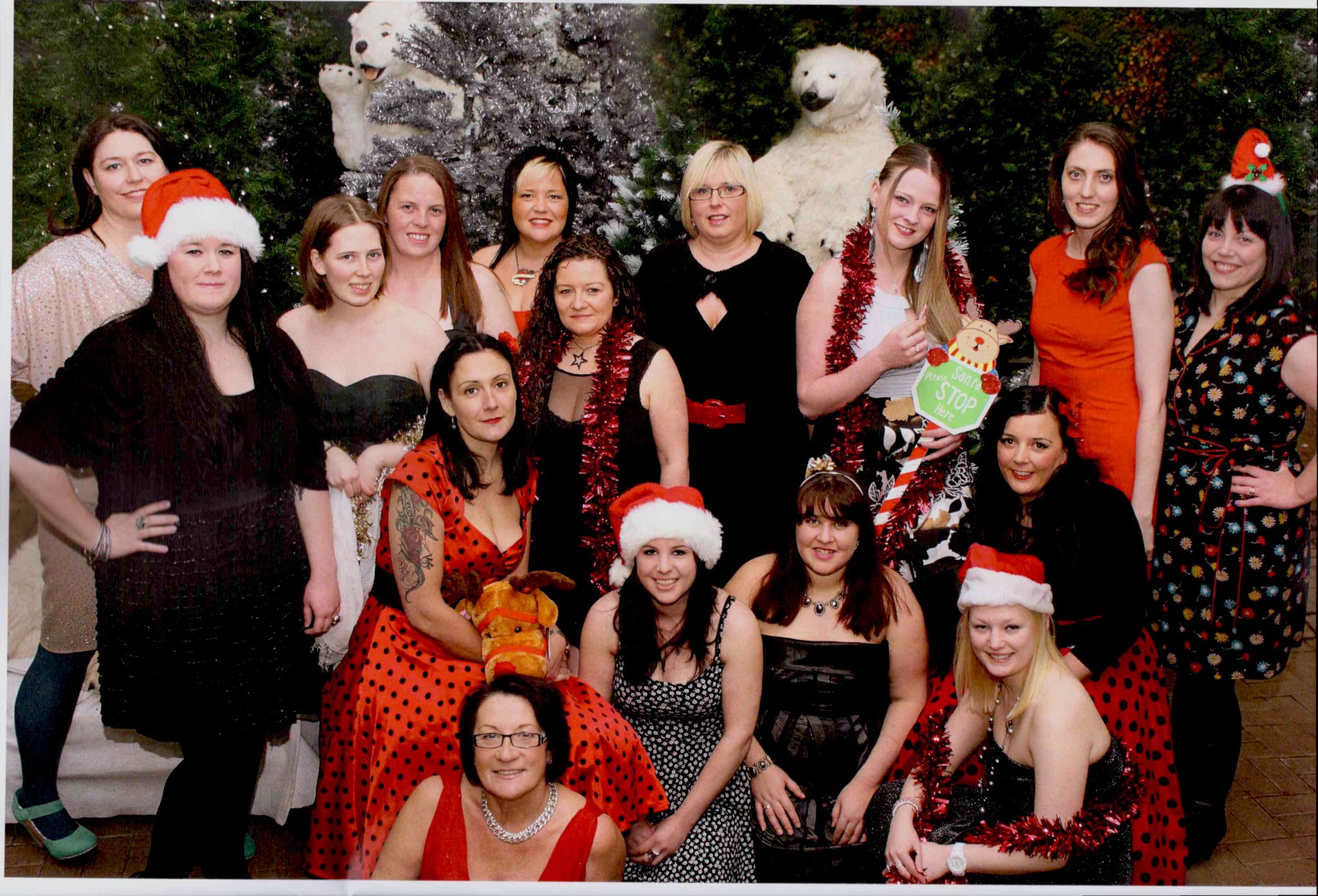 A Christmas-themed group photo from the Lothian Derby Dolls 2013 calendar.
The Deadly Divas and Shetland Roller Derby, meanwhile, have both only been recruiting since partway through the year, Shetland having been actively growing since July, and the Divas since September! At this early stage in their existence, a lot of the focus has been on gaining numbers and experience. Shetland's Shock Blocker put a lot of effort into outreach via local press and radio appearances, also providing taster sessions for those unsure to experience the meaning of derby. The Divas leveraged some less conventional internet media, including Gumtree and eBay, but also the Glasgow press. In the end, word-of-mouth, both online via their Facebook and Web pages, and offline via the inability of new roller girls to speak about anything else, may have been their most significant factors, taking them, in the words of founder AJ La Kaos, from "only 3 of us then 2 left; As it stands now in less than 3 months we have around 20 members which is phenomenal!"
Both have also been welcomed by the derby community, the Divas getting regular support from Glasgow's men's derby team Mean City Roller Derby, as well as the Pan-Scotland Jakey Bites, and turning up to New Town Roller Girls' open practices on Sunday afternoons; Shetland via their closest neighbours Nasty Nessies, who made a flying visit, following on from a visit from the Forth Valley's Bairn City Rollers earlier in the year. For the Divas, AJ La Kaos noted that "Being the second league in Glasgow has brought up a few complications especially with recruiting and sourcing a venue. We try very hard not to step on GRD's toes in both respects with branding ourselves as a south side team", while the advantage of being in the middle of things allows them to "go to as many bouts as possible, its a great way to see the sport in its full glory. It also keeps us motivated seeing what we're all working towards." The Divas have the advantage of ex-GRD skater Viper as their coach, who also serves as their "biggest inspiration in the derby world" according to La Kaos.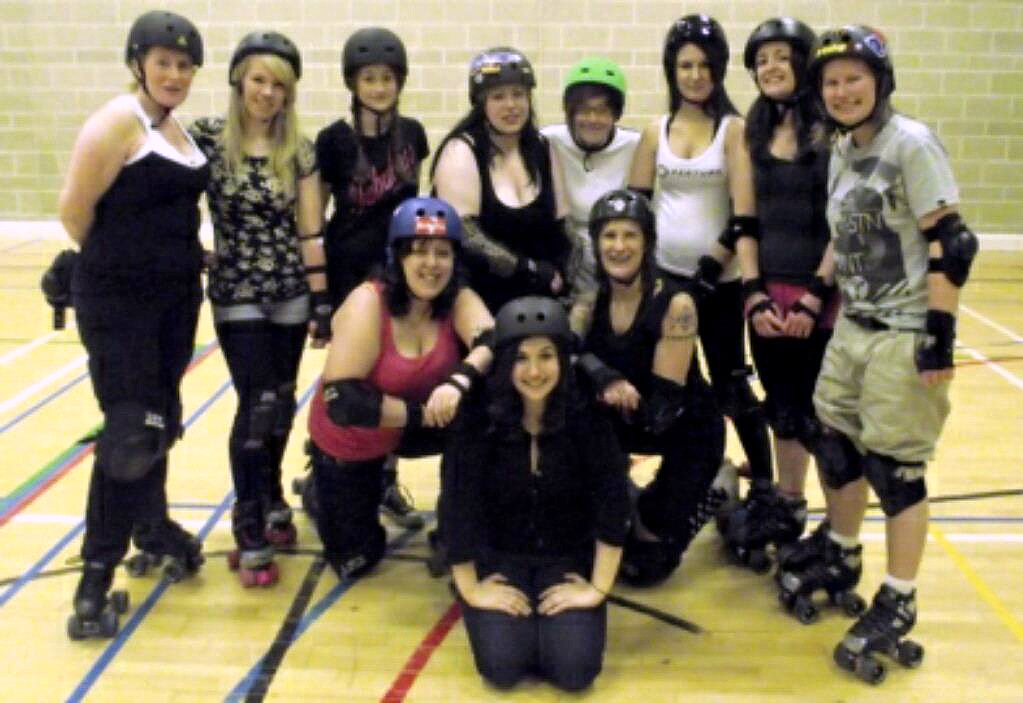 The Deadly Divas even managed to get themselves into the papers!
Being the most remote roller derby league in the UK causes the opposite problem for Shetland Roller Derby,  preventing easy access to live derby hosted on the mainland, and to physical skate stores. Shock Blocker said that the team "owes a special place in our hearts to Marshall Lawless (of 5th Blocker Skates [and Glasgow Roller Derby]) for answering all of our questions, and managing to get stuff up to Shetland at a reasonable price". The remoteness of Shetland also has another effect on the league, in terms of its makeup. While all roller derby leagues have a mix of ages present, Shetland's overall deficit of University-age individuals is reflected in the more mature demographic of the league, as well. This has not limited their advancement, Shock Blocker commenting that "Our skaters have really grown as a team, and we've been supporting each other learning together. It's been amazing to watch people that have never skated get better and better, and we've all certainly learned a lot."
2012 has been a year of great expansion for Scottish Roller Derby, with the four teams above, and Inverness' Nasty Nessies, all making strides towards doubling the number of bouting leagues in the country. By the end of 2013, the community will only be enriched further as each league passes their mins and becomes bout-ready. We asked each of the league representatives what their aims for 2013 were, and they kindly responded with many words. Rather than take them out of context, we present them here unedited.
Deadly Divas Roller Derby (AJ La Kaos): 2013 will hopefully be a huge year for us as a team, we're working hard towards getting everyone mins passed and having our first proper bout! For me personally, I'm looking forward to that first day on track watching my new family kick some ass: win or lose it won't matter as we're all there for each other and that's all that really matters.
Shetland Roller Derby (Shock Blocker): 2013 will be our year of getting our team mins passed, trying to attract more skaters, and educating the public a bit more about the sport. We are delighted to receive any skaters who'd like to come up to Shetland, and show them around. If we can gather enough funding, maybe plan a trip to the mainland.
Personally, I'd like to improve my skating skills, my understanding of the rules, and hopefully see more bouts in person.
In the meantime, we at Shetland Roller Derby would like to wish all the Scottish teams a big thank you, Merry Christmas and a Happy New Year! xx
New Town Roller Derby: (Hazzard) In the next year we hope to have enough skaters mins passed and experienced to start having some closed door bouts atleast! Then on to the big scary world of open bouts and trying to find somewhere to hold them at home too!
(The Real Scrim Shady)
There's still much work to be done, but over the next wee while I'm interested in helping NTRG improve their skating and developing the fitness levels necessary for a bout. I've been skating for years and I like helping other people avoid some mistakes that I made in the process of learning to be comfortable on skates. I want to see all NTRG members be comfortable enough on skates that they can be thinking about the bout rather than worrying about staying on their feet. 
I've seen progress in the short time I've been involved, for example 4 skaters passing mins. But I'd like to see training become a bit more intense. Circuit Breaker is coming back to help us with exactly that and I'll try to help Hazzard maintain the level of training and push it harder when the time's right. 
As for what I see for myself within the next year, I'm learning about the game pretty quickly right now and I'm looking to get a set of quads (I'm a fruitbooter btw). I aim to gain enough knowledge and understanding of bouts to move on from the role I've already had as NSO. The eventual goal is to become a ref but I don't know just now how long I can expect that to take.
Lothian Derby Dolls (Duke Box): Well 2013 so far does have us taking part in The Battle of Britain; a tournament that is being organised by Into The Nitemare. We also have a couple of things that are being organised bouting wise and will be announced next year when finalised and confirmed. Just a lot more hard work in training and some fun events in store for us also. It is definitely the year the Dolls will make a great one for all our skaters and those who supports us. So a big thanks to all who have got us to the end of 2012 it has been a great start.
(Thanks to: Lothian Derby Dolls' Duke Box; New Town Roller Girls' Hazzard, Millie Manslaughter, Bump-her Stick-her and The Real Scrim Shady; Shetland Roller Derby's Shock Blocker; and Deadly Divas Roller Derby's AJ La Kaos for their contributions to this report.)