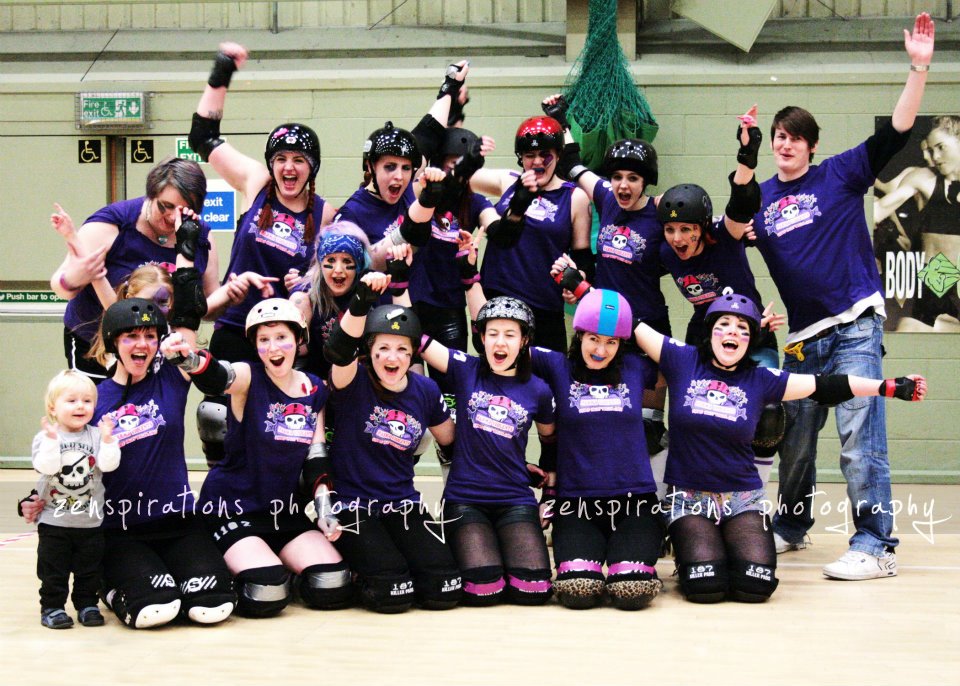 Photogrphy by Claire Brunton of Zenspirations Photography & Design
Next in line for an end of year interview are the Fierce Valley Roller Girls.Fun Ghoul looks back over the last twelve months and forward to the new year.
Fierce Valley Roller Girls have had a pretty busy year,with bouts against Dundee,Belfast and Wirral,plus your first intraleague bout,what are the team's highlights of the last twelve months?
It's so hard to pick out highlights when the year has been so amazing! For the Parma Violents it has to be the team development, going from playing very basic roller derby, to developing strategically, being able to assess and react to what's happening on track, working more coherently as a unit and being able to implement whilst bouting what we practice at training. And, of course, our first win!
For the league it has to be our continuous growth; hosting successful Fresh Meat intakes, fundraising events and raising our profile within the local community. We now have four training sessions per week, targeting four different levels of training, which, even just a year ago, would have been crazy to comprehend.
The personal highlight for me is taking girls who are strapping on skates for the first time in years (or ever in some cases!) and seeing their journey from Bambi-on-ice to roller derby player. Watching our girls skate at both DRG's hosted Cherry Poppers bout and the Jakey Bite hosted Sur5al Tournament made me feel like a proud parent! It's been a massive learning curve to learn how to play roller derby and coach it at the same time, but seeing it all fall into place makes all the time and effort worthwhile. Every success of a league-mate is a success for the league, and it makes me so proud to be a part of FVRG!
Oh, and meeting soooooo many amazing people within the derby community!
Picking out two of the years' games,the first public bout for Fierce Valley was back in February against Dundee Roller Girls.Despite a shaky start,Fierce Valley visibly grew in confidence as the game progressed.As captain for that bout,how did you manage the team's nerves through their first game?
Hiding my own nerves was the first part! I don't think I shared with anyone how nervous I was as I wanted to be the essence of calm, control and focus for the team.
I knew that being our first open public bout and our first away bout there would be a lot of nerves, so I just tried my best to pull everyone together, so that no one was alone in their worries. We all travelled through together, which gave us time for a good team pow-wow beforehand, where the team could voice any concerns they had and support each other.
Despite the score of the game, everyone was in really high spirits by half-time, so it didn't take much motivation to get everyone back on track! I think once the initial fear was overcome, and we realised that we could play this game and that we did know what we were doing, everything fell into place a bit better. Which was all helped too by the DRG girls being so wonderful and inviting, and showing us a brilliant time (on and off track), whilst still giving us the serious pummeling we needed to up our game in the long run!
The last Fierce Valley bout of the year against Wirral Whipiteres was held at home at The Peak in Stirling and resulted in a convincing win for the home team.Everyone wants to win their first home game,but what was it like to actually achieve that and will there be a return match next year?
A dream come true!
Going into it it was hard to say what the outcome was going to be. Being a newer team, like ourselves, there wasn't a lot of information around about what the Whipiteres were like and how they played, so we just went into as best prepared as we could and played for the win.
I plan the Advanced/Team training, so it was the best possible validation that what we'd been doing at training was working. The best comments to come after the bout were about how we'd really played well together as a team, which we've struggled with in the past, and that, for me, was a better outcome than winning, as that team cohesion is really what we've been working for.
As for a return match...it's in the pipeline. I don't know how much I'm allowed to say about these things so to be on the safe side I'll play it coy!
Fierce Valley have done a lot of fundraiser and charity events over the last twelve months,how important are these non sporting events to the league and to Roller Derby as a community?
The fundraising events are integral to the running of a successful league. None of what we do is cheap and I don't envy our Treasurer keeping things in the "black" for us! The fundraising supports what we do in derby, makes bouting possible, means we have t-shirts to sell at bouts, and ensures that our skaters, officials and support crew who travel to bouts aren't having to do so solely out of their own pocket. If people didn't support the derby run events then there'd be a lot of sad, very poor skaters out there.
Making them "events" as well is really important to us. If people want to support the league, they should still get something out of it, be it a cake, the chance to win a raffle prize, or a fun night out. And they get the league name out into the community and spread the word of roller derby! They're also really fun to attend, and often an opportunity for skaters to socialised outside of the parameters of skating, which is always nice.
Looking ahead,the change to no minors is coming up in January,are Fierce Valley looking forward to playing under the new rules and do you think that WFTDA have succeeded with their vision of a streamlined game?
I'm sure the WFTDA aren't quite at the fully finalised stage with things yet, so we'll see how it all pans out soon enough.
With regards to game play, I think it'll make things easier to understand for those new to roller derby, skaters or spectators. I'm not going to miss explaining "taking a knee" to my mum! From a non-derby spectators perspective, the no minor penalties probably won't have much impact on how the game is watched, skaters still get sent off...my mum still won't know why most of the time!
For us, it will take a bit of time to get used to things. I know that the WFTDA leagues get to Beta test the new rules sets, but for the wee-er ones like us, we've just gotten them, so it's going to be a rush to get to grips with things and not be racking up those majors in our first bout of 2013. I'm confident that once we get over the initial niggles of it though, it will all fall into place, and we hopefully won't have too many foul-outs until then!
Lastly, are you able to drop any hints about Fierce Valley's plans for 2013?
I don't know what I'm allowed to say yet!
Well we have our first bout of 2013 at home on the 16th February at The Peak in Stirling (get it in the diaries!!) against Preston Roller Girls so watch this space for further details and online ticket sales ...here's the Facebook event page: http://www.facebook.com/events/114944845342095/ Our first away bout of the year is on the 30th March against Newcastle Roller Girls Whippin Hinnies. Needless to say we are very, very excited about both bouts!
Further on in the year we have some other very exciting bouts in the pipeline, along with our usual smattering of fundraising events, Fresh Meat intakes, and growing the league into being even bigger and better than before!