In our first monthly diary of the new year, we have Fierce Valley's very own bat-winged, pom-pom-antennaed fuzzy* telling us all about herself, and FVRG's plans for the next few months. Yes, it's ... Evil Moogle!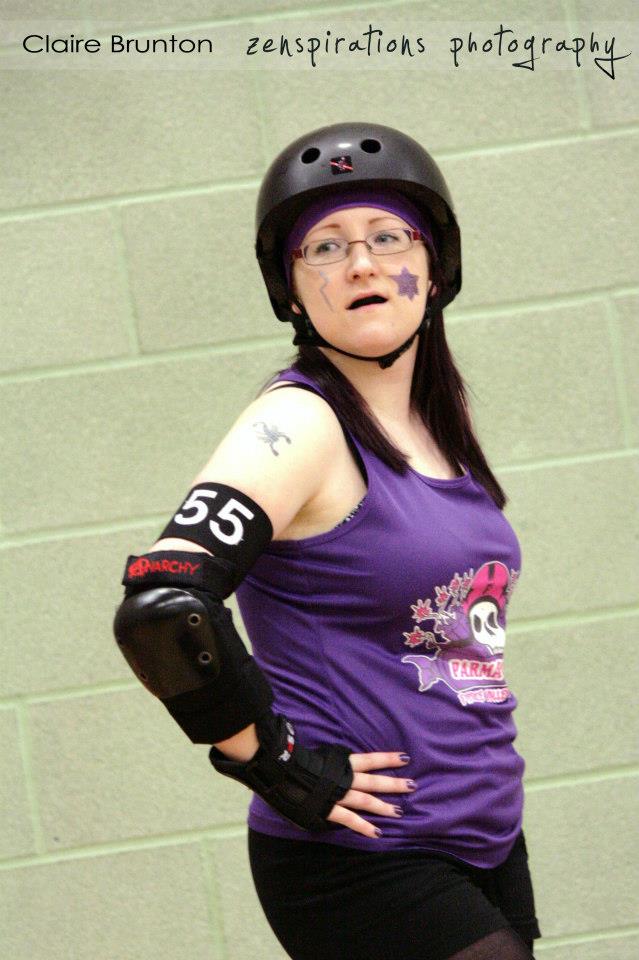 Evil Moogle takes a break during Fierce Valley's first home bout against Wirral Whipiteres
What first attracted you to Roller Derby?
I honestly didn't know much about roller derby when I went to my first Fresh Meat session. I'd watched "Whip It" and thought that it looked like great fun, but then things always look better in the movies (of course, now I know it's true!) and I really wasn't aware of of a derby presence in Scotland until my good friend Chaos Faerie mentioned going to try it out, see what I thought. This was in the November that FVRG started. The timing wasn't exactly right for me, but six months later (and a persistent Chaos), I decided "why not?" and put my name down for FVRG's very first Fresh Meat session.
Who are your derby heroes?
So many! Kamikaze Kitten of the London Roller Girls. One thing that I love practising is jumping, and she does that amazingly. I'd love to be able to jump like her. Another one would be Alma Geddon of ARRG. She's been a huge inspiration and given so much great advice. But mostly, my derby heroes would be my Fiercies. Without them, I'm not sure how life would be. Definitely a lot more boring, that's for sure! They are an amazing group of skaters, refs and NSO's and I'm so lucky to be able to share the derby experience with them.
Derby names are an important aspect of the sport, especially when you're starting out. How did you choose your name, and how does it reflect your personality on track?
My great friend Mike gave me my name. He's always called me Moogle (I'm a bit of a gamer chick and I used to play Final Fantasy XI a lot). Mostly I think because they're very small, much like myself. But apparently I'm mean to him sometimes, hence the Evil! I guess that reflects my personality on track quite well, I have no problem hitting people! (Legally, of course....).
What was your biggest initial difficulty?
Staying on my feet! I was the original Bambi on ice. It's really only something I got better at about 6 months ago. I couldn't seem to do one dusty bluebells without falling at some point.
Lots of roller girls find it hard not to spread the word about their new sport. How have you been spreading the word?
I basically talk to everyone about it. My family, friends, even my patients! And why wouldn't I? Roller derby is the best sport EVER! It doesn't discriminate against age, height, weight, sex. You get a second family, meet the most amazing people, and become friends with some of the most awesome people you will ever meet.
What's the most important thing you've learnt/ done this month?
To believe in myself. If someone compliments me on my skating, I should accept it instead of thinking they're only saying it to be nice.
What were the most difficult and the best things?
The most difficult thing for me was watching girls that I had skated with at Fresh Meat advance quicker than myself. It was quite frustrating not to be at that same level. But that's the thing about derby, as with any sport, people pick up things, get better at things, at different paces. Me not being able to stay on my feet didn't exactly help. But as the saying goes, slow and steady.... The best thing was making the team for Belfast. It was my first try outs, and to be honest, I wasn't sure I had much of a chance, but nothing ventured, nothing gained. I couldn't sleep that night knowing the names were going to be posted up on the forum. I lay in bed refreshing the page on my phone! And when I saw my name on the team roster, I kept refreshing the page to make sure someone hadn't made a mistake! It was the best feeling in the world. All that hard work had paid off.
What's new for the Fierce Valley this month?
Well, we're just back to normal training after a few weeks "off". We've just nominated our Captain and Vice Captain for the next six months, ahead of our bout on February the 16th against Preston Roller Girls. We've also just had try outs for this (eek!), so no doubt there'll be lots of intensive training sessions. Or should I say more intensive training sessions! And some of us more crazy ones might have just signed ourselves up for Tough Mudder in August....
*One assumes that the bat-wings, pom-pom and fuzz are artfully hidden in photographs. And real life.