To celebrate the recent birthday of The Jakey Bites - Scotland's first Men's Roller Derby team - we caught up with team skater, Duff McKeggar, to hear about their year so far and their plans for the future. The Jakeys will play their first headline bout at home this coming weekend, so this is a perfect opportunity to learn more about the team before heading along to Grangemouth to show them your support!
In just over a year, The Jakeys have gone from being a "ragtag collection of male referees" from the existing female leagues, to a dedicated team of 22 skaters who travel all over the UK to compete.  They've come a long way since heir first training session in a cold airport hanger in Perth in January 2012!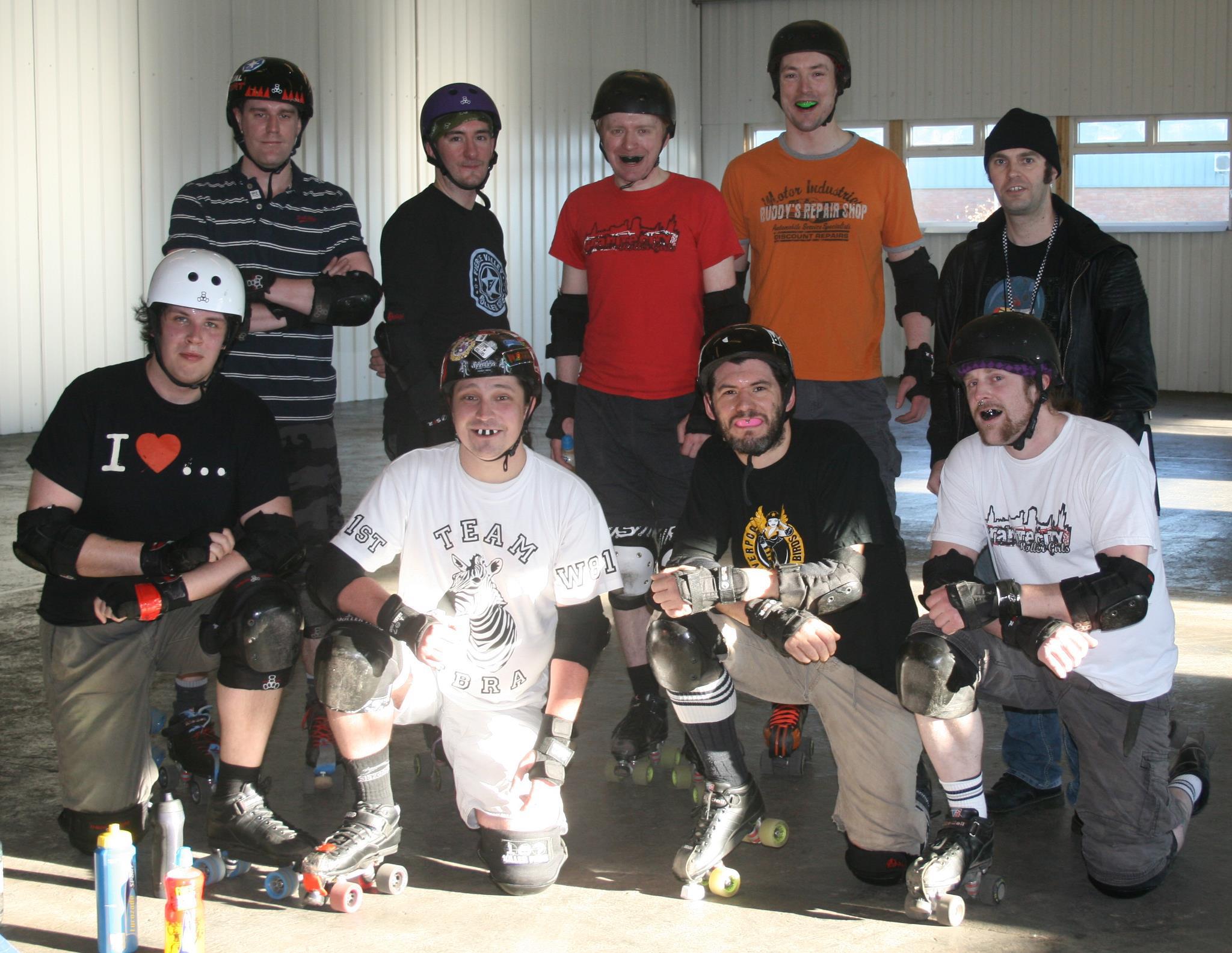 First Training Session: Alan Watt, Marco Vezzani, Martin Willox, Chris Riggeling, Iain Elstone, Dan Blake, Jazza Crawford, Gregg Pearson, Graeme Clark
When the news of a men's roller derby team in Scotland broke out, enthusiastic male skaters emerged from the derby community to join the 9 refs - a mixture of husbands of female skates, friends of skaters, or those who had watched a bout a thought "I want to try that!".
The newly-formed team didn't waste any time in lining up their first bout, despite having barely enough skaters to fill the roster and only recently having passed their minimum skills test. So on 21st April 2012, The Jakey Bites traveled to Newcastle to take on their men's team: Tyne & Fear. With their bright orange t-shirts, a Rab C. Nesbitt team logo, and a bus-load of supporters, The Jakeys made quite a first impression! The team never won their first bout but that didn't matter - this was their exploration into the unknown territory of Men's Roller Derby and getting a glimpse of what the future could hold for them.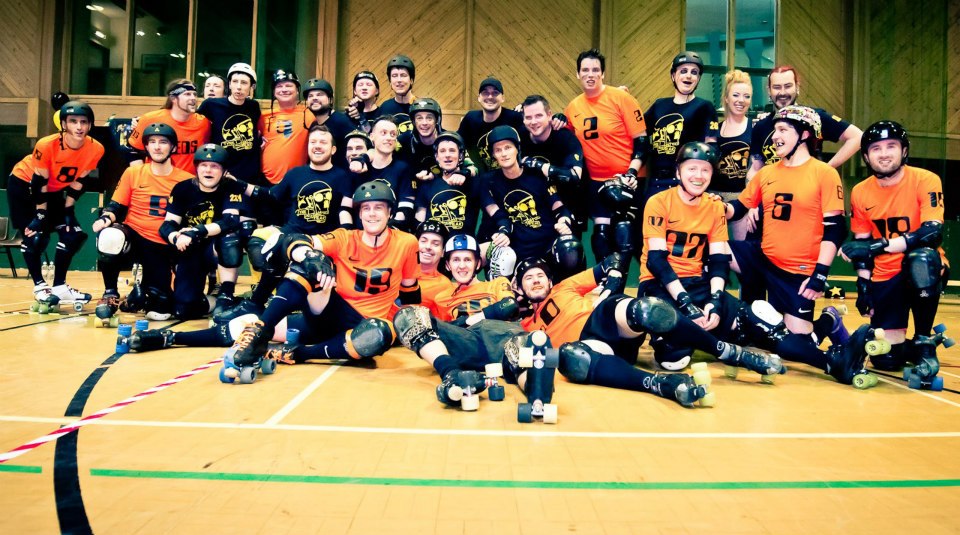 Tyne and Fear vs The Jakey Bites, photo courtesy of Tyne and Fear
As well as the brightness of their uniforms that day, the team's merchandise for sale also raised a few eyebrows. Emblazoned across the back of the t-shirts were the words "Scottish All Stars". When I asked Duff McKeggar where this name came from, his answer was far less controversial than many had assumed! Duff explains, "It's pretty much an in-joke. The Jakeys have always based ourselves on the featured team from the movie Rollerball (I must admit I've never seen it!) and apparently they are known as 'The Houston All Stars' so when we were designing our first t-shirt print run, Scottish All Stars was jokingly mentioned as a possible back print and it stuck!". Simple!
Coincidentally, there has been a lot of talk recently about standardizing National Team Selection on the UK Roller Derby Association (UKRDA) website, so we were keen to hear if The Jakey Bites had any plans to live up to their All Star title and become the official national team. I must admit, I was disappointed when Duff said the The Jakeys would never be officially recognised as the 'Team Scotland' of men's derby, but he did reassure us that - when the time comes - the roster will hopefully feature a large number of Jakeys.
But before we look too far into the future, let's look back at what The Jakey Bites have achieved in their first year. By far their most memorable moment was playing in their first public bout against Tyne and Fear after only a few months in existence, explains Duff. The Jakeys also organised and hosted the hugely successful Sur5al tournament in December last year - a knock-out competition of mixed teams of 5 skaters from teams all over Scotland.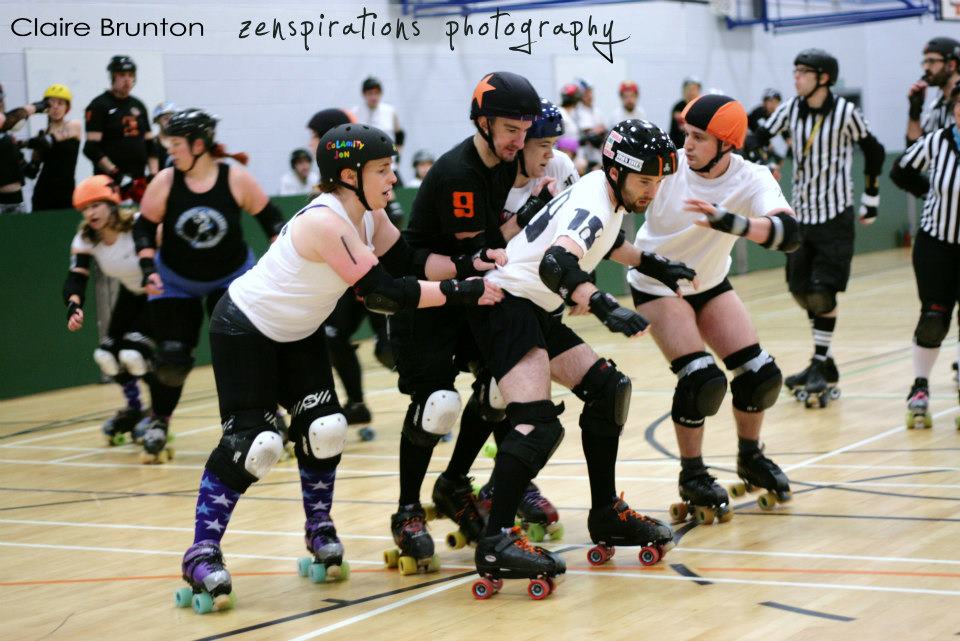 Sur5al Tournament, photo courtesy of Claire Brunton of Zenspirations
On a personal note for Duff, he recalls his biggest achievement with The Jakey Bites: "I was delighted to play in the Tyne and Fear bout after only a month of skating which was made all the sweeter by getting the Best Jammer award!  Playing in Scotland's first men's derby and co-ed bouts was also a great achievement".
After their first bout in April 2012, it was full steam ahead with The Jakeys playing 4 more bouts away from home; opening a double-header event for Glasgow Roller Derby in June; and joining force's with Dundee Roller Girls in the first co-ed bout in Scotland.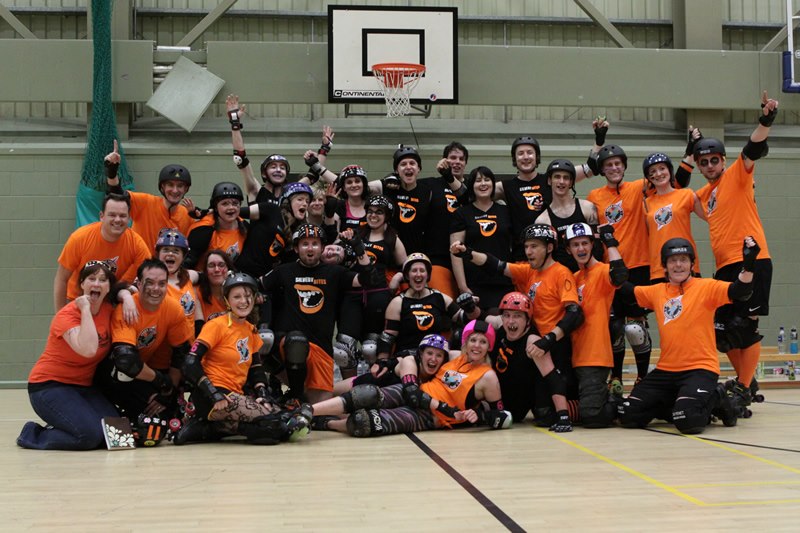 The Jakey Tayzers vs The Silvery Bites, photo courtesy of The Jakey Bites
2013 already looks to be very busy for The Jakey Bites - and we're only in April! There is talk of a Men's European Roller Derby Tournament taking place later this year, and Duff hopes to see The Jakey Bites in the line-up to showcase the Scottish talent. If we know the The Jakeys, they should have a busy bouting calendar lined up, and hopefully more of these played at home. Duff also ranks their "elusive first win" as a huge priority for the coming year!
With so many more bouts in the pipeline, the question on everyone gent's lips is: "How do I become a Jakey Bite"? The answer is simple: Duff recommends that you contact the team via their Facebook Page to get more information about their training commitments. Even if you train with the team, your place still must be earned by a rigorous team selection process, with the final decision being with the Captain.
If the prospect of jumping right into a bouting team  isn't quite what you're looking for - any one of the regional men's teams would be happy to sign you up and put you through your paces. Duff explains that The Jakeys "have fully embraced the new leagues and are happy to see men's derby in Scotland growing so quickly. As the Jakeys are more of a collective than a league we've never really had a consistent fresh meat program whereas now the local leagues all have first rate fresh meat programs so ongoing we have a wider pool of talent to choose from". Duff himself is one of the founder members of Capital City Roller Derby in Edinburgh, and many of his fellow Jakeys are involved with the new leagues in one way or another.
For now, Duff and his teammates are focusing all their efforts in organising and training for their first headline bout that will be played at home on Saturday 6th April.  We're intrigued to see The Jakeys in action again, especially since Duff lets on that "anyone who hasn't seen us for a while will be very pleased with how far we have come in such a short time". He is looking forward to having a loyal home crowd behind them, and hoping that they will put on a good show!
The coming year promises to be very exciting for The Jakey Bites - and Men's Roller Derby in Scotland - and we can't wait!
The Jakey Bites play South Wales Silures on 6th April in Grangemouth. Tickets are available to buy online - visit the Facebook Event for more details so you don't miss out on the action!