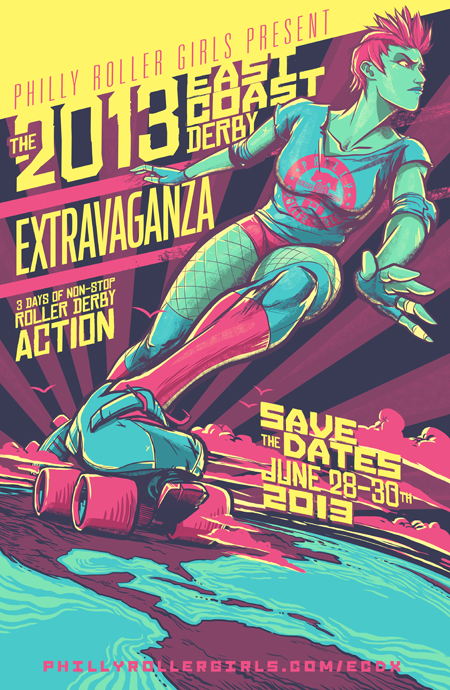 ECDX won't know what's hit it...
For skaters in the North American continent, the East Coast Derby eXtravaganza has been an essential fixture since its founding in 2007. Despite initial hiccups (scheduling their first event in the winter led to ice-related chaos, causing the move to the current June 28th to 30th slot), ECDX is now one of the biggest derby meetups in the USA, outgrowing its initial purpose of providing a yearly meetup merely for leagues  on the Eastern seaboard.
This year, however, for the first time in ECDX's 7 year history, two of the teams competing in front of thousands of spectators will be from outside the USA and Canada.
Because, this year,
Glasgow Roller Derby
's Irn Bruisers and
Auld Reekie Roller Girls
' Twisted Thistles are bringing Scottish derby to the East Coast.
If ECDX is such an awesome event (winning Best Regular Season event in the DNN reader awards three years running), then why is it that no European leagues have attended before? The same reason, of course, that London Rollergirls has so many sponsors nowadays: the cost of flying up to 20 excited rollergirls, and supporters, across the Atlantic ocean, is a more than significant outlay for even the biggest European leagues.
As a result, both GRD and ARRG are embarking upon an extensive round of fundraising to pay for their travel and boarding, allowing them to represent not just Scotland but also the UK and Europe in Philadelphia.
Apart from augmenting the money made at their regular bouts from raffles and cakes (and face painting in the case of GRD), both leagues have been running a series of derby and non-derby events. For Glasgow, upcoming events include DJ nights at The Flying Duck on May 24th, and at Nice n Sleazy's on the 31st of that month; a gala day and a speed dating evening with dates not yet finalised.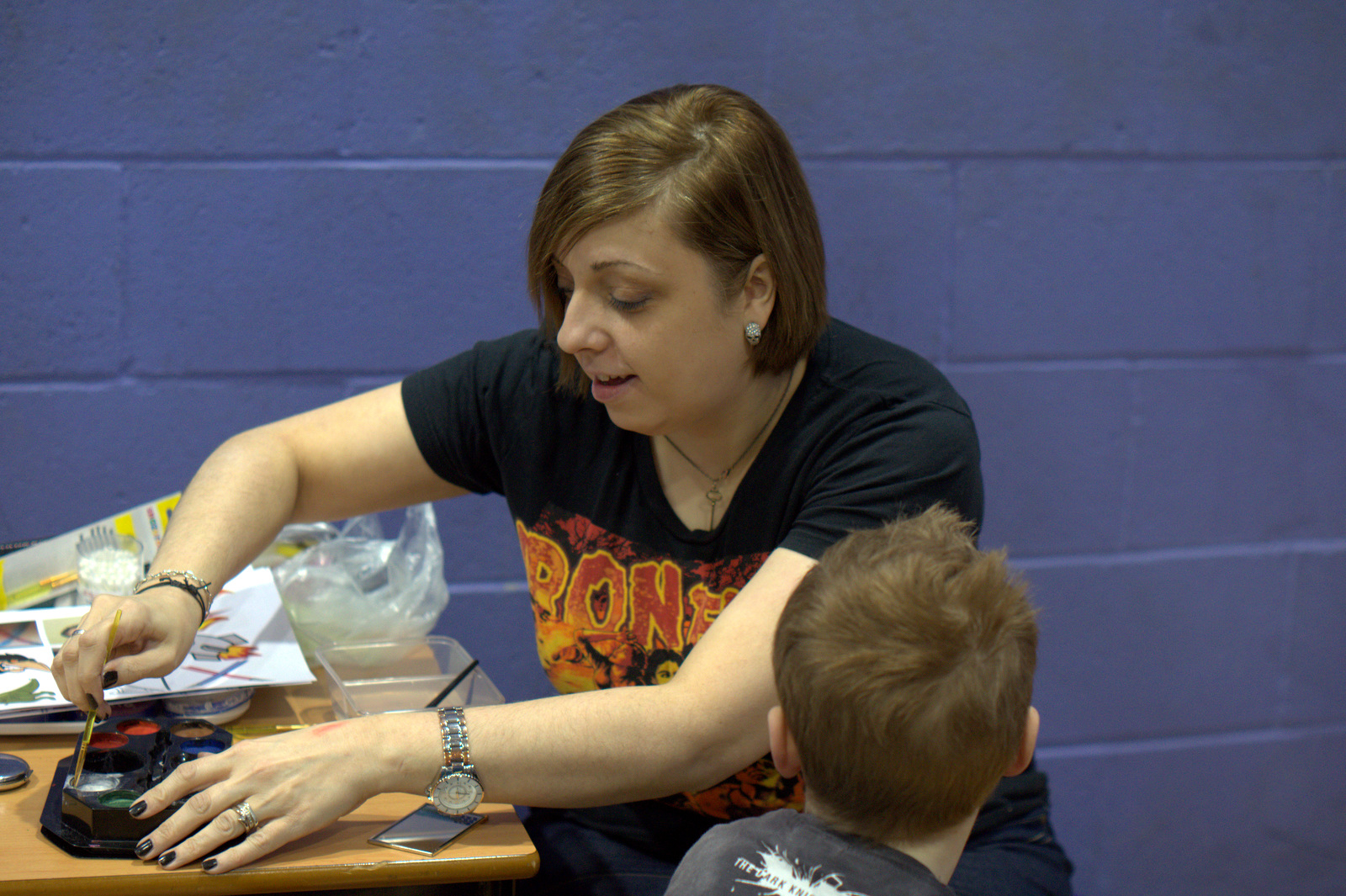 Facepainting at the first Glasgow Roller Derby Home Season of the year.
Auld Reekie have also been hard at work raising money for their trip, long before their plans were made public. As fundraising chair Skinner Alive notes, "We were in touch with the ECDX organisers just after the summer of last year so our journey to ECDX was always in our 2013 plans, and as such we have been fundraising like mad over these past 8 months."
ARRG's first ever hosted bootcamp, School of ARRG Knocks, was one of the first events that the league run to raise ECDX funds, and was so popular that a second bootcamp (subtitled "Even ARRGer!"; perhaps "Skate Free and Die ARRG" was taken?) is already planned.
ARRG are also running quizzes and music events across Edinburgh, in venues such as The Tron, ElboW, Brassmonkey, Leith Cricket Club and The Breakfast Club, hosting bands such as Shields Up, Trails, Taking Chase, Curators, Bonehouse and Albaroma. Skinner noted that both the hosts' and the bands' support is particularly valued, with the bands often providing their services for free.
As well as continuing to advertise such events, ARRG is also gearing up for a very special event: their 5th birthday party, which Skinner promises will be an event not to be missed.
Both leagues have even been driven to sell their possessions to help raise funds. One of the first things that Auld Reekie's fundraising team (Skinner, Princess Die, Maulibu Barbie and Captain Havoc) did on learning they'd be going to ECDX was to stick all of the league's old kit at a car boot sale for a starting fund, which "was a great easy money maker, and truly amazing what you can turn into cash with very little effort".
GRD are also raising money in other ways, with an auction of time and items in planning. This will be hosted by GRD themselves, although the precise format is not available at this time.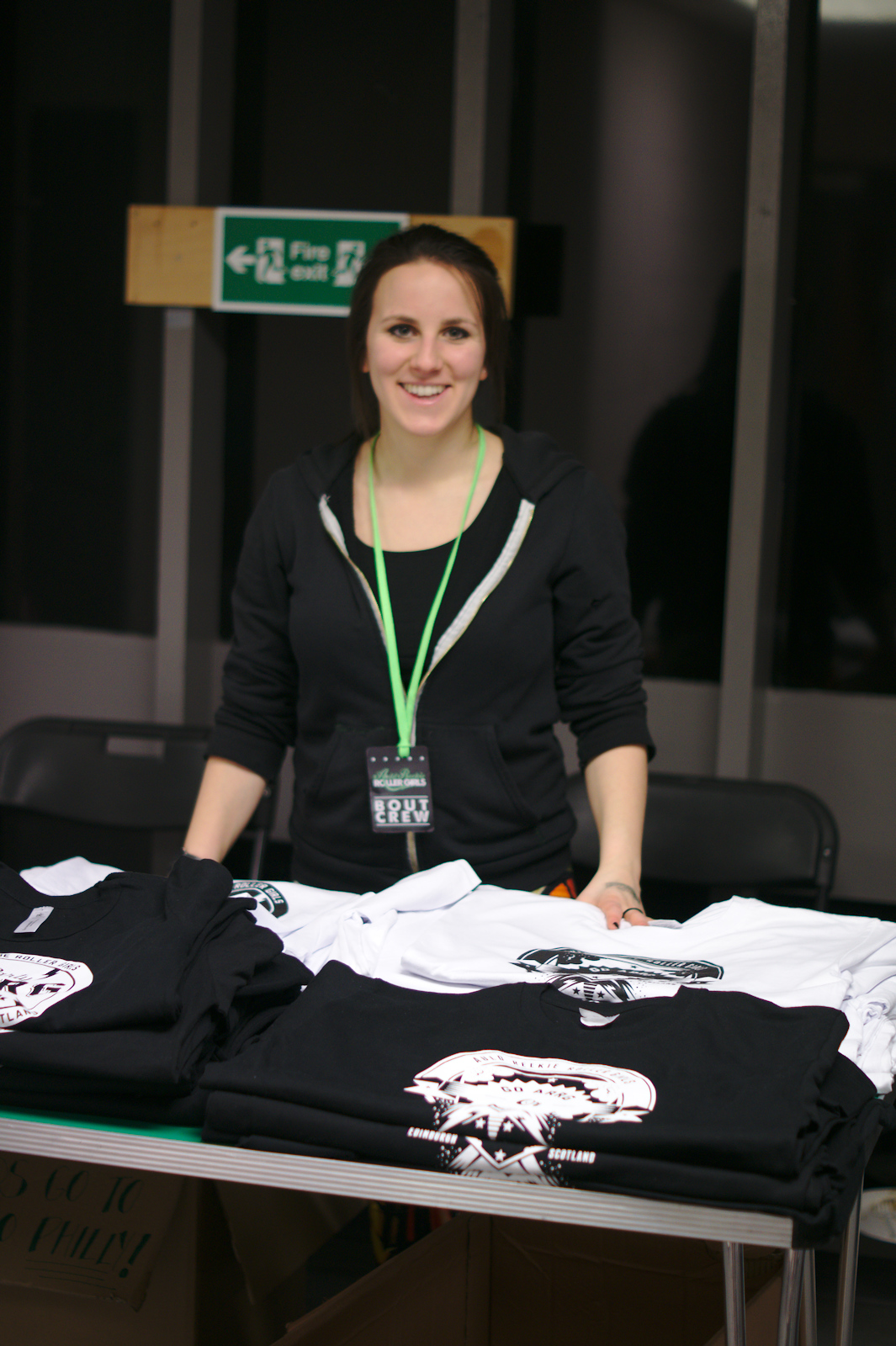 The Auld Reekie Limited Edition Merch stall, at their first Home Season bout of the year.
Finally, both leagues are also producing new merchandise. In Edinburgh, skilled graphic designer, and star ARRG jammer, Admiral Attackbar has developed a range of limited edition clothing with the "Party ARRG" brand. "We decided that we really wanted to give something back to our supporters for helping us out so rather than just donating money, fans can buy themselves a sweet limited edition tshirt instead and know that the proceeds are going to help us get to ECDX," said Admiral. Asked about the origin of the punny slogans, she revealed that their something that's been bubbling under for a while: "When we hosted School of ARRG Knocks we were coming up with puns all over the place and Party ARRG arose at some point with regards to the after party. I was really trying to capture the spirit of the league in the new merch designs whilst still keeping things clean, simple and effective."
Meanwhile, in Glasgow, GRD are sourcing recipes for a  planned cookbook, with a vegetarian and vegan slant, which they are hoping will be successful enough on its initial run to raise funds.
More prosaically, both leagues will be offering their bag packing skills in the shopping centres of their respective cities, so if you want your purchases packed by a roller derby skater, do watch out in the next few months!
Of course, it isn't just skaters who are raising money for their trip. Dave McAleavy, possibly Scotland's most well-known derby photographer is running an exhibition in derby-owned Cafe Phoenix to raise money for the GRD's cause. "Glasgow Roller Derby have had a great couple of years," said Dave, "and heading to ECDX to take on the world [...] the proceeds from sales will be going to their travel fund."
If you want to know how important this is to both leagues, all you have to do is to talk to the skaters, all of whom are now considering their next few months in the context of ECDX.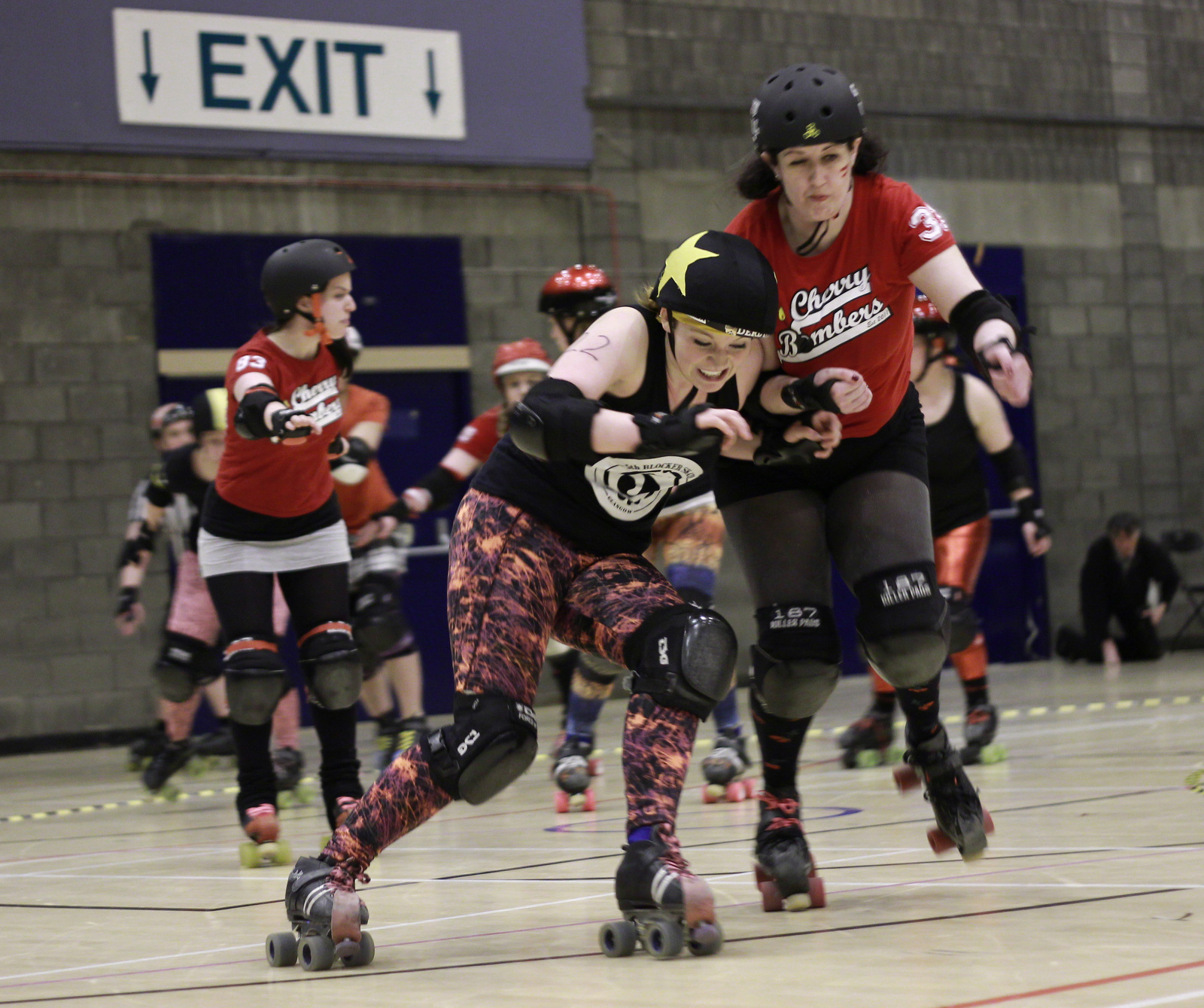 New GRD Irn Bruiser Mona Rampage, playing as part of the composite team "The Gravehearts" in Edinburgh. (Photo: Laura MacDonald)
Speaking for Glasgow Roller Derby, new Bruiser Mona Rampage was luckily enough to graduate to the A-team just in time to join the ECDX crew, and is understandably excited. "Getting selected to be a Bruiser was a massive accomplishment for me", she said: "I failed my minimums 3 times so was always behind everyone else in my intake skill wise; watching them getting selected for the top 20, NSOing bouts they were playing in, and bench managing their team's games. To finally go from being on the sidelines to being on the A-team was huge for me. I can't even express how happy I was to be selected. I feel like I really earned my spot though, which makes it so much sweeter! As for ECDX, I am really trying to up my game for the tournament as it will be the hardest thing I have ever done, not to mention the hardest thing the Bruisers have ever done."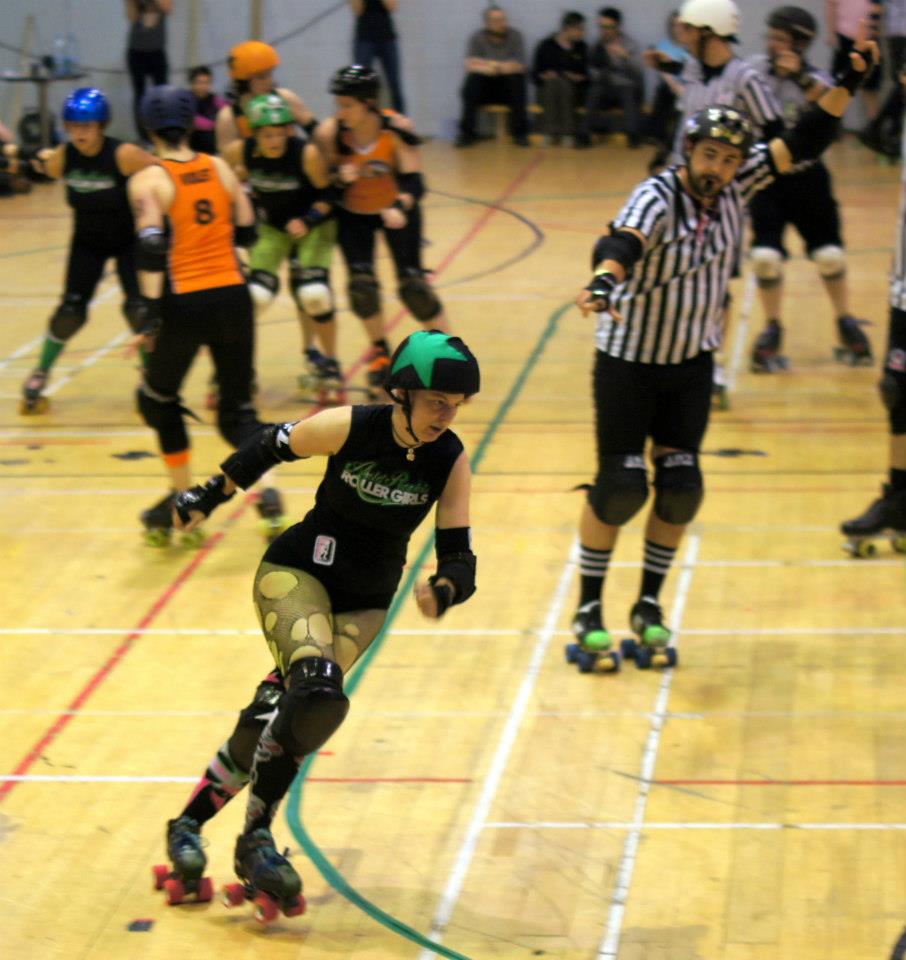 Alma Geddon, jamming against Sheffield Steel in Scotland's first international derby tournament, in Glasgow
Auld Reekie's Alma Geddon has been on their A-team, the Twisted Thistles, for a while, but that hasn't tempered the excitement of ECDX for her.
Both Mona and Alma were especially excited not just to be facing some fantastic American derby opponents, but each to be doing so alongside their counterparts on the other side of the country. "It's massive for Scottish and UK derby and I'm glad we can share the experience with them. We are really lucky that we get on so well with all of the ARRG girls and I'm excited to hang out with them by the pool, cheer them on in their sanctioned outs and I'm sure they will do the same for us" enthused Mona.
Alma was equally pleased to be seeing Glasgow's skaters at ECDX. "It's fantastic that both ARRG & GRD will be a part of ECDX this summer. In 2011 the Scottish national team competing at the first Roller Derby World Cup in Toronto consisted mainly of skaters from these two leagues. In the bout against Team USA, Team Scotland may only have scored the now infamous 'one point', however, I think it's true to say our Scottish pride & tenacity has already left quite an impression on a number of the American skaters. As one of the Team Scotland skaters I know I learned a lot from my World Cup experience & have grown as a skater as a result. The other lovely byproduct of the World Cup is that the two leagues have grown much closer & more supportive of each other than ever before, there was a whole lot of Scottish love at Track Queens tournament last November in Berlin. I'm looking forward to ARRG & GRD showcasing how far we've all come & how hard we've all been working!"
That said, if it was all about simply hanging out with each other, there'd be no need to fly to Philadelphia to do it. Mona Rampage was all about the challenge,  "really excited to play Columbia as they are the highest ranking team we will be coming up against. I really hope we give them a hard game! I'm going to try my hardest in any case!"  While Team Scotland veteran Alma Geddon has perhaps a few more contacts, and is looking forward to catching up as much as making new friends "Three days of superb derby action to enjoy watching & playing, not to mention rubbing shoulders with some derby heroes/crushes, meeting up with old friends & making new friends …. I stumbled across a roller derby spectating team called
Hot Pants Cold Beer
, they sound like a great fun bunch of folks."
Whether those folks can keep up with the cream of Scottish Roller Derby is another matter entirely, and one we look forward to testing on June 28th!
All of Auld Reekie Roller Girls' events are advertised on Facebook & Twitter (@AuldReekieRG), as well as the ARRG website. The limited edition ARRG merchandise can be bought at: http://auldreekierollergirls.bigcartel.com/  before April 15th, and then at all of the ARRG bouts until the 18th of May. You can also donate directly to ARRG via their website.
Similarly, Glasgow Roller Derby's events are also publicised on Facebook and Twitter (@WeAreGRD), and on their website, which also includes a funding thermometer. As with ARRG, you can donate directly to them via their website.