It's that time of month again when we hear from Fierce Valley's latest skater to make an entry in the diary. This month, it's Camelon Diaz, PR Rep, coach and experienced blocker, up to the stand...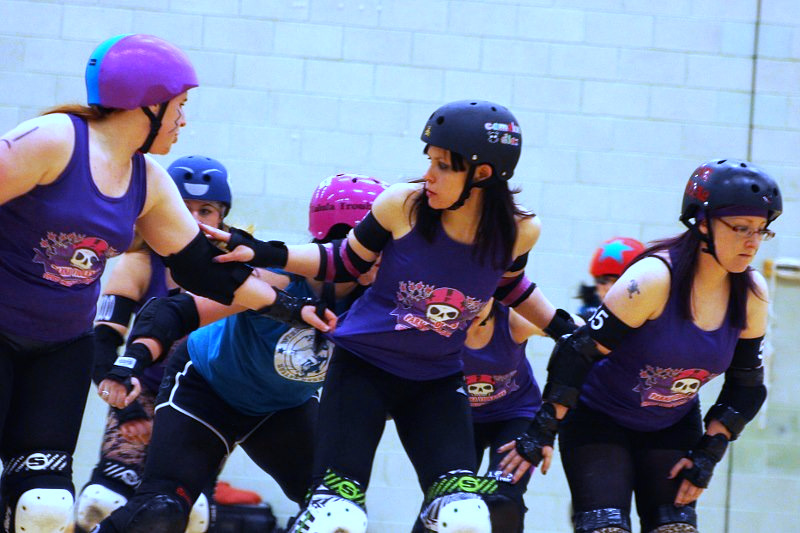 Camelon Diaz, centre, walling off Wirral Whipiteres at the front. (Photo: Laura MacDonald)
What first attracted you to Roller Derby?
A friend, Chaos Faerie, had been talking about roller derby and FVRG for months before persuading another friend, Monkey Wench, to try it out.  Once she also became addicted, I couldn't resist any longer and went along to a Fresh Meat session in August 2011.  I hadn't skated since I was a kid, but once I put those skates on and started skating, I was hooked too.
Who are your derby heroes?
There are loads of amazing skaters out there that I love to watch, but the people I admire the most are those who come along to try it out, having not skated for years, or even never at all.  I'm a Fresh Meat coach and it's amazing to see how determined they are, how quickly they all pick up skills and how far they progress in a matter of weeks.  It's a proud moment when they move up from Fresh Meat!
Derby names are an important aspect of the sport, especially when you're starting out. How did you choose your name, and how does it reflect your personality on track?
I spent a long time thinking about derby names, coming up with lots of film-related names and changing my mind every week about which I would use, before my friend Angus suggested Camelon Diaz.  It probably makes no sense unless you're familiar with the Falkirk area, but Camelon is where I'm from, and the name just made me laugh.  I'm not entirely sure what it says about my personality on track, but I guess Camelon does have a reputation as being a bit tough...
What was your biggest initial difficulty?
I used to skate all the time when I was younger, so the skating itself wasn't too much of a problem, but learning the skills needed for roller derby was.  I found practicising all those stops and falls over and over again so tiring at first.  I was terrified when we first moved onto to learning to hit, and, even worse, being hit.  The fear of getting hurt was always there, but that doesn't really bother me at all now.
Lots of skaters find it hard not to spread the word about their new sport. How have you been spreading the word?
I just don't stop talking about derby!  I'm sure that my family, friends and work colleagues must be sick of hearing me talk about it.  I'm part of the FVRG PR committee, so it's almost my job to talk about it constantly and help to spread the word.  We've built some really good links within the local community and it's always fun to get involved with local events.
What's the most important thing you've learnt/ done this month?
The Parma Violents played in our second bout of the year at the end of March, travelling down to Newcastle to take on the Whippin' Hinnies.  It was a big challenge for us, one we've all learned a lot from, and it was a great experience overall.  We did a lot of work on tactics in the lead up to the bout - it sometimes takes me a while to get my head around these things, but I'm getting there!
What were the most difficult and the best things?
I found it quite difficult coming out of one bout, against Preston in February, straight back into try-outs and preparation for another bout.  We'd never had as quick a turnaround like that before and it made for an intense period of training, not helped by the fact that I was ill for pretty much all of March!  It was all worthwhile though as the bout itself was an amazing experience, and it was great to see so many supporters from the league travel down to cheer us on.  We've developed a good team spirit and it's great fun being a Parma Violent!
What's new for the Fierce Valley this month?
We have our second intraleague bout coming up next month [May 25th], so April is about try-outs and team selections, then getting ready to face each other on track.  A week before the bout, a group of us are taking on Ben Nevis, just for fun (!), which, personally, will be a huge challenge!