Just in time for Eurovision on Saturday, this month's diary from
Fierce Valley Roller Girls
is by UK-entry-namesake, Brawny Tyler!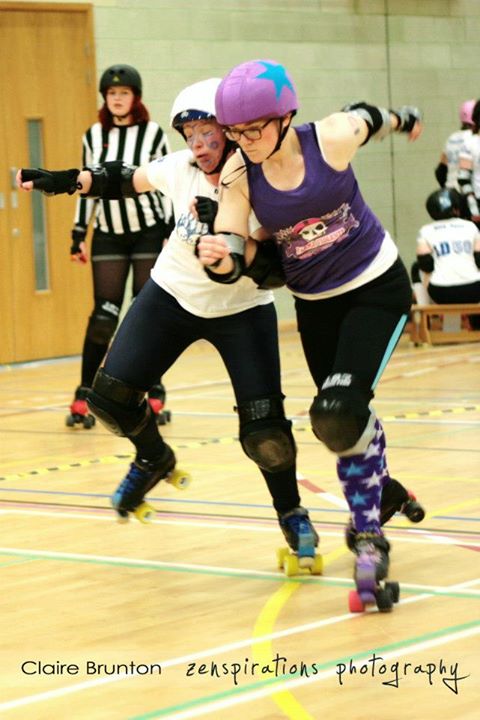 Brawny jamming v Preston , in FVRG's second public bout. (Photo: Claire "ChaosFaerie" Brunton/zenspirations photography)
What first attracted you to Roller Derby?
My sister Meadhbh started with Belfast Roller Derby in August 2011 and wouldn't stop talking about it. I went to see her bout in an intra league game in November, despite being totally baffled by the rules, I loved it. She told me about Fierce Valley and with a bit of encouragement I got in contact and I haven't looked back.
Who are your derby heroes?
Have to say my sister, eh :) Sylvia Wrath. She really is though, I'm so proud of how far she's come with roller derby, now being Captain of the Banshees. I got the chance to scrim with her but I'm not sure I'd want to play against her!
Derby names are an important aspect of the sport, especially when you're starting out. How did you choose your name, and how does it reflect your personality on track?
It was a nightmare choosing a name, I struggled to find something I thought was good enough. Some things I thought were hilarious, flopped when I told other people... Brawny Tyler just popped into my head one day; I do love a good power ballad, particularly Total Eclipse of the Heart. I'm a little ashamed of her most recent song for Eurovision though, she's letting the side down.
What was your biggest initial difficulty?
Fear, particularly of falling and hurting myself. As my confidence grew though, the fear subsided, or at least the drive to get better started to override the fear. That and a pair of padded shorts.
Lots of roller girls find it hard not to spread the word about their new sport. How have you been spreading the word?
Because derby has taken over my life I always feel the need to tell people about it. Recently the trainer taking my gym induction, I talked her in to contacting FVRG about Fresh Meat.
What's the most important thing you've learnt/ done this month?
Embracing and being more positive about the new WFTDA mins. At first it was a bit daunting but at least it's forced me to focus on certain skills like transitions. After picking up some good tips at the GRD bootcamp I'm sure I'll get it...eventually!
What were the most difficult and the best things?
I'm finding it hard getting used to being split up as we prepare for the intra-league, it feels strange to be pitting myself against people who have been team mates. It is all in good spirit though and I'm really looking forward to it. Ask me next week though and I'll probably say climbing Ben Nevis!
What's new for the Fierce Valley this month?
 Our Intraleague bout, 
Revenge Of The Fallen
, is very soon. Deceptiquads Vs Autoblocks; watch out for shiney leggings. It's really exciting because we have enough skaters for two teams, it's great to see FVRG growing!